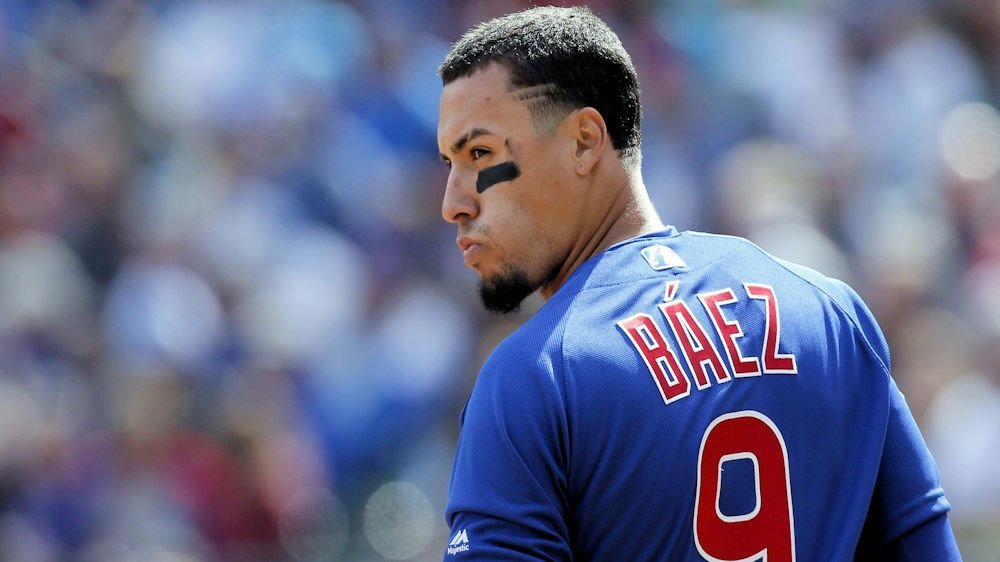 | | |
| --- | --- |
| Three Takeaways from Cubs offensive struggles | |
---
| | | |
| --- | --- | --- |
| Friday, September 25, 2020, 5:30 PM | | |
Coming into this baseball season, we kept hearing that 60 games is not much of a sample size. In a way, that is true as generally, teams would still have 102 games left to play once this season concludes. As much as they would like to produce, coaches and players are not looking as much into stats this season, and for a good reason.
It is a short season with a small sample size, and most players know what they can do across a full 162 game season. Even with that in mind, you have situations like the Chicago Cubs where sample size or not, something is just not right with this offense. We are three games from the end of the season, and the Cubs are hitting a putrid .210, which ranks them 28th out of 30 MLB teams.
Somehow, they are not the worst hitting team in baseball as both the Reds and Pirates are lower than them. Along with a poor batting average and you will see an offense that, despite leading the division in runs scored, has now scored three runs or less 26 times in 57 games. That is nearly 50% of this season, and to put that into perspective, you would be looking at 75 times across 162 games. That can't continue if the Cubs expect to do something this postseason.
Even with all those numbers not in their favor, the Cubs remain in first place, heading into the final weekend of the season, holding a 2.5 game lead over St. Louis. Thankfully, the 13-3 start they got off to may be enough to win the division, but the Cubs need not only to play better but also hit the ball. Most fans will echo they can handle the team losing from time to time. However, losing the way they have been lately is not a good look heading into the postseason.
This team has far too much talent to play this bad and to go this long without hitting. What is the problem? Most of the time, people will blame the hitting coach, who automatically becomes the scapegoat. That is a fair point to make, but coaching is not the problem when the Cubs have now had three different hitting coaches across four seasons. The struggles on this team fall solely on these hitters. They have not done a good job adjusting and need to figure it out fast. Time is running out, and they know it.
Along with the obvious that the players need to do a better job, what if there are deeper issues that have hindered this offense.
Watching every game this season, I have noticed several things that can be attributed to what we have seen thus far.
Lack of in-game video does hurt: Javier Baez isn't the only superstar player who voiced his displeasure of not having in-game video. Lots of players have been affected by that this season and the numbers will show. Since the Houston Astros were busted for cheating, teams are no longer allowed to use electronics to watch the in-game video.
That is a big issue for many hitters, as that is a significant outlet they use to improve at the plate. When an at-bat is over, hitters tend not to want to think about what just happened. They would rather watch the at-bat over quickly learn from it and move on. Without that outlet, this season, lots of players are sitting on bad at-bats and letting them eat them alive. It is an issue that Baez admitted he is having, and others feel the same way.
"To be honest, it sucks." Baez said of the replay restrictions back on September 7. "I make my adjustments during the game. I adjust my swing. I watch where the ball was (and) where the contact was. I'm really mad that we don't have it."
The Cubs have hit into lousy luck: Often, when you look at numbers, it doesn't tell the whole story. Yes, the Cubs offense has been bad, but the numbers don't do them. There have been many cases, including yesterday, where the Cubs have hit the ball hard, but have nothing to show for it.
You know the old saying when it rains, it pours. That could be said for the Cubs offense right now. Yes, the Cubs offense has struggled for a while now, but now it seems like luck isn't on their side either. The Cubs hit the ball well across the final three games against Pittsburgh but had nothing to show for it. That is the nature of the beast sometimes, and the Cubs luck has to change soon. Or at least you would like to think it would.
Low contact rate: Watching the way this team strikes out and it is no secret that they lack plate discipline. However, the problem is much deeper than that. Not only does the team lack discipline, but they are too patient as the Cubs swing at the fewest pitches in the strike zone.
Whether that is by design or not, it often seems as if these hitters are too patient early in at-bats and let the best pitch go by. Not only does that put them in an early hole, but it allows pitches to expand the zone, which has always been a problem for this team. Being patient has its advantages when it comes to taking walks, but the game's object is to find a pitch that you can drive. The Cubs are letting those pitches go by far too often.
To make matters worse, the Cubs have seen the second-fewest pitches in the strike zone of any team. Not only does that mean they often take the best pitch in an at-bat, but it leads to a higher amount of chased pitches. The Cubs rank 16th in overall chase percentage, which I thought would be a bit higher, but it's the quality of pitches they are chasing. When this team gets to two strikes, it is as if they have made up their mind to swing before the pitch is thrown. Pair that with not swinging at good pitches, and you get what we have seen.
This team doesn't make enough contact and hits the ball in the ground far too often. With how much launch angle has been preached in the game, I find it baffling how a team built on power hitters lacks contact and continuously hits the ball in the ground.
If you look at overall contact, the Cubs rank seventh in baseball in a hard-hit percentage. That shows you that when they make contact, they often square it up. That doesn't help much though when you have the fourth-lowest contact rate. Along with that, the Cubs have the fourth lowest line drive fly ball rate and the fourth highest ground ball rate.
That means not only are they not making enough hard contact, but they are not getting any lift when they do. That is a disastrous combination for a league and a front office that has preached launch angle for so long. I know these numbers don't look good, but there is a glimmer of hope.
There are three games left until the postseason, and the Cubs have guaranteed themselves a post season spot. At worst, Chicago has five games left to prove themselves. Maybe this team gets hot at the right time, or perhaps just one or two players get hot at the right time. Regardless, any hot streak at this point would be a pleasant surprise.