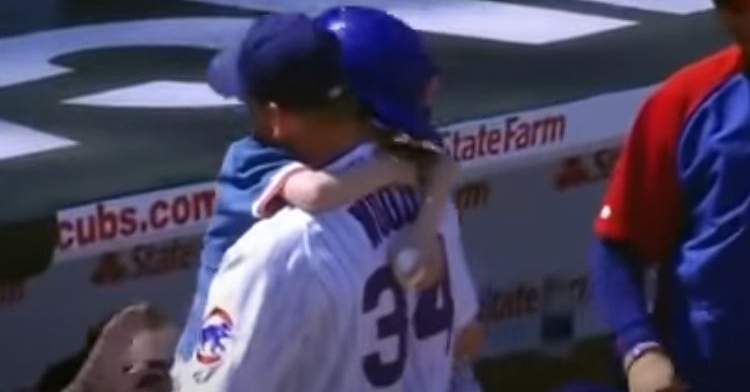 | | |
| --- | --- |
| Top Father/Son moments in recent Cubs history | |
---
The Cubs were supposed to be wrapping up a series with the Boston Red Sox on Sunday Night Baseball — I know that because I was supposed to be at the game with my family on Father's Day Weekend. Instead, baseball fans and the entire country is left battling a global pandemic as well as a surge of racial injustice activists. At the same time, the millionaire players and billionaire owners squander a chance at growing the game and argue over the finances of playing at all this season.
Instead of celebrating our love for baseball that was perhaps instilled in us by our fathers, we are left wondering when our next chance to watch baseball.
For me, being a Cubs fan is about sharing the great moments and even the heartbreaking one with those you love most. What made the 2016 World Series Win so special was the way the generations and generations of Cubs fans were able to celebrate with the people who instilled their passion in Cubs baseball.
There was also a massive amount of fans who went to celebrate and visit relative Cubs fans who have passed on after that epic World Series win.
At CubsHQ, in the spirit of Father's Day and our lack of baseball, we decided to look at some of the best Father/Son moments in recent Cubs history.
Kerry Wood Final Strikeout
Everybody remembers Kerry Wood. He was a highlight on the Cubs in the early 2000s. Whether it be his epic 20 strikeout game, his clutch home run in the playoffs, or the many great innings he contributed to the Cubs' pitching staff — Wood brings back pleasant memories to Cubs fans. Wood left the Cubs briefly for stints in both Cleveland and New York and then returned to the Cubs. In 2012 when he was nearing retirement, by then, he was in the bullpen, and he announced that he would be retiring from the game of baseball at 35 years old. In his last game as both a Cub and major league, Kerry Wood struck out Dayan Viciedo of the White Sox to cap off a successful career. After that, he was taken out of the game, and on his way to the bullpen, Wood was greeted by his son with a huge hug, and Kerry lifted him up and walked off the field with a sweet embrace.
Kris Bryant's career has been filled with many great features, games, accolades, and awards. With him, every step of the way has been his father, Mike Bryant. Bryant was drafted by the Red Sox when he played but never made it to the big leagues. However, he did learn the logic of hitting from the great Ted Williams and passed that logic and more to his son Kris.
In 2015, the pair was rewarded during Kris' rookie of the year season with a trip to the all-star game, which included an appearance in the home run derby. To honor his dad, Kris invited Mike Bryant to pitch for him. And although Bryant was struggling to hit the zone, the derby was a great father/son experience for the Bryant's.
Not to mention this past Father's Day is the first or Kris' career as a father. He said in an interview back in spring training that he felt he was put on this Earth to be a dad — and he announced his and Jess' boy Kyler was born in April, so congratulations to him.
??Kyler Lee Bryant?? 4/7/20 pic.twitter.com/EyGflZPdE1

— Kris Bryant (@KrisBryant_23) April 11, 2020
This one isn't that emotional or exactly father/son, but we really cannot have enough Kevin Rizzo content. Kevin is the wiener dog adopted by Anthony back in spring training, who is widely adored by Cubs twitter among other people.
??% Kevin Rizzo energy. pic.twitter.com/CkKhAbZPUh

— Chicago Cubs (@Cubs) February 19, 2020
On the topic of Father/Son duos, we also thought we'd list the last Cubs fathers/son duos.
Dad: Pitcher Joe Coleman 1976
Son: Pitcher Casey Coleman 2010-2012
Dad: Outfielder Gary Mathews 1984
Son: Outfielder Gary Mathews Jr. 2000-2001
Dad: Catcher Randy Hundley 1966-1977
Son: Catcher Todd Hundley 2001-2002
Dad: Infielder Bobby Adams 1957-1959
Son: Outfielder Mike Adams 1976-1977
Dad: Shortstop Chris Speier 1985-1986
Son: Pitcher Justin Speier 1998
Dad: Outfielder Marty Keough 1966
Son: Pitcher Matt Keough 1986
To cap off this article, we'd like to wish all father's reading this a late Happy Father's Day. We hope Cubs baseball is back in front of your eyes soon.