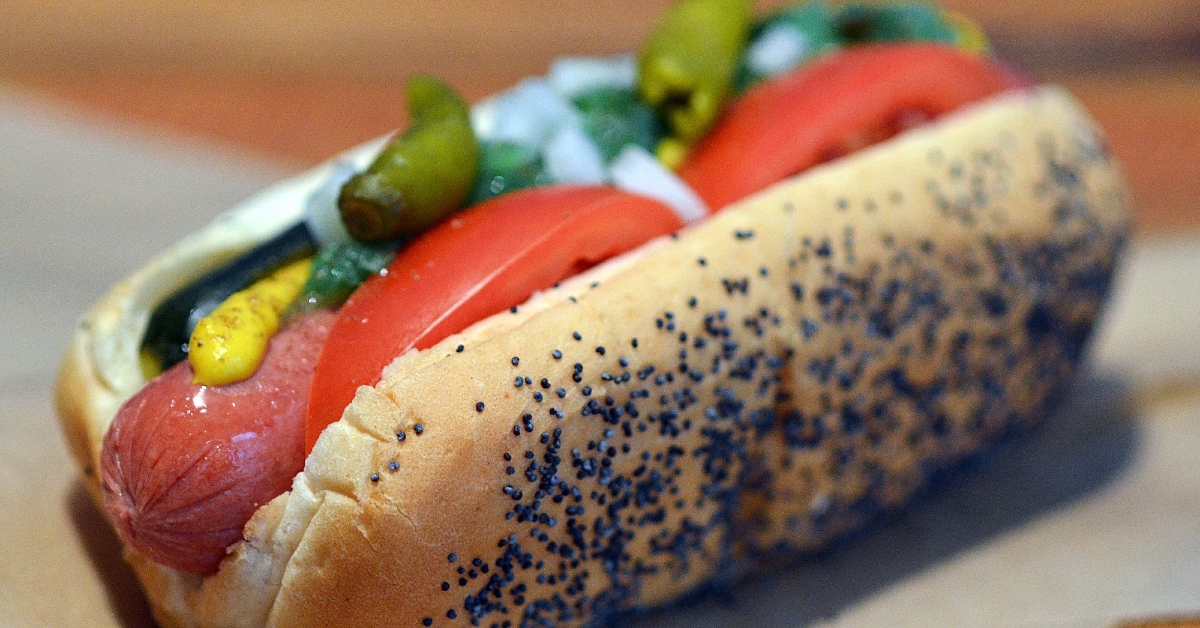 | | |
| --- | --- |
| Top five things to eat around Wrigley Field | |
---
While waiting for baseball return, I let my mind wander to a happier place – the overpriced, but phenomenal food at Wrigley Field. Of course, my diet is probably happier that I can't have access to this stuff 24/7, but my mouth waters in anticipation for my next trip to Chicago, nonetheless.
I'm old school (OK, I'm old). Maddon's Post wouldn't have satisfied my taste buds for a minute… well, maybe some of their liquid "refreshments." I don't need yuppy or trendy foods and drinks. A caramel macchiato from Starbucks works in the morning, but that's only because I'm too tired and cranky to realize that I'm spending eight bucks on a cup of coffee.
Once the sleep is out of my eyes, and my brain can comprehend the smells in the air, I start hammering away at my secondary mission on my trips to Chicago – FOOD.
#5: Old Style Beer: Yes, you can complain about how awful it is, but it takes me back to a much happier time. I grew up in the late-70's/early '80s, and back then, you always had a friend old enough to buy beer. My parents would have killed me had they known what my friends and I were up to on the weekends, but we kept it safe. No driving.
When I took my wife, Marianne, to her first Cubs game last summer, I already knew that a hefty chunk of change was going to be spent on a couple of beers. She'd never been to a Cubs' game, she'd never been to Wrigley, and for that matter, she'd never been to Chicago. Old Style is a local beer (Wisconsin, Illinois, Indiana, Michigan, mostly), so having grown up in Florida, she'd never had one.
After getting to our seats, I made my way down to the concession area, looking for that neon red and blue sign. Twenty-four bucks for a pair of 16-ounce drafts, but it was so worth it. Sitting in the stands, sipping those beers together (I told her if she guzzled, I'd kill her), watching Tyler Chatwood pitch and taking in the scenery on a 78-degree day was priceless.
The next day I found myself at a liquor store, loading a case of it for the trip back to southwest Missouri. Cheers to you Old Style, the beer of my formative (aka juvenile delinquency) years.
#4 - #1: I can't rank these. Each has a time and a place, and I'm not opposed to doing all at the same time.
The Chicago Style Hot Dog: Pure beef franks on a poppy seed bun. Onions, mustard, tomato, cucumber, celery salt, a dill pickle spear, sport peppers, and neon relish that looks like it may have been produced by the same people who brought you Three-Mile Island (you millennials will just have to look that one up).
@KenAllison18 This ones for you. Only 1 though, not 6 lol pic.twitter.com/fWblS2hYWg

— ditzydoodle (@LisaTrusiano) March 1, 2020
She's not lying. I can destroy six of those things in a sitting, loving every bite of each one.
The Italian Beef: Roast beef, sliced thin and marinated in juices. Step one: Soak the hell out of the bun in that beef juice. You won't be able to contain the mess, but it doesn't matter, you're nowhere to be neat, you're here to consume—pile on the sweet peppers marinated in the same juices and feast away.
Thank you, Portillo's!
It's National Italian Beef Day! Stop by Portillo's and celebrate this glorious day with our famous Italian beef sandwiches ???? Tag the sweet pepper to your Italian beef! pic.twitter.com/82gBrCEgE7

— Portillo's (@portilloshotdog) May 25, 2019
Aurelio's Pizza: Moving up in cost, but oh so worth it – Aurelio's Pizza. Aurelio's opened a location in Wrigleyville relatively recently, but I grew up in the southeast suburbs and always got mine from either the Homewood or Chicago Heights locations.
If you've never had it, I can't describe it. My mouth waters as I sit here thinking about it. The sweet sauce that compliments the sausage and cheese. The thin, almost cracker-like crust, crisp on the edges and slightly burnt. They've changed over the years, but the Italian sausage used to be fresh. It'd leave a lake of grease on top of the pizza, but nobody cared – we weren't so health conscious back then, and come to think of it, we were all healthier.
Definitely missing @AureliosPizza pic.twitter.com/H5Uc205ITl

— Ken Allison (@KenAllison18) March 15, 2020
The Italian Beef Combo: Two tastes in one, but this one gets set up a little differently. Take that same Italian Beef sandwich, add an Italian Sausage link, then add the spicy Giardiniera and some Provolone or mozzarella cheese. Heaven.
https://t.co/Vvz8VDOfHl I could also use one... three of these.

— Ken Allison (@KenAllison18) March 15, 2020
Come back, baseball. I'm fricken starving!
Upgrade Your Account
Unlock premium boards and exclusive features (e.g. ad-free) by upgrading your account today.
Upgrade Now