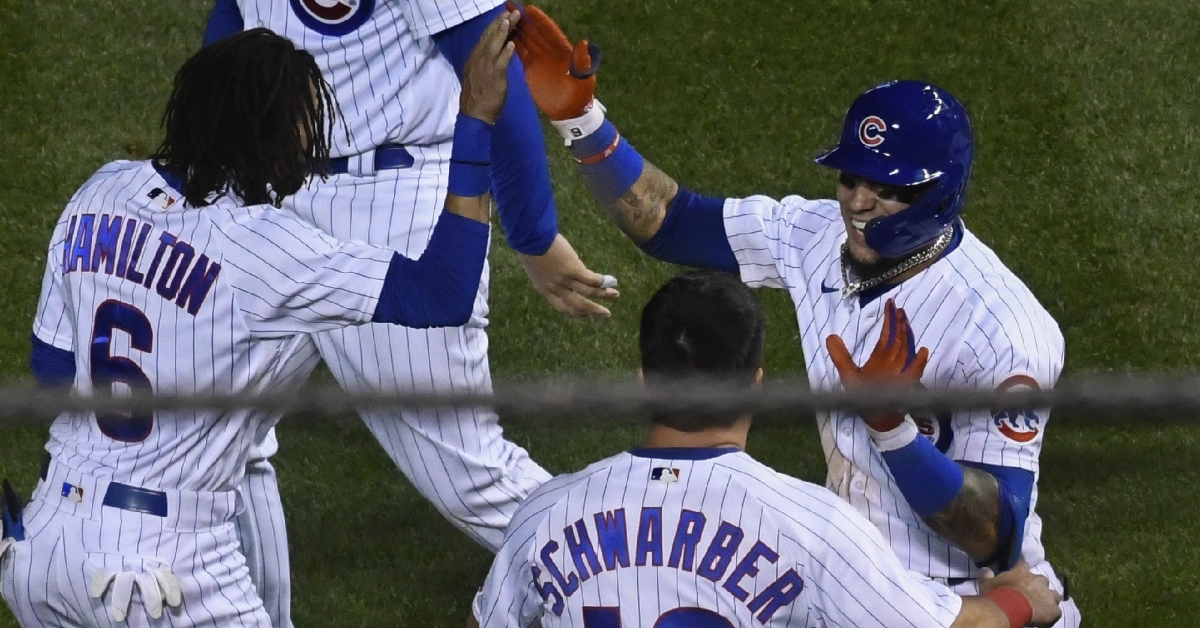 | | |
| --- | --- |
| Top moments from the Chicago Cubs in 2020 | |
---
| | | |
| --- | --- | --- |
| Friday, October 9, 2020, 8:48 AM | | |
It was a disappointing end to a wild season for the Chicago Cubs in 2020. Although their postseason hopes came to a screeching halt as the Marlins swept them away, the Cubs did win the NL Central division for the third time in five years, made the postseason for the fifth time in six, and finished with a 34-26 record with no positive Covid-19 tests in a shortened 60-game season.
There were ups and downs, and with that, great moments. Here are our Top 10 moments from the Cubs in 2020.
No. 10: Baez Social-Distance Walk-Off
There were so many different aspects of this season. Whether that be the universal DH, seven-inning doubleheaders, or a runner on second base to start extra innings — baseball looked different in 2020. On the Cubs' early-season run, they found themselves in extra innings with a chance to win. Javier Baez delivered in the clutch with a walk-off base hit. Admits the celebration Baez was air fiving his teammates who were jumping around him — setting the tone for the Cubs to cheer, chirp, celebrate and do it all safely in 2020.
Two-out, two-strike magic!#ElMago #WhereStoriesPlay pic.twitter.com/NWc02MeW7O

— Chicago Cubs (@Cubs) September 17, 2020
No. 9: Kyle Hendricks with the complete game shutout
Speaking of setting the tone, how about the way the Cubs began the season. Against the Brewers on opening day, Kyle Hendricks delivered a complete game shut-out, allowing only three baserunners — three hits — all to the same guy. Hendricks sparked the Cubs early in the season to their 13-3 start, giving them an eventual chance to play in the playoffs. Hendricks finished the year with a solid 2.88 ERA.
Kyle Hendricks threw the first Cubs complete game shutout on Opening Day since 1974. pic.twitter.com/tS7BQEXECa

— Cubs Live (@Cubs_Live) July 25, 2020
No. 8: Jason Heyward running with flag
This moment had nothing to do with baseball when Jason Heyward ran out to right field with the Chicago Flag. As much as Heyward has been a leader for black baseball players looking for unity, a strong clubhouse voice on the team, he has also been a solid player. With so much happening in the world, Heyward bringing a bit of unity and calmness to Chicago when he ran out with the flag was both respectable and inspiring as anything we saw all year. Not to mention, Heyward may have had his best season as a Cub, with an average in the .260s and an on-base percentage that was nearly .400.
Jason Heyward carried the Chicago flag out to right field before tonight's game. pic.twitter.com/1pqtl1jUBC

— Marquee Sports Network (@WatchMarquee) July 25, 2020
No. 7: Ian Happ's emergence
The next three are not quite moments, but Ian Happ's breakout this season was something to notice and remember from this 2020 season. All Happ did was hit whether it be out of the leadoff position, the nine-hole, or anywhere else in the lineup. As I mentioned in my 2020 review piece, Ian Happ excelled, in 2020. Happ spent a large part of this 2020 season in the MVP conversation, and he led the Cubs with 12 home runs, 11 doubles, 51 hits, 30 walks, a .505 slugging percentage, and a .866 OPS. Happ emerged as a legitimate bat for this Cubs team and answered who should be the everyday center fielder and leadoff hitter this year, and potentially for years to come.
IAN HAPP YABO 1-0 CUBS pic.twitter.com/sDVcS1I0MY

— Starting 9 (@Starting9) September 30, 2020
No. 6: Darvish Dominance
On the same topic as Happ, Yu Darvish, and his emergence as a front-line starter in the MLB has been remarkable to watch this year. Yu had some swagger and confidence this year, and his 11 pitch arsenal backed him up. Darvish finished the year with a league-best 8-3 record, with a 2.01 ERA in 76 innings, while striking out 93. He played Ace, he played stopper, and above all, he played pitcher unreliably well this year — firmly cemented in the Cy Young conversation.
.@faridyu caps a brilliant 2020 regular season with another gem! pic.twitter.com/u9vbhIyXqT

— Chicago Cubs (@Cubs) September 26, 2020
Stay tuned for the top moments 5-1 tomorrow.