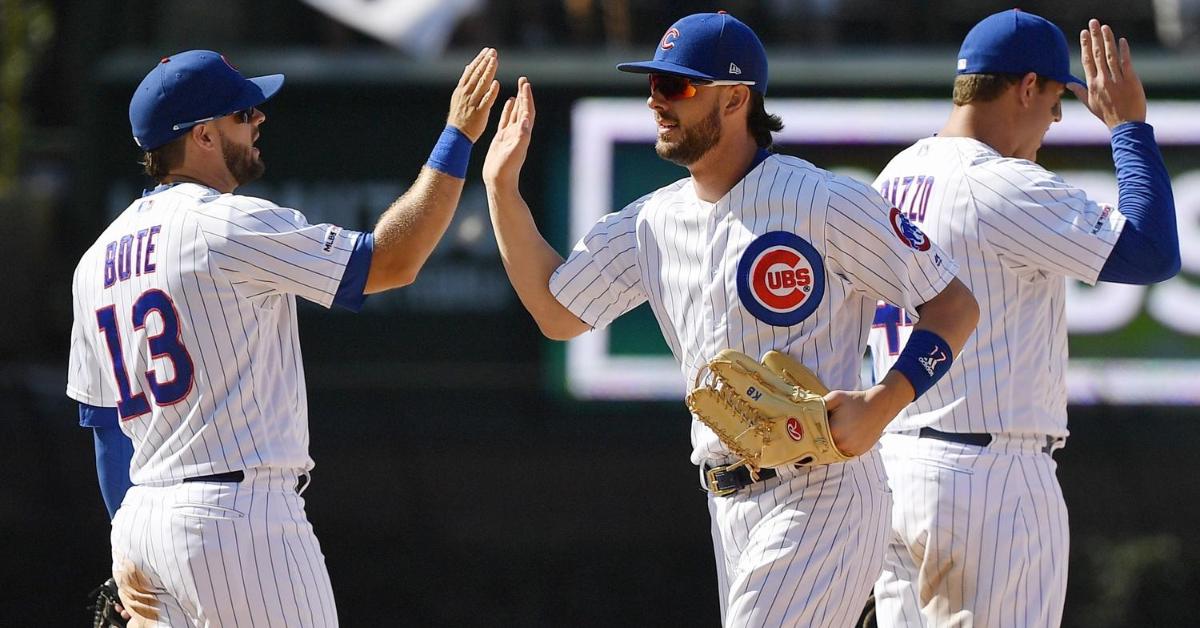 | | |
| --- | --- |
| Viable options for the Cubs infield in 2020 | |
---
| | | |
| --- | --- | --- |
| Friday, November 29, 2019, 12:59 PM | | |
Nobody wants to see the remaining core of the 2016 Cubs dismantled, but things change, players change, times change, and this team has changed. At the forefront of potential trade candidates, sit Kris Bryant and Willson Contreras; while Contreras is looking like he may be the first to go – due to a recent explosion in his trade value, I'm still banking that Bryant will be packing up his locker as well, this winter.
Without ever trading for or signing a free agent third bagger, the Cubs do have options already on the roster if they end up dealing Bryant, in the form of Ian Happ, David Bote, Javier Baez, and quite possibly even Nico Hoerner – though Hoerner's not played third in the past. When you consider that Baez will almost assuredly stay at short, the choices narrow a bit, especially with Hoerner's major league status yet to be determined, but options (and good options at that) remain in the form of Bote and Happ.
Bote had a bit of an offseason, both defensively and at the plate, but I don't think this is a kid who served as a flash in the pan while delivering clutch hits and home runs through his first two seasons in the bigs. A roster full of depth limited Bote's playing time, especially once Happ was brought back up from Iowa, and Ben Zobrist re-joined the team, though he still managed a .257/.362/.422 offensive campaign, while committing 15 errors over 730+ innings played. Bote plays a stronger game at second base than he does at either short or third, but given the opportunity to play a single position would undoubtedly help him adjust.
I had written off Ian Happ as a non-tender, a DFA or trade bait for better than two years, and once he got himself stationed in Des Moines, I was sure he was going to become history; but not so, as the Cubs brought him back for the second half last year. Happ impressed me, both offensively and defensively, coming up clutch quite frequently at the plate. I believe his second half in 2019 probably secured him a spot with the 2020 roster, especially if his patience at the plate continues.
But what if the Cubs were to look for outside help for their infield? Nobody would turn away Anthony Rendon, though Rendon (and Scott Boras) will undoubtedly be turning away 25 different offers as the winter progresses. Mike Moustakas is still young, a decent infielder, and swings a mean bat, and while he won't draw anywhere near what Rendon will inevitably rake, he won't be signing anywhere for less than probably $10M-$12M for 2020, if not more.
Other free-agent options are far less appealing, headlined by players in their mid-30s (Josh Donaldson, Asdrubal Cabrera, Logan Forsythe, et al). Former Cub, Starlin Castro makes that list, but third base isn't his natural position, and after playing for Miami for $12M in 2019, he wouldn't be a cheap acquisition either.
Although not naturally third basemen, two new names with the ability to play the position have emerged on the market over the past 48 hours: Yolmer Sanchez (White Sox) and Jonathan Villar (Orioles); interestingly, both have experience at third, while neither spent any time, whatsoever, at third in 2019.
Sanchez offers Gold-Glove defense but isn't known as a power hitter, leaving him the less desirable of the two – at least so far as Theo would be concerned. KB may have been somewhat sporadic at the plate in 2019, but I couldn't see replacing him with a guy who's produced less (offensively). Even if you were to shift Sanchez to the middle infield, I'm still not sure that he stacks up (offensively) to the menagerie of second baseman that Joe Maddon had in his repertoire – Jonathan Villar may be a different story.
Now age 28, Villar – Baltimore's 2019 WAR leader – was placed on outright waivers Wednesday after Baltimore failed to find a trade partner. More naturally, a second baseman or shortstop than a third baseman, Villar brings some power to the plate (.274/.339/.453 in 2019), smashing 24 homers and driving in 73 this past season. Not Hall of Fame style numbers, but it may be worth noting that Villar played all 162 games for the Orioles last year, which had to have been brutal considering their 54-108 record in 2019.
If Villar couldn't be groomed into a high functioning third baseman for Chicago, he could be a more than suitable addition at second, assuming that Theo still isn't ready to fully commit to Nico Hoerner. Not that the Cubs are necessarily hurting for backup shortstops at this point (Hoerner, Bote), but Villar could serve as a backup to Baez. Not to mention (the unlikely) possibility that the team could shift Javy back to third, leaving short to be filled by either Hoerner or Villar.
Even without factoring in Happ or Bote, the possibilities are numerous, and with the likelihood that Addison Russell becomes either non-tendered or traded, signing Villar – or even Sanchez – might make some sense.
Theo's made two attempts at adding some pitching depth this week (Jharel Cotton, CD Pelham), and while Cotton seems the better of the two, neither is going to make a dramatic change to the bullpen (or rotation, in Cotton's case). Grabbing an established infielder through the waiver wire or (lower tier) free agent market makes sense, especially if the Cubs want to focus on bolstering the bullpen via trades.
The Reds are making some small moves, the Brewers just swung a big trade with San Diego, and the Cards are managing to re-sign some of their own free agents; never mind making the big score in November, Theo, but keeping up with the Joneses is a must.