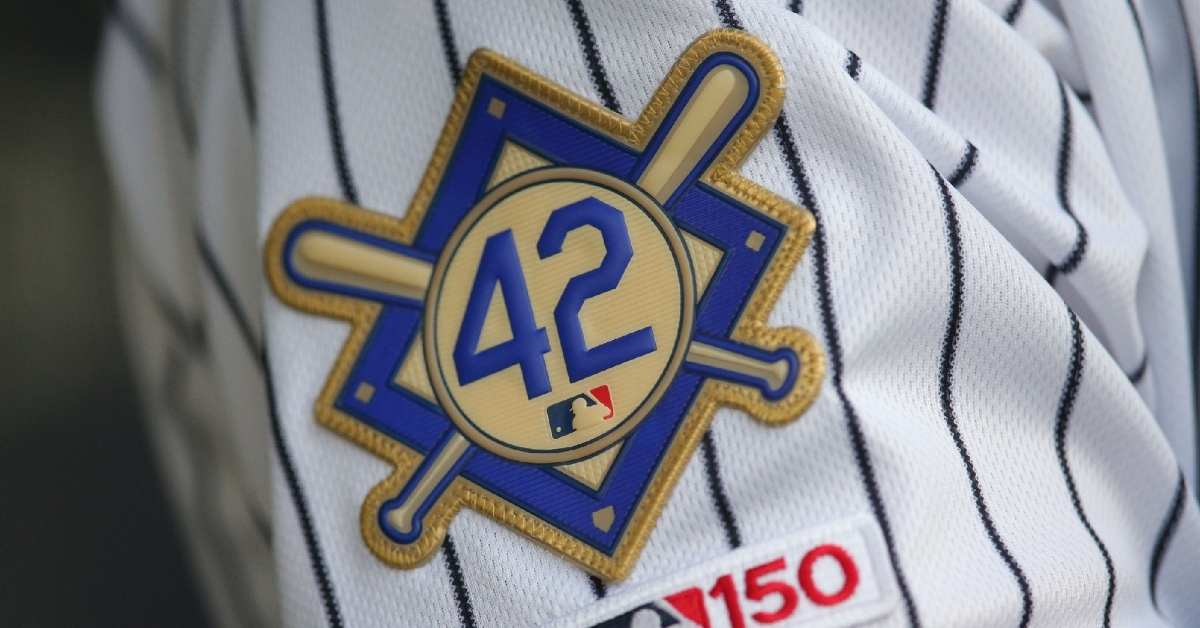 | | |
| --- | --- |
| What Jackie Robinson means for Baseball and Cubs | |
---
| | | |
| --- | --- | --- |
| Thursday, April 16, 2020, 1:21 PM | | |
Every baseball season on April 15, every player on every team wears number 42 instead of their regular numbers in honor of the late Jackie Robinson.
With this season's Jackie Robinson day canceled due to the global COVID-19 pandemic, we thought it to be especially important to brush up on the history of the day, the career of Robinson, and the players' careers whom he made possible.
Robinson was the first-ever African American player to play in the MLB, starting at first base for the Brooklyn Dodgers on April 15, 1947. Despite immediately and frequently enduring hate, racism, and taunting from fans, teammates, and opposing teams — Robinson put together a Hall of Fame career with even greater historical significance.
His career's accolades were plentiful. In his rookie season, Robinson led the National League in steals and was awarded the MLB rookie of the year. Two seasons later, Robinson began a streak of six straight seasons as an all-star (1949-1956) as well as leading the NL in steals again, winning the NL batting title and being named National MVP. He also won a World Series in 1955 before ending his career after the 1956 season.
In 1962, Robinson was inducted into baseball's Hall of Fame as a first-ballot inductee. Robinson's greatest accolade, however, was not only the Dodgers retiring his number but the entire MLB deciding to retire his number. Since Mariano Rivera retired (last player to wear number 42), no player has worn Jackie's number except on Jackie Robinson day — celebrated every season on the anniversary of his debut.
In 1997 the MLB retired Robinson's number 42 across the entire league. Then in 2007, Ken Griffey Jr. (who wore the reversal of Robinson's number, 24) made a phone call to then-commissioner Bud Selig to begin the tradition of every player in the league wearing number 42 to honor Robinson.
Robinson is viewed, remembered, and celebrated as a hero today, but it is impossible to forget the hatred he endured.
Despite the constant backlash Robinson received in his career, his persistence made it possible for hundreds upon thousands of black athletes to get their chance to play, following in his footsteps.
The first-ever black player to put on Cubs pinstripes was Ernie Banks in 1953. Forever remembered as Mr. Cub and equally for his positive attitude — Banks' career was made possible by Robinson. Banks became the first black baseball player to win back to back MVP's in 1958 and 1959, which looks great next to his 512 career home runs, his gold glove, his 14 trips to the all-star game, his number 14 hanging forever on the left-field foul pole at Wrigley Field and of course his induction into the Hall of Fame in 1977.
The long-lasting legacy that Banks has left in Chicago and with the Cubs is one that would not have ever been possible had it not been for the pioneering of Jackie Robinson.
Another prideful statistic the Cubs have to offer is that they were the first team to hire a black coach, Buck O'Neil, in 1962.
When you look at the league in 2020, the number of African American players has dwindled over the last few seasons — but that has also been met with the numbers other players of color (of Hispanic, Latino, or Asian descent) on a constant rise.
All of whose careers would not exist if it were not for Jackie.
In terms of black players, some of the best players the league has to offer come to mind (Mookie Betts, Aaron Judge, etc.), and the Cubs are currently proudly represented by World Series Champion Jason Heyward.
Robinson once said: "A life is not important except in the impact it has on other lives."
And millions have been impacted by Robinson's life, including Heyward.
In a 2017 interview with the Chicago Tribune, Heyward said, "His teammates said, 'I think one day we're all going to wear 42 for you. We're still doing it. It's pretty cool."
He also said, "I feel like it takes you back and makes you feel (as if) you (are) playing in that time for a day. One of the fun things about this game is you get to pay homage to a historic moment like this, especially for the impact it had as well off the field."
His career, Javy Baez's and Mr. Cub's career, would not be as possible if it wasn't for Robinson's commitment, dedication, endurance, and determination.
So for that, we say: Thank you 42!