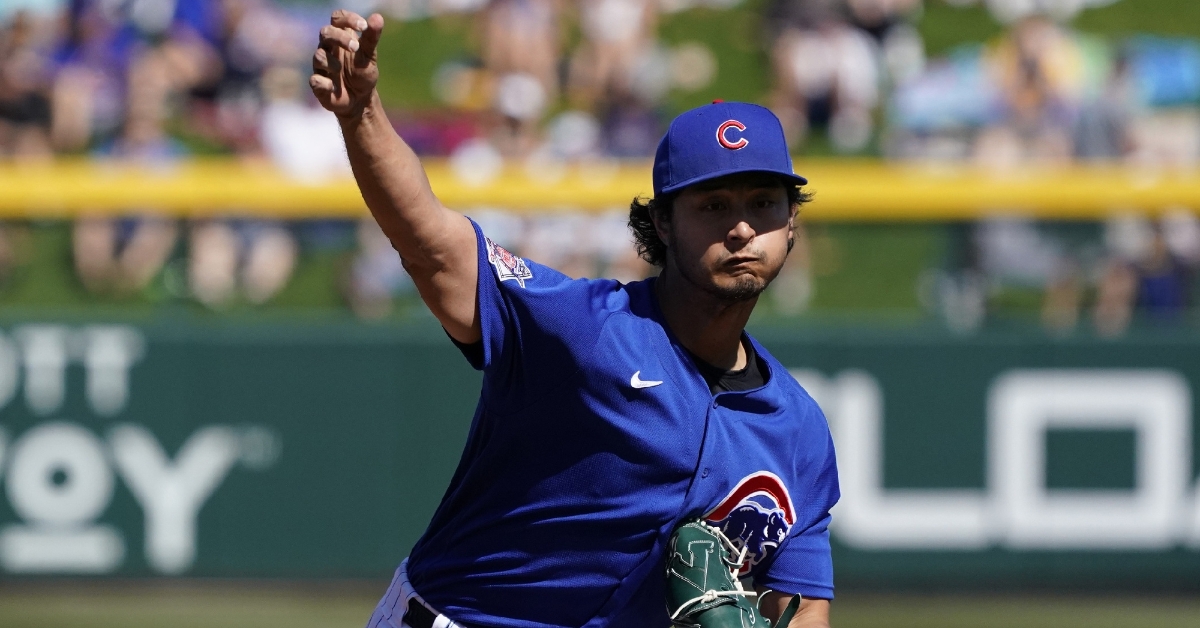 | | |
| --- | --- |
| Who should get the Opening Day nod for Cubs? | |
---
| | | |
| --- | --- | --- |
| Thursday, March 12, 2020, 10:58 AM | | |
As opening day approaches, the decision of who will throw the first pitch for the Cubs is one that continues to be brought to new skipper David Ross' attention.
Opening Day is set for later this month in Milwaukee (which of course depends on if the MLB chooses to act in a similar way to the NBA in suspending or pushing back of the season), but who will be the Cubs' opening day starter is something that remains to be seen.
Yu Darvish and Kyle Hendricks had been thought of to be the favorites in that battle all offseason long, but many also speculated that David Ross would reward his good friend Jon Lester based on longevity and track record in the final year of his contract with the Cubs.
Lester has started four of the last five opening days for the Cubs, and Ross told the media Wednesday that it will not be a fifth for big Jon.
"I just think you slot them (Darvish, Hendricks, Lester) in 1-2-3, for me. It's just, who's a better pitcher?," Ross told reporters in Arizona. "Jon's at a point in a career where, for me, Yu and Kyle have thrown better. Not to say that I ever don't have any confidence in Jon. Obviously, I've got a ton of confidence in Jon. It's just, you put your best foot forward to start the season, and I think Yu Darvish or Kyle Hendricks are a tick above Jon right now."
Ross essentially announced that at this point, it is a battle between Darvish and Hendricks to see who gets the ball on opening day.
Darvish is coming off of a second-half where he dominated. Although his overall numbers in a Cubs uniform do not look terrific, Darvish gained confidence in himself and indeed made some strides down the stretch in 2019.
Not only that, but Darvish has also consistently entertained and trolled via twitter all offseason long. Whether he is on the mound or his phone, fans have been entertained.
The 33-year old's second half consisted of a 2.76 ERA in 13 starts. In 81.2 innings pitched, Darvish struck out 118 batters, 13 batters per nine innings, and only issued seven free passes in the entire second half.
If Darvish can keep his foot on the gas, it would be a massive boost for the 2020 Cubs pitching staff that seems to be searching for answers.
Fangraphs projects Darvish to pitch to a winning record and a 3.73 ERA in 180 innings — with a K/9 well over 10.
If Darvish's second half and projections are any indications of his 2020 performance, the Cubs are in good hands.
If Ross decides not to hand the ball to Darvish on opening day, Kyle Hendricks will get the ball.
Hendricks does not have the pitch velocity or variety of Darvish, but consistency has been his bread and butter throughout his Cubs career.
His six years in a Cubs uniform have seen him win 63 games, win an ERA title, and even start game seven of the 2016 World Series — which I am sure you remember that the Cubs won.
Hendricks is coming off an 11-10 season, where he pitched to a 3.46 ERA in 177 innings pitched. Hendricks struck out 150 batters, and he walked just 32 batters the entire season.
The 30-year-old right-hander is projected by Fangraphs to pitch around 170 innings, a 12-8 record and a 3.67 ERA for the Cubs in 2020.
The professor would be an excellent choice for Ross for game one of 162.
However, these pitchers could not be more different. Darvish is more of a power pitcher with a vast arsenal of pitches to chose from while Hendricks is more of a finesse pitcher with devastating command — Ross may just get it right regardless of his selection for who takes the ball on opening day.
This difference between Darvish and Hendrick's style could work out for the Cubs against opponents, as they will consistently be kept guessing and then surprised with a change of pace regardless of who is first. Following both of them will be the reliable lefty Jon Lester and Jose Quintana and some variation of Tyler Chatwood or Alec Mills.
This should make for an exciting 2020 for the Cubs' starting pitchers in Ross' first season as skipper.
Who will start Ross' first game? Hendricks or Darvish? That remains to be seen.