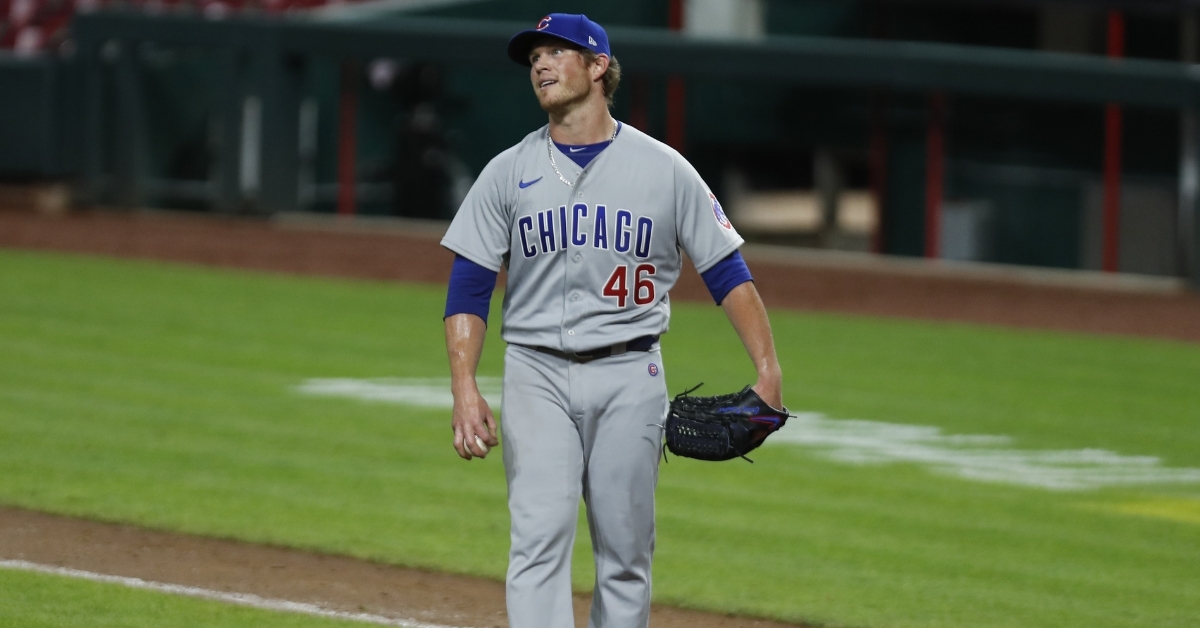 | | |
| --- | --- |
| Wins and Bullpen questions keep coming | |
---
Saturday night saw the Cubs ride the long ball and a second consecutive solid start from Tyler Chatwood to a 4-3 win over the Pirates, the Cubs' sixth of an early season.
However, that game also saw the all too familiar near bullpen collapse and left David Ross with additional questions for how to handle the end of ballgames.
Following last season, the Cubs lost their three most frequently used relievers (aside from Kyle Ryan). Pedro Strop signed with the Cincinnati Reds, Steve Cishek signed with the crosstown Chicago White Sox and signed with the currently shut down Miami Marlins after last season.
The next most used bullpen arm was Chatwood but is now contributing to the starting rotation. Through two starts, Chatwood is 2-0 with a 0.71 ERA in 12.2 innings pitched while striking out 19. While the Cubs sure are pleased with his early success in his return to the rotation, it only provided one further hole to fill in the bullpen — an especially daunting challenge for a rookie manager in David Ross. He is adjusting to a season in which each game matters 2.7 percent more than a regular game would in a season of 162 games.
Generally, when formulating a bullpen, you work from the ninth inning backwards. But for the Cubs, the ninth inning has been the biggest challenge thus far.
The Cubs had their starter go all nine innings in the season opener as Kyle Hendricks blanked the Brewers, but in the seven remaining games, it has not been as easy.
Of those seven, two of which were losses. The Brewers took game two, and the Reds won one of the three games. So that leaves five contests where the Cubs have won. Aside from the 9-1 thumping over the Brewers, the other four games have ended in save situations, though none should have.
In the ninth inning of all four of those games, the Cubs have given up multiple runs. The Reds got a pair of runs in the 9th on consecutive days to narrow their losses to 8-7 and 8-5. In both games of the Pirates series thus far, the Cubs have taken comfortable leads into the 9th and given up two and three runs to make the games 6-3 and 4-3.
The point is, a closer is nowhere to be found on this team.
Kimbrel was supposed to be that guy when Theo Epstein and company used the money saved from Ben Zobrist's leave of absence to sign him to a three year deal with an option for a fourth last summer. But in Chicago, Kimbrel has struggled mightily. Last year, despite saving a respectable 13 games after being inactive until nearly July, Kimbrel gave up more home runs than in any season prior. His velocity was down a few miles per hour, and his command was nowhere to be found as he blew a few contests.
This year, Kimbrel has allowed more baserunners (two hits, four walks, one hit by pitch) than he has gotten outs (four) in his two appearances.
The confidence of manager David Ross in his closer and the closers confidence in himself is so shaky that when asked who is the closer, Ross said, "I'll get back to you."
Last night, Kyle Ryan came out to shut the door up 4-0 and gave up three runs, including a two-run shot by league leader Colin Moran.
Saving Kimbrel's meltdowns and Ryan's shaky outing eventually ended up being Jeremy Jeffers and Rowan Wick, the Cubs' two most reliable relievers at this point and best option to take the closer job from Kimbrel if that's what it comes to.
The bullpen has given up walks and runs in bunches and appears to be the glaring weakness for a team that has otherwise started red hot.
Among the league's bullpens, the Cubs rank near the last in nearly every category beside walks hits and runs allowed. Despite the strong start by the starting staff, the Cubs' overall pitching ranks are sub-par because of the bullpen confounding the numbers.
For Ross, a rookie manager, managing this bullpen is no easy task — nor is it for any manager. It is especially hard for Ross to give players repeated tries at figuring things out in a shortened season where each game matters 2.7 percent more than usual.
Ross can't afford to throw Kimbrel out there until he figures it out because he is taxing the rest of the bullpen every time he goes out there. It might be too late once Kimbrel blows a save to take the job away.
The Cubs' bullpen has a lot of pitchers with great upside who lack control, three reliable options in Rowan Wick, Jeremy Jeffers, and Kyle Ryan despite his struggles and a whole bunch of question marks everywhere else.
As for Ross, he is not asking for much.
"I'm looking for somebody to get outs," the Cubs' skipper said.
Upgrade Your Account
Unlock premium boards and exclusive features (e.g. ad-free) by upgrading your account today.
Upgrade Now