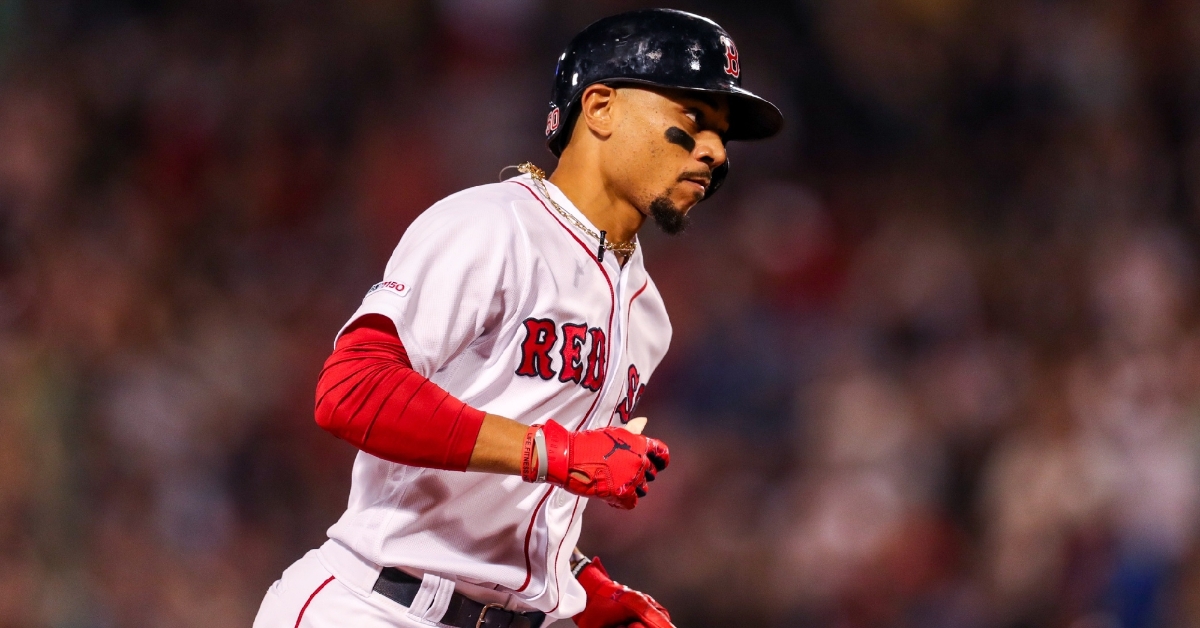 | | |
| --- | --- |
| Would Mookie Betts be a good fit for Cubs? | |
---
The Boston Red Sox and Chicago Cubs have had similar stories for the past decade or so and appear to be heading on similar paths this offseason. From Theo leaving Boston to Chicago to each team winning a World Series since 2016, it truly is remarkable how closely linked these two franchises continue to be. Add in the fact that both have a top-five payroll in baseball, and each failed to make the postseason this year, and you can see what I mean by similar stories.
That leads us to this offseason, where once again, both teams could be on similar thought processes as to what their plans would be. Don't get me wrong, both sides have a ton of money to spend and tons of talent on their rosters, but let's face it, some of that talent just hasn't produced leading me to believe times are changing for some of the players on these rosters. The question is which ones will be on the way out.
It is no secret that the Cubs have plenty of decisions to make in the next few seasons regarding their core group of players and when they hit free agency. They won't be able to keep all of them, so Chicago needs to focus on who they feel is the best fit moving forward to make the franchise better long term. Boston is not quite in the same state the Cubs are in on that front, but they need to make some serious decisions of their own regarding the futures of J.D. Martinez and Mookie Betts.
Although nothing has been set in stone quite yet, it appears Boston will be shopping Betts this offseason, and the Cubs have been rumored to have some interest. The question is, would he be a good fit for the Cubs, and what would they have to give up getting him?
Anytime team would love to have a player of Betts caliber, and the numbers can certainly back that up. At 27 years of age, Betts has already proven to be a big-time superstar, posting a 301-career average with 139 homers and 126 stolen bases. Add in his gold glove caliber defense, and you have a perennial MVP caliber talent who makes any team instantly better.
Should the Cubs indeed show interest in him, which I fully anticipate them to do, what exactly would it cost, and where would you put him. With the Cubs already having a log jam of outfielders on the roster, you can bet that players like Albert Almora, Ian Happ, and Kyle Schwarber may all have their names mentioned in a package to bring Betts over.
Let's say a deal is made where Almora and Schwarber are sent to Boston for Betts, then what would the outfield look like.
Well, for starters, your starting center fielder could very easily be Betts and most likely would be. That way, you can leave Heyward in his natural position of right field, where he makes the Cubs better defensively. What happens to the other corner outfield spot then? Well, for one, should Happ still be on this roster which I expect him to be given his improvement last season, then the left-field spot is his to lose coming out of spring.
Should the Cubs decide to bring back oh, I don't know someone named Nicholas Castellanos, then he too could patrol left field, leaving the Cubs with a much more formidable outfield trio than what they had in the past. Yes, Betts may not be able to replace the power from the left side Schwarber brought this season, but his defense is on par with Almora and can bring the Cubs other added values that they lacked this season.
For starters, Betts can hit leadoff and is rather good at it. Since the start of 2017, the Cubs have not had that much of an issue in terms of finding leadoff hitters. The only problem has been that since Dexter Fowler has left, they have not been able to have success in that role long term as every combination they have tried has had limited success.
Betts would not only bring stability to that spot in the order, but he offers a high on-base percentage, 97 walks, and 101 strikeouts this past season but also offers the ability to hit 30 plus homers a season to potentially give the Cubs a 1-0 lead before their opposition sinks in.
Another added element Betts brings to the table is patience at the plate. Yes, he is a power hitter and certainly wants to hit the long ball. However, he also understands the importance of getting on base and is no stranger to taking a walk recording 374 over his six seasons, which averages around 60 per year. However, over the past three seasons, Betts is averaging 80 plus walks, which is something the Cubs have a hard time doing as a team.
Another element Betts could provide the Cubs at the top of their lineup is Speed. Take this season away in which Betts stole 16 bases in 19 tries, his fewest since his rookie season, and you have a player consistently giving you 25-30 steals a season. Not to mention, even at just 16 steals, that would have led the Cubs this season as they did not steal very much as a team.
Betts is viewed as a five-tool player that can hit for average, brings you speed, hits for power, plays excellent defense, and has a plus arm. Any team would be lucky to have him, but not all organizations could afford his services. Thankfully, the Cubs are one of those select few teams that could indeed find a way to trade for him and then later sign him long term should he continue his production as a player. The only catch would be at what cost do you go get him.
Going back to my original question as to if Betts would be good for the Cubs, and the answer is, of course, he would be. He is precisely the type of player this lineup is missing, and he could be the missing piece that brings consistency to that offense. My only fear is that should the Cubs do trade for him, and they give up way too much to get him.
I am all for going all-in with Ross as the new skipper and trying to give him a championship-caliber roster from the start. However, I do not want to jeopardize the long-term future by giving up too much now for someone who may not come back. Yes, Betts would make this team better. Yes, he is better than almost every starter on this roster, but is he worth two or three MLB caliber players right now. That is the question the front office must think about before even considering a deal for him.
Betts will be the biggest trade target this offseason should Boston continue to dangle his name out there. We all know that realistically, only four or five teams would be able to give Boston the type of haul they would expect for him, and the Cubs are one of those teams. I expect them to engage in talks and go a long way with them. Let's see what Theo has up his sleeve for 2020 because if Betts finds his way at Wrigley this season, the Cubs would most likely be all in for a world series title next year.
Upgrade Your Account
Unlock premium boards and exclusive features (e.g. ad-free) by upgrading your account today.
Upgrade Now