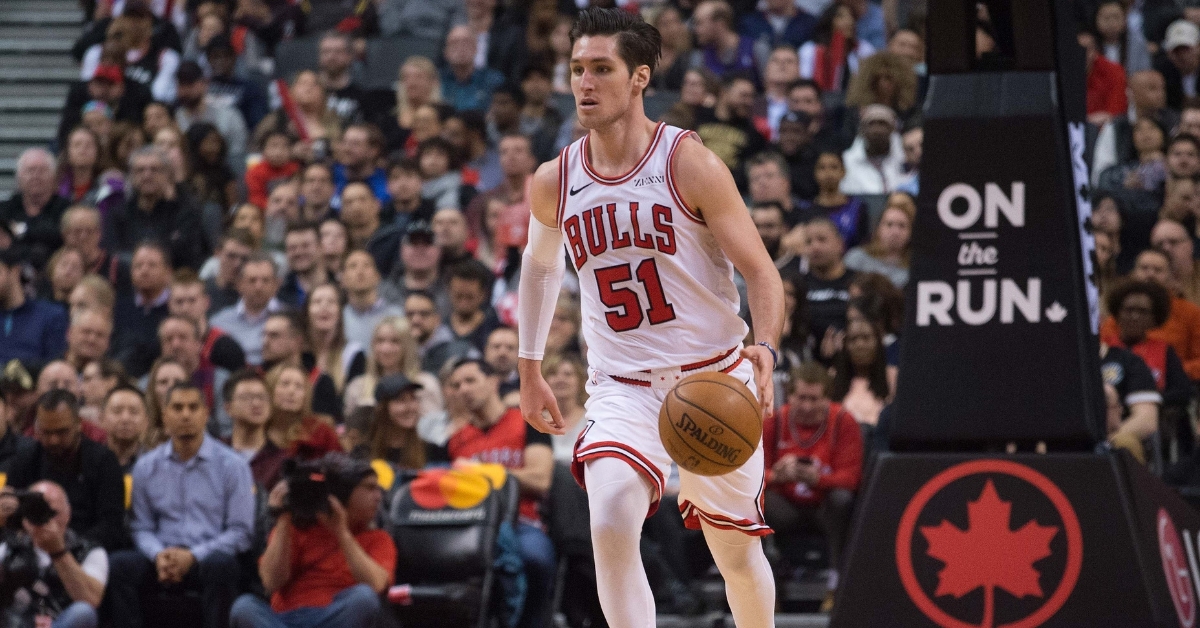 | | |
| --- | --- |
| 2020 Season Grade: Ryan Arcidiacono | |
---
The Bulls continued to play a plethora of players last season as they tried to piece the perfect lineup together for success. After Otto Porter Jr. went down with an early-season injury, the Bulls never seemed to get completely healthy after that as no matter what lineup they stuck with, someone went down with an injury.
One player who oddly found himself out of a regular role minutes wise was Ryan Arcidiacono as he never seemed to see the minutes people expected him to see in 2019-20. The former Villanova start for Coach Jamie Wright couldn't find his name being called on draft night back in 2016, so he signed with the San Antonio G League team the Austin Spurs to begin his career.
After playing just one season in the Spurs organization, Arcidiacono found himself in the Bulls organization signing a contract to play for Windy City before the 2017 season. That stint was short-lived as his performance in the G League earned him a two-way deal that season which resulted in a permanent role on the Bulls roster for the 2018-2019 season and beyond.
Arcidiacono is undoubtedly not going to wow you as a player, as he has never been an elite scorer or starter for that matter. What he does bring to the table is a sense of energy and passion that the Bulls lack along with excellent court vision and a strong outside shooting game from deep. For his career, Arcidiacono shoots 36.3% from beyond the arc but was near 40% while playing for the Wildcats in Villanova.
Before joining the Bulls in 2017, Arcidiacono signed with an Italian team called Juvecaserta Basket, but after they were rejected from joining the Serie A league, he decided to void his contract and took his chances in the Bulls organization.
His first go-around in Chicago saw him log minimal minutes averaging just under 13 minutes per contest over his 24 games played. He averaged only 2.0 PPG during his first stint, so no one in the organization got a good feel for his game outside what they saw with Windy City throughout the year. Then the next season came in, which Arcidiacono would be given his first real chance on an NBA roster full time.
Although he started just 32 games, he went on to play in a team-high 81 games last season and saw his minutes increase to about 25 minutes per game. That also saw his production increase in the process as he averaged 6.7 PPG, but averaged a shade under 10 when inserted into the starting lineup. Although those numbers are not starter quality when you look at most point guards in the league, Arcidiacono certainly showed he could provide a spark for the Bulls when called upon.
This season was not the season anyone expected from him. Although he saw action in 53 games, he made just eight starts on the year and found himself a healthy scratch on several other occasions. Whether that was by design or the fact that maybe Jim Boylen didn't believe in his abilities remains to be seen, but his play certainly reflected his lack of minutes on the court.
His scoring went down to 4.7 PPG, and just 7.1 PPG when he was a starter, while he averaged less than two RPG, and a career-low in assists also. As mentioned above, Arcidiacono was never going to be a star on this team, but he was a guy you could depend on off the bench to make some shots from deep if given a chance. So, seeing how much of decreased role he had this season has me puzzled.
Season Grade: D -: While this grade primarily isn't his fault as he didn't see the minutes he saw in the year prior, Arcidiacono didn't do anything to help his case when given extended minutes on the floor. He seemed to lose the trust of his coach this season for some odd reason.
Part of the reason his minutes decreased was the emergence of Shaq Harrison, Coby White, and Denzel Valentine at the guard position, but Valentine was injured part of the season, and Kris Dunn missed the final month-plus, and things didn't change. Don't be surprised if we have seen the last of him in a Bulls uniform.
Upgrade Your Account
Unlock premium boards and exclusive features (e.g. ad-free) by upgrading your account today.
Upgrade Now