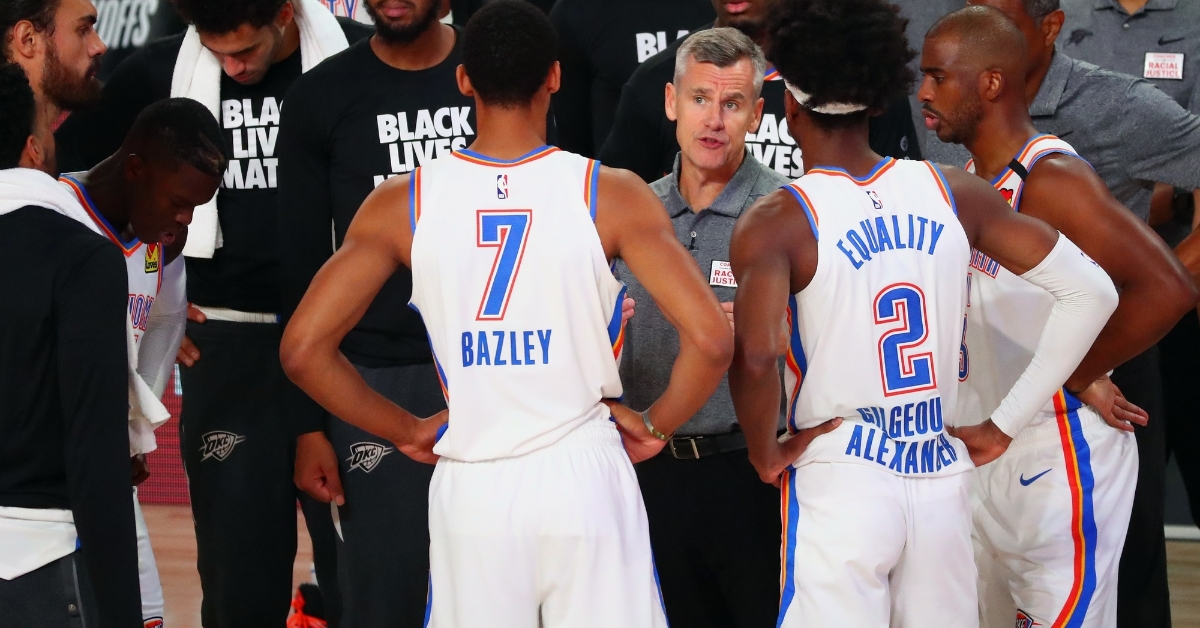 | | |
| --- | --- |
| Billy Donovan shaking things up with a new staff | |
---
Upon Billy Donovan getting hired by the Bulls, the new regime already made it clear that they are willing to make changes this season. Donovan seconded that feeling by letting go of all but one of the Bulls previous assistant coaches from last season's staff. Chris Fleming was the lone assistant to be saved this season, but the decisions by Donovan show he is not only ready for a fresh start but is willing to put together a strong cast of coaches for the Bulls.
When you look at how many new head coaches like to put their staff together, it shouldn't come as a surprise to see Donovan do the same thing. Donovan signed a five-year 24-million-dollar deal to become the Bulls head coach, and with that kind of investment, Donovan is not going to keep someone he doesn't trust or work well with. The fact that he kept Fleming shows he trusts him, but he may not keep the lead assistant title this season.
Fleming is a well-respected man, much like Donovan, and is considered one of the more up and coming assistants in the league. He also held a bunch of team workouts during the in-market bubble, so the rest of the organization trusts him. With Roy Rogers, Dean Cooper, Nate Loesner, and Karen Stack Umlauf now out of the organization, Donovan will turn his attention to filling out the staff as he is looking to start fresh.
Donovan has had great relationships with everyone he has worked with from all accounts, so finding coaches to join him on the bench shouldn't be too hard. Also, keep in mind that Arturas Karnisovas and Jerry Reinsdorf have surprised fans a lot this offseason by showing a willingness to spend big. That leads me to believe that no assistant or no former head coach is off-limits for Donovan at this point.
Not only will Donovan be given a lot of control in regards to the roster, but there shouldn't be too many restrictions when it comes to him picking his staff. Brian Keefe and Maurice Cheeks, who have been with Donovan the past five seasons in Oklahoma City, are two names to certainly watch as they may want to continue working with him. With the Thunder set to go through a coaching change of their own, Donovan's old staff may wish to move on or could be released.
With the Rockets, Pelicans, Pacers, and Clippers still looking for head coaches, look for some of those assistants and or former head coaches to be possible options. Take Doc Rivers out of the equation who is now in Philadelphia. That could mean the end of Ime Udoka in Philly. Udoka was rumored to be in on the Bulls job and is the highest-paid assistant in the game. He will most likely be looking for a head job, but the Bulls could possibly lure him in.
Another name to watch is Wes Unseld Jr, who again interviewed for the Bulls job. Granted, he didn't get the position, and I would find it difficult to believe he would take an assistant job. Unseld has experience with Karnisovas and trusts his every move. The two of them would love to work together again. Outside those two big-name assistants, Alvin Gentry and Nate McMillan could be names seen if Donovan is looking for an experienced coach to be his lead assistant.
Whatever he decides to do will undoubtedly benefit Chicago because Donovan has a plan in mind that he wants to use. This will be a challenging gig, to say the least, but it is a challenge that Donovan wants to take head-on.