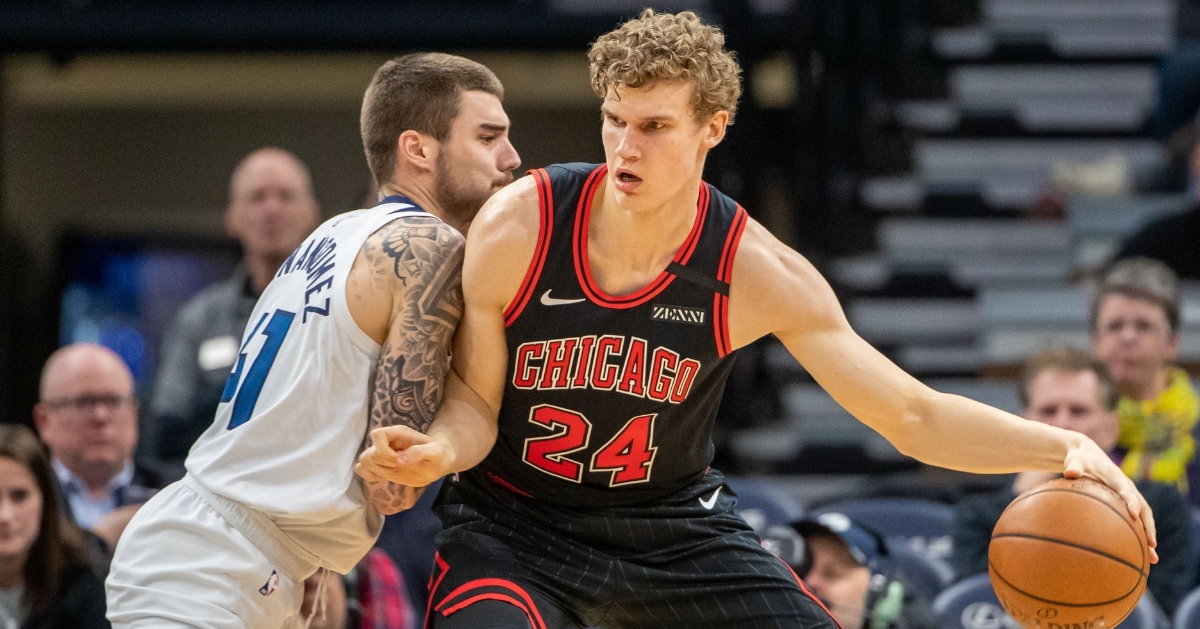 | | |
| --- | --- |
| Season in Review: Lauri Markkanen | |
---
Four years ago, the Bulls did the unthinkable by trading away Jimmy Butler to the Minnesota Timberwolves in exchange for Kris Dunn and the No. 7 pick in that year's draft. That pick happened to be Finland native and the University of Arizona PF Lauri Markkanen, who had all the makings of being a legitimate superstar in this league.
At 7-0 240 LBS, Markkanen isn't your typical big man as he falls into the Dirk Nowitzki type of player. He is what you call a stretch forward, which is a big man who can step out to the perimeter while also using his size on the inside. While perimeter shooting has always been his strong suit, Markkanen knows he needs to develop more of an inside game if he wants to be the complete player both him and Chicago expect at this time.
After averaging 15.6 PPG and 7.2 RPG in one season at Arizona, the Timberwolves liked what they saw, eventually taking him No. 7 in the draft before shipping him off to Chicago. Markkanen nearly matched his college totals during his rookie year, averaging 15.2 PPG and 7.5 RPG in 68 games. He missed 14 games that season with a back injury, but still showed the Bulls tremendous promise.
His second year in the league had many people believing he was a cornerstone part of the Bulls franchise, despite missing time early in the season with an elbow injury. Markkanen only went on to play 52 games last season, 51 starts but saw his production rise to 18.7 PPG and 9 RPG as he was living up to his top 10 potential.
While his numbers continued to get better, his health was the only red flag through his first two seasons, so Markkanen made a point to get in better physical shape this past offseason putting on 15 pounds of muscle. Hoping that would help his season durability, Markkanen was bitten by the injury bug once again late in the season. Still, it was his overall decline in production that has the Bulls concerned now.
For the second straight season, Markkanen was limited to less than 55 games this season, seeing action in just 50 contests. That is obviously because of COVID 19, but he did still miss a month of action from January into February before returning to the lineup. While health remains a concern for the Bulls, the numbers he put up this season were not good as he posted career lows in everything.
After aiming to get stronger to stay on the court longer, it appears that all that extra muscle he put on has affected his shot to the point where he may need to rediscover his game this offseason. While his 14.7 PPG and 6.3 RPG are not terrible, they are both career-low numbers for him as he has averaged 16.7 PPG and 8.1 RPG for his career.
Something just never seemed right with Markkanen this season, and you could see it right from the start as he was struggling to shoot 20% from deep the first month or so of the season after having no trouble hitting 38% of those same shots his first two seasons. Along with his outside shot failing him, Markkanen also had a hard time finishing at the rim, which grew frustrating as the season went on. He needs to figure out what happened this season and fix it fast.
Season Grade C -: Markkanen has done nothing but impress in his first two seasons in the league, but after this year, I am growing more concerned about his fit on this team. His numbers were still solid, but they were not where anyone expected them to be after a tremendous second-year campaign. While he certainly needs to stay healthy, he also needs to work on his inside game because the three-point shot will not always be there.
If Markkanen is knocking down his threes, he is a very tough matchup as everything else opens for him. When those threes don't fall like they didn't this season, his game becomes too one dimensional and stale as he is forced to put the ball on the floor, which isn't his strong suit. Set to enter his fourth season with the Bulls next year, I honestly feel it has suddenly become a make or break year for him if he expects to remain past his rookie deal.
Should he bounce back to the levels of his first two seasons, I expect the Bulls to offer him some sort of contract extension moving forward. However, if last year was the beginning of a sudden decline, Markkanen will not only be looking for work elsewhere shortly but could be shipped off before his fifth-year option even begins.
Upgrade Your Account
Unlock premium boards and exclusive features (e.g. ad-free) by upgrading your account today.
Upgrade Now