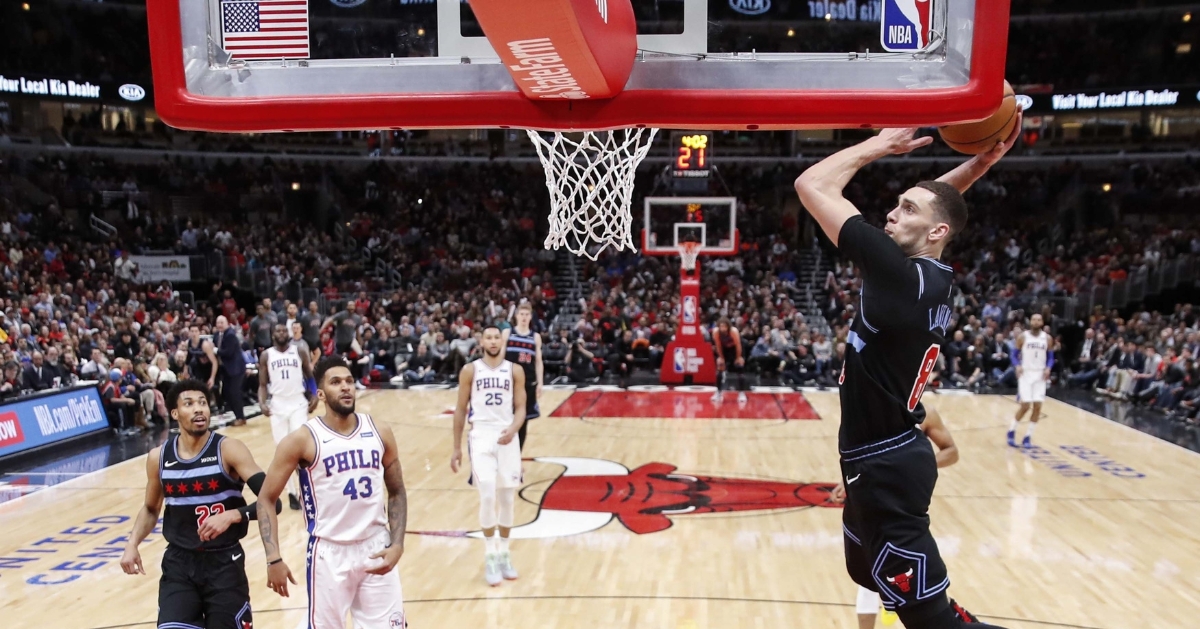 | | |
| --- | --- |
| Teams are calling for Zach LaVine as trade deadline nears | |
---
We are reaching the all-star break of the NBA season, which is followed by the NBA Trade Deadline. It is during this frantic time where teams (mostly contending teams) try to separate themselves from the rest by acquiring key pieces to bolster their roster. Although the Bulls continue to struggle to string wins together, they are somehow still alive in the playoff picture, meaning they likely won't be sellers at this season's deadline.
That hasn't stopped teams from inquiring on players like Thaddeus Young, Kris Dunn, and of course, Zach Lavine as Chicago appears content to ignore all offers on Lavine at this time. According to Zach Lowe of ESPN, not only have the Bulls been contacted about Lavine's ability, but several good teams have inquired about what it would take to get him. The all-star snub is by far the heart and soul of the Bulls roster, and at this point, not only does it seem highly unlikely that he will be moved, but it appears the Bulls are not even throwing that idea out there for now.
When you have a player of Lavine's talent, you want to hold on to him if possible, especially when in a playoff hunt. Theoretically, that is where the Bulls are, but realistically it would take a long short for them to steal the eighth seed. Does this mean they are not entertaining any offers? Given the state that this franchise is in, no one player should be off the table regardless of talent level. Yes, losing Lavine would hurt, but he would bring in a significant haul that the Bulls could potentially use to their advantage.
With several vital injuries already on the roster, I am sure it would take a great package at this point for the Bulls to part with their best player, but why not entertain offers to see what these so-called Good Teams have to offer. If these teams are calling about Lavine, they think he is a winning talent, which means the Bulls would hold the upper hand in any negotiations.
The downside of not picking up the phone certainly means that not only will Lavine be Chicago's leader going forward, but unless the Bulls can find some free agent or trade magic this offseason, he will be the teams No. 1 option long term meaning the offense needs to be geared around him. Whether that is the right decision or not remains to be seen, but the takeaway from this is that teams are starting to realize the kind of talent Lavine is.
As good as he is for the Bulls, would he be anything better than a second or third option anywhere else he goes. Sure, maybe, but if he goes to a playoff-contending team, chances are he will no longer be that No. 1 option, which is something he has always wanted to be. Most of the league views Lavine as an excellent complimentary piece.
I understand the desire to hold on to him at this point, but you also need to put the future of the franchise in perspective. Yes, there is a chance Chicago can make the postseason this year, but they would have to be healthy first even to have a shot at that. Trading Lavine certainly wouldn't help that cause this season but could set the Bulls up next year to be a bit more aggressive in improving their roster.