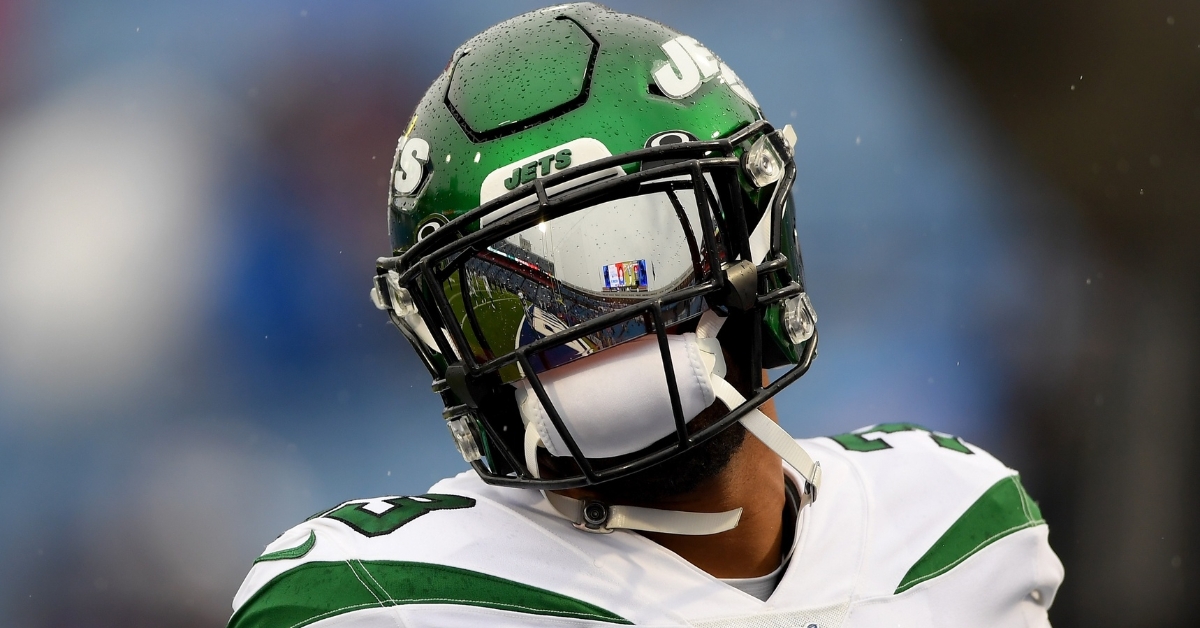 | | |
| --- | --- |
| Commentary: Should the Bears trade for Jamal Adams? | |
---
As this offseason continues to unfold, we have seen more and more notable names, either requesting a trade or being dealt to surprising teams. It all started with DeAndre Hopkins and his surprise trade from Houston to Arizona in exchange for David Johnson.
The next big name was Stephon Diggs, whose ego and attitude warranted a divorce from Minnesota and sent him to Buffalo in exchange for a plethora of draft picks. During the draft weekend, Trent Williams, who was on the trade block for what seemed like a year, was finally granted his wish as he was dealt from Washington to San Francisco in exchange for more picks.
Now, as we inch closer to training camp, another big name is requesting a trade from his current organization and makes me wonder if the Bears should pursue him. That man is New York Jets safety Jamal Adams as it appears the relationship between him and the Jets is unrecognizable to this point.
The former LSU standout has been a force in the NFL since the Jets drafted him with the sixth pick back in 2017, and any team to get his services will be lucky to have him. For three seasons, Adams has been one of the more versatile safeties in this game as he is less worried about forcing turnovers and focuses on making plays.
To this date, Adams has accumulated 273 total tackles to go with 12 career sacks. Add in six forced fumbles, four fumble recoveries, two interceptions, and two defensive touchdowns, and you see what I mean when it comes to being a playmaker first and worry about turnovers second. Adams is not your prototypical safety that most teams generally target, but he is going to make any defense better and would be foolish to pass up if you can make things work for him.
Right now, the Bears have one of the best safeties in the leagues themselves as Eddie Jackson became the highest-paid safety in the NFL this offseason. Chicago has been integrating different pieces to find him a new running mate long term, but so far that has not worked out. Yes, the Bears added Tashaun Gipson this offseason, which will help in the safety position, but he is nowhere near the kind of player that Adams is should the Bears have an interest.
Let's take a minute to think about what the Bears defense would look like with Adams in the fold. Chicago is already one of the rare teams that feature an all-pro type of player at all three levels of the defense. You have Akiem Hicks, Robert Quinn, Khalil Mack, Kyle Fuller, and Eddie Jackson already as some of the best players in the game at their respective positions, adding Adams could give the Bears yet another pro bowler on defense.
While Jackson is known for forcing turnovers, Adams is the exact opposite, but given the number of different schemes that Pagano likes to run, Adams would thrive in that system. He fits a long-term position of need for Chicago, but once again, money will be the ultimate issue in terms of pulling off this trade.
Should the Bears show interest in this deal, they will have to give up a lot to get him, which will all start with next year's draft picks. Already down some in the Khalil Mack deal, the Bears need to be very careful what picks to offer as they need to conserve what they still must build up their roster for the future.
Once the draft pick side of things is sorted out, you know the Jets will want some defensive player in return, which is where Gipson comes into play. If the Jets are going to be down a starting safety, they will want one back in return. Gipson was brought in by Chicago to replace Ha Ha Clinton-Dix, so adding him to the trade package only makes sense for both teams.
New York will also want I believe some offense in return to help Sam Darnold reach his full potential. With Leveon Bell and Frank Gore in the backfield, the Jets appear to be set at RB, although Tarik Cohen would be good in the Adam Gase offense. However, the WR group for the Jets is improved, but they lack a true No.1 at this point as Breshad Perriman, Denzel Wims, and Jamison Crowder are the team's three best options at this point.
As much as it pains me to say this because it would hurt the Bears offensively, but Anthony Miller would undoubtedly be a name to watch if trade talks between the two sides heated up. The former second-round pick out of Memphis has emerged as the Bears' second-best receiver option and has the potential to be a true No. 1 in this league. The Bears have other options that could certainly fill his absence, but the Jets would be getting the better end of the deal if Miller departed.
The longer Adams puts his displeasure on notice, the more likely he will be dealt sometime before or during the season. We know what Chicago wants to be defensively once again, so bringing in Adams would certainly make a ton of sense and be a wise move for Chicago if they can pull it off. I expect Ryan Pace to kick the tires on this deal and talk with the Jets organization about what can be done to bring Adams to Chicago. Let's just hope that if a deal is imminent, that it doesn't hurt them in the long run.