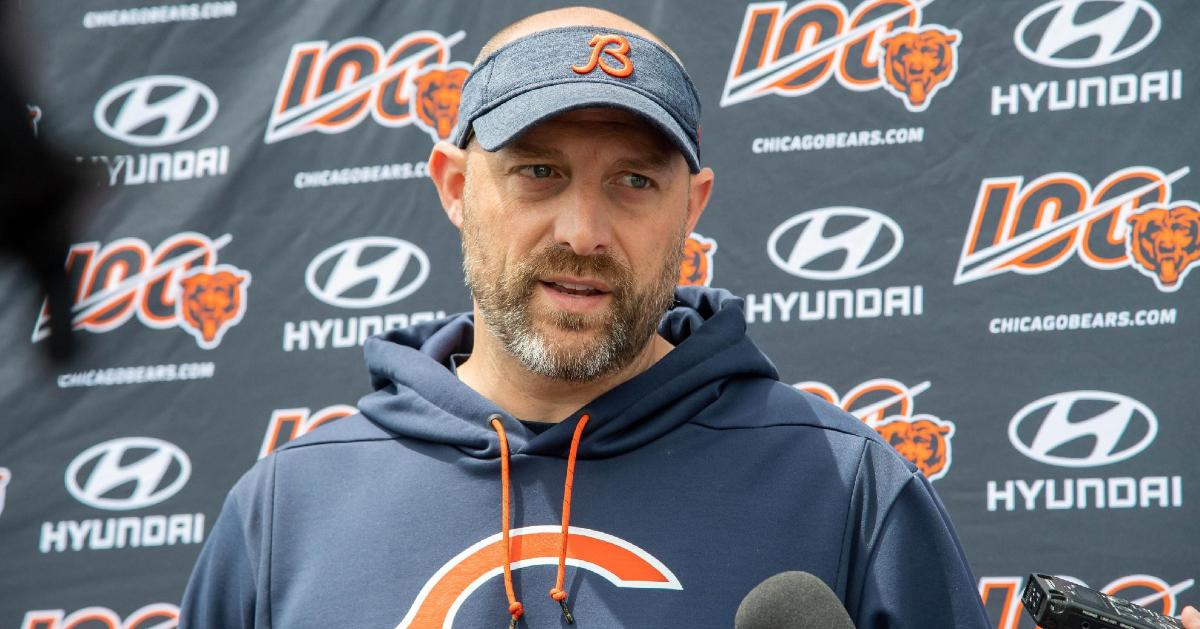 | | |
| --- | --- |
| Hot Seat talk: Is this make or break week for Bears? | |
---
The bye week couldn't have come at a better time for a variety of reasons. For starters, the Bears have gone from 5-1 to 5-5, losing four-straight to fall out of the postseason picture now. Secondly, the Bears injuries are starting to pile up, including both of their top two quarterbacks. It does look like Mitch Trubisky will be good to go on Sunday, but injuries are still concerning.
Third, Matt Nagy gave up his play-calling duties in favor of Bill Lazor last Monday, and the offense looked even worse in the process. They needed the extra time off to get on the same page. Finally, the Bears are going up against their archrival and Division-leading Packers as they have a chance to bury the Bears division hopes with a win.
With all of that in mind and having to prep for a critical Sunday night game, more pressure is on the Bears this week. Where there is smoke, there is often fire, and it appears that both Nagy and current GM Ryan Pace are entering this week against the Packers on the hot seat. What that means strictly for the rest of the season is a significant question, but you get the sense that this is a make-or-break type of game for these two if they want to be here next season.
Following the less than impressive Monday night loss, there was a lot of tension at Halas Hall, especially when it came to owner George McCaskey. No one wanted to cross paths with him the next few days in a few of striking one of the few nerves he had left. That sort of tension led to McCaskey hinting that losses to the Packers or just a failure to make the postseason after their 5-1 start would lead to some high-profile personnel changes.
If Nagy and Pace's seats were not hot before, they are burning now, and you can bet they feel it. According to Adam Jahns of The Athletic, the next six games for the Bears will be a telling point to their future.
"I don't want to overrate the importance of these next six games because I don't think the quarterback conundrum is going to change over the next six weeks," Jahns said to the Gridiron. "The record (25-17) is important. But I've said all along, it would take some collapse for the Bears' brass to feel differently. We're in the middle of that collapse right now. Can Matt Nagy stop it?"
That quote right there reiterates what McCaskey says by a failure to make the postseason result in changes. Coming into the week, Nagy seemed much more confident than most fans, but here we are about to enter the final push of the regular season with two people on the hot seat. That isn't what they had in mind.
This team is in free fall and has been since starting 3-0. After not making any deals at the deadline, which falls on Pace, Nagy is the one that needs to get the most out of his current players, and quite frankly, that isn't happening. A lot of the blame is falling on Nagy, which it should, but he can only work with the roster given to him.
Pace is the one that constructed this roster, and he has missed on a lot of things. Dating back to the Trubisky pick in 2017 to failing to address the offensive line, Pace had put this offense in a tough predicament even before things went south. The team has been built on defense, but defense can only get you so far.
The thing that is complicating the situation is that every decision is made on these two will impact the franchise's future. Should the Bears elect to hang onto one or both one more season, you're giving them a chance to draft another franchise-type quarterback hopeful. After the debacle that happened four years ago, would anyone trust Pace with that decision again?
Letting both or one of them go at this point puts the team in another tough spot as they would need to find a replacement this offseason with a different mindset. That mindset could shift how this team was built and put the Bears in a full rebuild mode to shed contracts and acquire more picks.
Things will be dicey the next month of the season, and there will be a lot of built-up frustration if things continue to go the way they have been. Look for Nagy to reaudition for his job as he has six weeks to prove he deserves to be here while Pace's future falls on what Nagy does with this team.