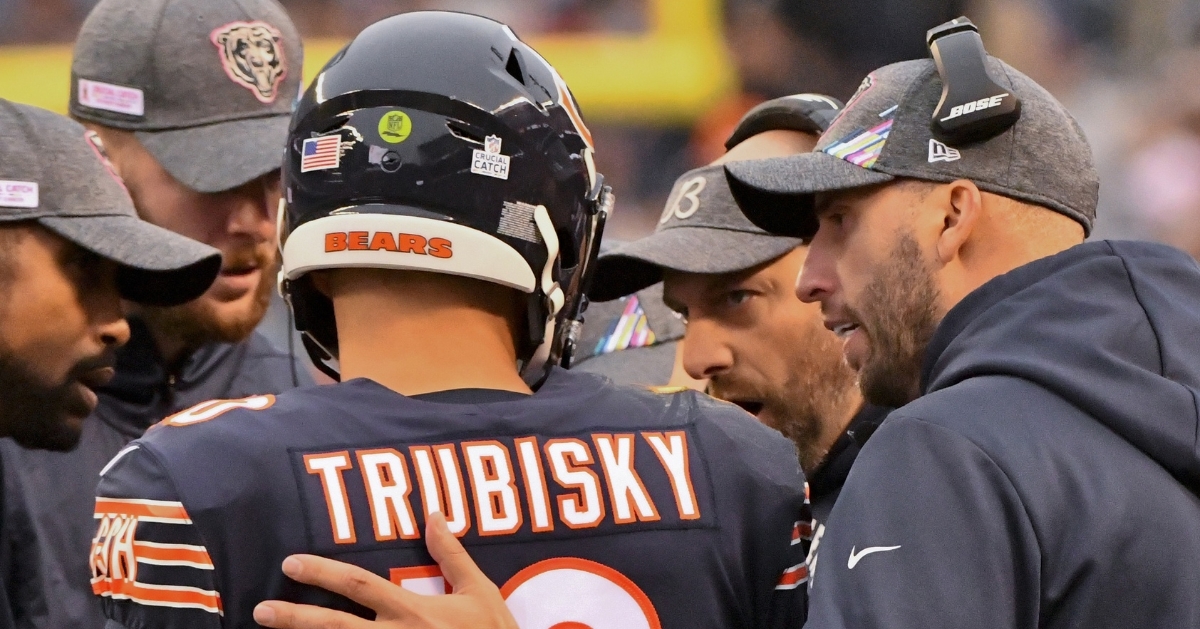 | | |
| --- | --- |
| Nagy and Trubisky crucial for Bears' success | |
---
Nagy and Trubisky is not a duo's name that slips off the tongue in the same sentence as a Brady and Belichick or Brees and Payton — but the Bears' recent success is undoubtedly due to the relationship between these two, and how well they work together.
When Ryan Pace and the Bears pulled the trigger and moved up one spot in the draft to grab Mitchell Trubisky number two overall in the 2017 draft, it was hoped that by year three, he would be looking like a franchise QB.
With an already sound defense, hiring offensive mastermind Matt Nagy to coach the Bears ahead of the 2018 season was high risk, high reward move.
2018 saw Nagy win NFL Coach of the Year, Mitchell Trubisky make serious progression and the Bears have their best year of the decade. A double doing later and that turned into the 2019 Bears having the highest expectations of a Bears team in recent memory, but the Bears, especially Trubisky and Nagy, have failed to live up to them.
While the Trubisky/Nagy duo has been nothing close to dynamic in what has been a disappointing season, the last six weeks have been very encouraging to both the Bears' record and fans of the club.
After the 3-5 start and numerous heartbreaking losses to the Raiders, Chargers, and Eagles, the Bears have made a lot of progression offensively. The last six games have seen the Bears beat the Detroit Lions twice, the New York Giants, and most recently, the Dallas Cowboys on Thursday night football.
In his last five games, Trubisky has thrown for 1,223 yards with 11 touchdowns, plus a pair of touchdowns on the ground as he has found his legs a little bit.
And even in the loss over the last five weeks against the Rams, the Bears were hammered by missed field goals, dropped passes, and Mitch's hip being injured. He was not benched, he did not give up, and he's strung together three straight wins, two of them in a row on primetime television have seen him throw three touchdown passes each game.
With his most recent performance of 244 yards passing, 63 yards rushing and four total touchdowns, the Bears move to 7-6 and are still very much in the hunt of the wildcard race.
Give Mitch a lot of credit in this season's turn around, he has received a lot of negativity and criticism and has let that fuel him to success. However, while Trubisky's performance deserves acclaim, it is crucial not to forget how vital Nagy is.
To be like Brady and Belichick or Brees and Payton is a long way away for these two. Still, Nagy's commitment to Trubisky has allowed him to regain confidence, and Nagy's offensive prowess has allowed him to cater to Mitch's strengths, precisely what good coaches do.
The Saints have one of the top offenses in the league led by Drew Brees and called by Sean Payton. As Brees has aged, his deep ball throwing has taken a hit, so Payton has mostly cut those plays out of the playbook and adopted a "death by a million cuts" offense as Colin Cowherd calls it — and the Saints have excelled.
The Bears have done the same over the last few weeks, which is building the run game to allow Mitch more time in play action. Giving Trubisky easy RPO reads. Utilizing Mitch's legs both in scrambling and designed QB runs has been the most apparent improvement in the offense as of late. Doing this adds another layer to the unpredictable offense Nagy run, and it makes Trubisky a much tougher player to defend.
Nagy and Trubisky adopted and altered the playbook that Josh Allen and the Bills used to beat Dallas on Thanksgiving — and ended up scoring 31 points on the division-leading Cowboys.
While the playoffs are still a bit of a long shot, improvement and adjustments by both Nagy and Trubisky are encouraging for now, and the future plus Club Dub has been open recently, so what's not to like.
Upgrade Your Account
Unlock premium boards and exclusive features (e.g. ad-free) by upgrading your account today.
Upgrade Now