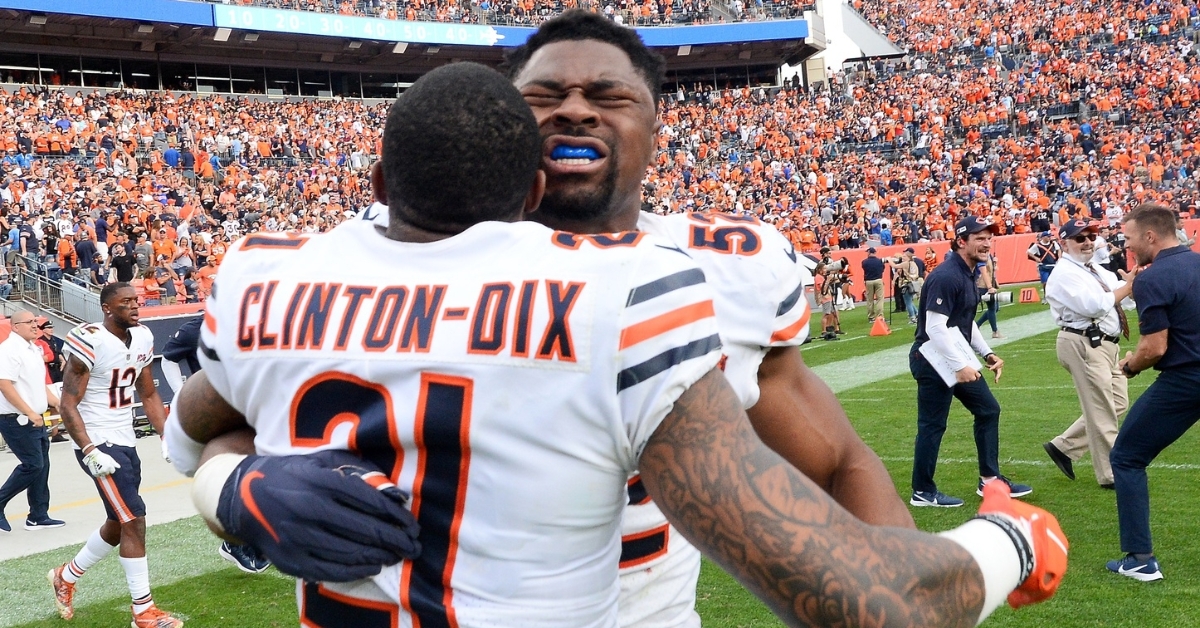 | | |
| --- | --- |
| Prediction, Three keys to Bears-Chargers matchup | |
---
The Bears are faced with a must-win game this Sunday as they continue to fall further behind in the standings. Standing across from them on the other sideline will be the reeling Los Angeles Chargers as they too are in desperation mode.
When the schedule was released in spring, most people circled this game as a potential game of the week, given how the two teams performed last season. However, that performance is a far cry from where these two teams are in 2019 as both look to get back on track this week. Here are my three things to watch for in Sunday's contest.
1. Who wants it more
That's right; this game will come down to who wants it more as both teams are desperate and in must-win situations? For the Bears, they are in much better shape than the Chargers as even a loss would keep them alive in the playoff hunt but barely. However, should they lose and fall three games behind both the Vikings and Packers, it will be a long uphill climb the second half of the season as both those teams have played superbly so far.
The Chargers season very well could be on the line this week after finishing 12-4 last year. A loss here would put them at 2-6, and judging by some of the teams in the AFC, Los Angeles would probably have to win out for them to sniff the postseason once again. This game will have a lot more emotion than what many people think as both teams could very easily view this as a postseason type game.
2. Quarterback play
Should this game remain close, and someone would have the ball with a chance to win late, which quarterback would you want? I certainly would take Phillip Rivers as he not only has the playmakers on the outside to make some noise but has been there done that before in terms of game-winning drives.
Mitch Trubisky, on the other hand, is still searching for any sign of consistency this season as it has been a struggle for the Bears offense all season long. Record aside from the Chargers, and they usually have had a pretty strong defense that was able to take over games. That is not the case this season. However, Trubisky has made several defenses look better than what they are this year. It is his time to shine this week; otherwise, the Bears may be in trouble the rest of the way.
3. Home Field advantage
Playing at Soldier Field is tough enough as it is, but coming from the west coast to a two-hour time difference makes playing at this stadium that much tougher. That is the case for the Chargers this week as they must travel halfway across the country to play a hungry Bears team in a hostile environment.
Make no mistakes, the Chargers undoubtedly won't use that as an excuse if they lose this game, but history has shown just how tough it is for west coast teams to play in different time zones. For the Bears to be able to use their home field to their advantage, they need to start fast and the crowd into it early. Once they can do that, it is time for them to do what they do best and let the defense get after it with hopes of some life on offense.
Prediction
I fully expect this to be a tightly contested contest as both teams are in must-win mode this season. On paper, the Chargers roster is way more talented, especially on the offensive side of the ball. However, that is why the game is not played on paper as wins have not come easy for either team thus far.
I look for Rivers to have a big first half keeping the Bears on their heels while the offense struggles yet again. The second half is where things will change as I believe the Chicago defense will pin their ears back and start to get after the quarterback like they anticipated this season. Look for a much better rushing attack and balanced offensive approach as the Bears pull one out on an Eddy Pinero field goal 23-20 in overtime.
Upgrade Your Account
Unlock premium boards and exclusive features (e.g. ad-free) by upgrading your account today.
Upgrade Now