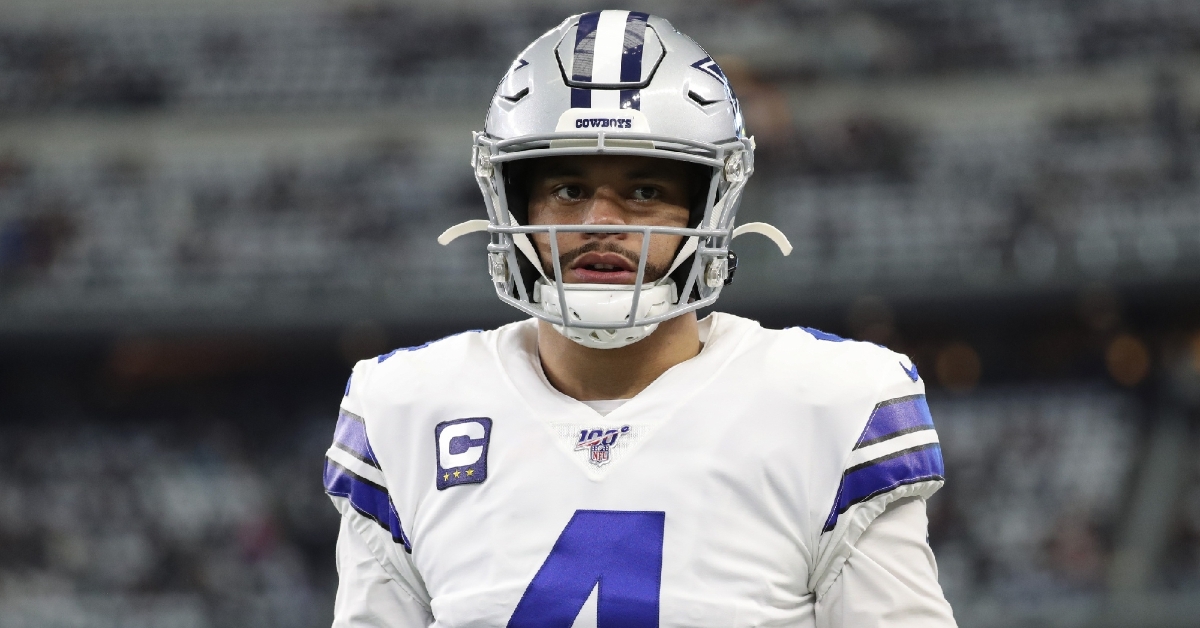 | | |
| --- | --- |
| Should Bears look at Dak Prescott in 2021? | |
---
Whether you love or hate an NFL franchise, you never want to see a player hurt and especially not severely hurt. That is precisely what happened with Dak Prescott during the Giants-Cowboys game last weekend.
The Cowboys quarterback has been trying to land a long-term extension with the Cowboys. Instead, Jerry Jones felt a franchise tag on his quarterback might be a better option, and now that may have come back to not only hurt Prescott but haunt the Cowboys. During the third quarter on Sunday, Prescott took off running and was looking for a first down. Stopped a few yards short, Prescott's ankle and lower leg got rolled up on, and the rest is history. If you want to see the image, you can google it, but I won't go into detail too much.
A compound fracture of his right ankle was the diagnosis ending his season. Prescott underwent what is said to be a successful surgery last night and is expected to make a full recovery. His timetable is 4-6 months, which brings up a lot of questions regarding his future in Dallas. A free agent at the end of this season, NFL executives believe both the Bears and the Colts will be huge players for his services, but I also expect the Cowboys to be in on him.
Since coming to the league in 2016 as a third-round pick, Prescott has quietly been one of the better quarterbacks. He may not be Patrick Mahomes money good, but he is still worth what most quarterbacks are getting paid even if the wins are not there. Dallas has been known to have a great offense, which has been orchestrated by Prescott the past few years. The only problem has been the defense. Should he come to Chicago, where they have a great defense and, the wins will follow.
Often, the Franchise tag works in a player's favor as they get the max dollar amount for one season while negotiating a long-term deal. However, this is the one case where the franchise tag worked against Prescott, and it brings to question will he have some bad blood towards the Cowboys after this season. Prescott has been pleading for a long-term deal and has bet on himself every season. By all accounts, he deserves the contract as he is the best quarterback the Cowboys have had since Troy Aikman.
I have no clue what Jerry Jones is thinking, but by tagging Prescott this season, it almost seems that Jones was betting against him heading into 2020. You know what, that may have worked at least from the financial side of things because this injury could cost Prescott millions. Let's be real; he would never get the 40- million he was asking for to join Mahomes. However, 30 million or even 35 million was never out of the question.
Looking at the severity of his injury, what happens if Prescott is not the same quarterback coming back? From a throwing side of things, don't expect much to change as he still will be a very accurate and productive passer. His legs are what I will question moving forward, as that is a big part of his game. That is why Prescott is such a valuable piece to the Cowboys offense as his legs are just as effective as his arm.
Granted, his legs will not win a game alone. I wonder if his arm can beat teams consistently. Not having a massive dimension of his game at 100% could easily cost him millions in a long-term deal. That could be bad news for the Cowboys if Prescott feels cheated but could be great news for a team like the Bears looking for a franchise leader.
I have always been a fan of Prescott and the way he plays. I am also one of the minorities who don't judge a quarterback based on wins and losses. Ultimately teams view a quarterback's success on how many wins they lockdown instead of looking at the numbers. Football is a team game, and if you're doing your part on offense, you shouldn't be held accountable if your defense or special teams fail you.
Prescott is in rare company among quarterbacks as he has averaged 4500 yards passing or more each of the past three seasons. He is also a guy that will throw 30 touchdowns and can rush for plenty more while using his legs to move the chains. Although he doesn't make a ton of mental mistakes, he has been prone to interceptions now and then, which is one of the few downfalls about him.
Given the personnel that Chicago has on defense, this would be an excellent decision for Prescott to sign with the Bears if the money is right. Having a great defense can help take the pressure off him offensively, and he can play within himself to lead the way. I would love to see this move happen, and if I'm Prescott, I am looking at all scenarios this offseason.
Dak Prescott with his first update after the injury ?? @dak

(via _4dak/Instagram) pic.twitter.com/akqhxji4Vb

— SportsCenter (@SportsCenter) October 15, 2020
Upgrade Your Account
Unlock premium boards and exclusive features (e.g. ad-free) by upgrading your account today.
Upgrade Now