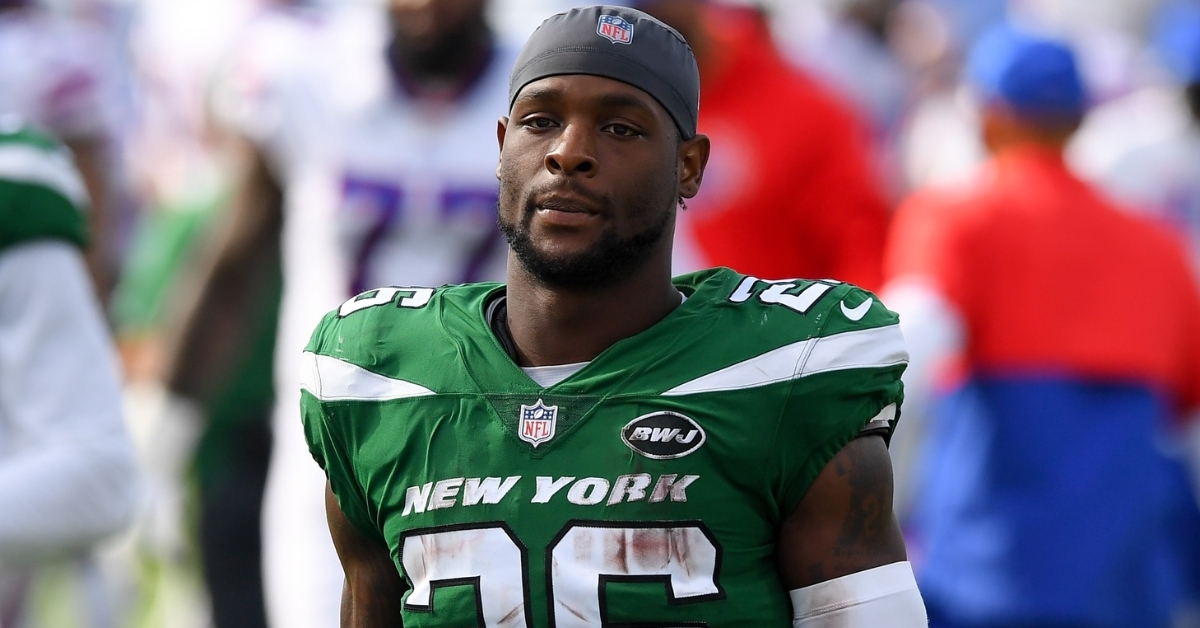 | | |
| --- | --- |
| Should Bears try to sign RB Le'Veon Bell? | |
---
| | | |
| --- | --- | --- |
| Wednesday, October 14, 2020, 9:11 AM | | |
It is ironic how New York Jets players keep popping up on the Bears Radar. Yesterday we discussed the possibility of the Bears trading for Sam Darnold after this season. Now, after what transpired yesterday, the Bears are now one of the favorites to potentially land Le'Veon Bell.
After trying to trade him for weeks and even dating back to last season, the Jets decided to kind of grant his wish by flat out releasing him to make him a free agent. That will allow him to sign with any team of his choosing. After whining his way out of Pittsburgh for not getting the deal he desired, the Steelers sent him to New York, where his time didn't even last two seasons.
Bell leaves behind 15 million in dead cap money this season and another four million next year. Across his 18 games with the Jets, Bell made 28 million. The news of Bell's release shouldn't come as a surprise, especially when they openly admitted to putting him on the trade market. There wasn't much interest at this point, so the Jets did what they needed to do to move on.
At just 28 years old, Bell should have a lot of football left in him despite sitting out an entire season not too long ago. He signed a massive multi-year deal with the Jets, but things didn't click in this offense. Whether Adam Gase was the issue or the fact that the Jets offensive line is nowhere near as good as Pittsburgh, Bell struggled to get anything going averaging just 3.3 yards per carrying and 4.1 yards per touch with New York.
Not only are those numbers not the numbers Bell expected to put up, but when you look at the deal, he signed they are not even the numbers you would expect from a high priced free agent signing. Now that he is a free agent and has no contract attached, he becomes a very intriguing option for many teams, and the Bears are certainly on that list of teams.
Bell can be signed for a veteran's minimum, which generally ranges in the 810,000 area. He may ask for a little more, but at this point, he should take any offer he can get. After having a strong running game earlier this season, Tarik Cohen was lost for the season with a torn ACL, and the running game has gone south ever since. Chicago did add Lamar Miller to the practice squad, but he has not played a game in nearly 15 months, so they may not get anything out of him.
With Cohen not coming back this season, the Bears certainly could use someone with the type of resume Bell has. The signing would come cheap, but it certainly wouldn't come without questions. The first question would be Bell's attitude with Chicago. Ever since his contract season with Pittsburgh, Bell has turned into a diva. He won't be the starting back in Chicago, and is that something he can handle.
The second question I have falls on his production and what Bell are you going to get. Are you going to get the one who made two pro bowls in Pittsburgh or the one who couldn't get anything done in New York? Offensive line play plays a huge role in a player's success, and the Bears offensive line is getting better but isn't top-level yet. Still, their line is better than the Jets, so Bell should be able to get something going.
Another question I have is, what exactly is Bell going to cost? We know he is a free agent, and any team can grab him for a veteran's minimum. That may be his only option, but given the type of player he is, Bell will undoubtedly try to push for more. Could he push the Bears out of his price range? If not, Chicago would be wise to look at him for at least the remainder of this season.
Chicago is in a great position to surprise people this season, and adding Bell will go a long way in doing that. This is a 4-1 football team that continues to win games and is proving they belong in the contender talks this season. Their start is surprising, giving the quarterback play and lack of a running game so look for Chicago to fix one of those two issues.
Bell clearly would like to start somewhere, but there are far worse places to be if he must settle for a backup role. When healthy and when starting, Bell was a major matchup problem. He continuously topped 1000 yards on the ground and often hauled in 600 plus yards through the air. He could also be counted on to give you 15 plus touchdowns a season.
If that is the type of production he brings with him to his next destination, that right there shows you he was misused in New York. I don't expect his Pittsburgh numbers, but he is also a better player than what he showed with the Jets. Bell easily could come to the Windy City and split time with David Montgomery, and the offense instantly becomes better.
He could potentially give you 60 yards rushing off the bench if the line can block the way they are capable of. Bell certainly will have his fair share of options in the coming weeks but keep an eye on the Bears. They are a team that could use him, and I expect them to make a run at him until the bitter end.