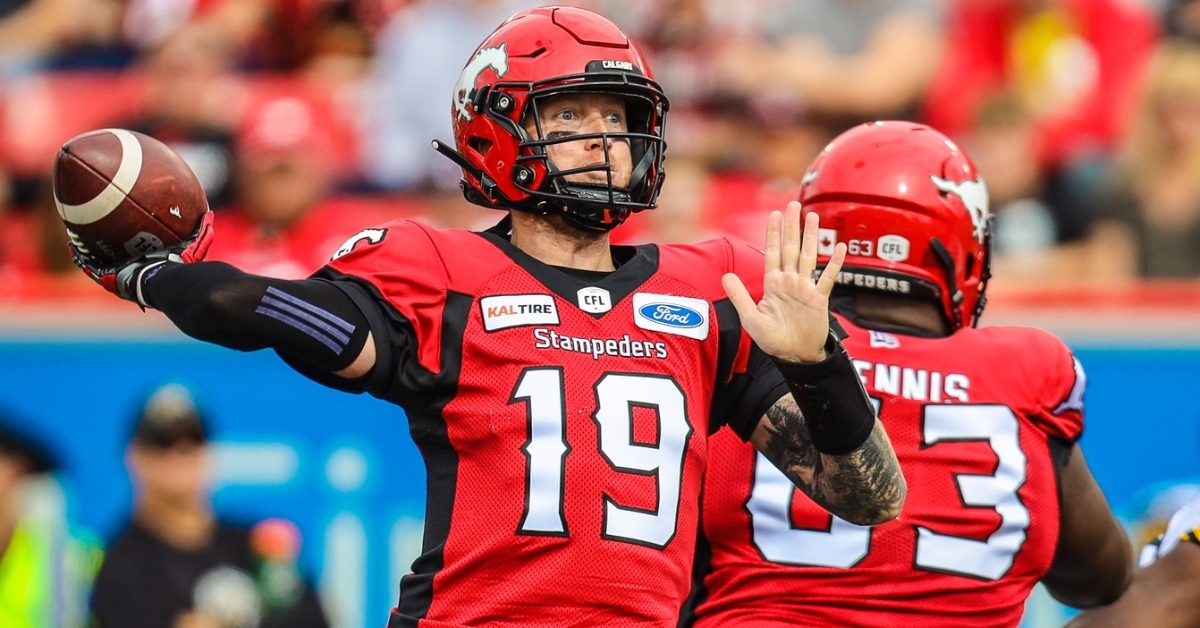 | | |
| --- | --- |
| Will more CFL stars be coming to Chicago? Part II | |
---
Yesterday we began a three-part series highlighting some possible CFL players the Bears should target if there happens to be no CFL season this year. We continue this series with part two today as we focus on three more of the CFL organizations. Today we will go through the Saskatchewan, Calgary, and Toronto rosters and see if there is a diamond in the rough to be had for Chicago.
BO LEVI MITCHELL (QB Calgary): Now this player is not a free agent at the moment, but should the CFL not happen this season you can bet he will be looking for a place to play. The former Eastern Washington signal-caller has done nothing but impress since signing with Calgary in 2012 and ranks near the top in terms of passing stats on an annual basis.
For his career, Mitchell has completed just shy of 65% of his passes while logging nearly 28000 yards in the process. His 169 TD/70 INT ratio isn't bad when you look at how many passes, he throws, but he does need to cut down on his mistakes. What stands out to me the most about Mitchell is his poise in the pocket and ability to win games as he has logged a 77-18-2 record as a starter with two Grey Cub Championships to his name.
There is no secret that the NFL is certainly something Mitchell wants to do as he earned a tryout with the Vikings following an amazing 2018 season which saw him ultimately head back to the CFL. With both Trubisky and Foles on the roster, Mitchell would be more of a third-string QB this season, but once 2021 hits, I would love him as a backup and put in the right system could deliver much like Case Keenum did with the Vikings in 2017.
DEREK DENNIS (OL Calgary): The Calgary Stampeders are my favorite team of the CFL mainly because their logo is the exact same as where I went to High School. With that being said, Calgary has also put out some CFL free agents this season already as the Bears nabbed Tre Roberson from them to put in their secondary while the Packers took their leading receiver Reggie Begelton.
One player that is often overlooked on their team is OL Derek Dennis. At 6-3 348 LBS. Dennis is a massive dude on the OL which is a big reason as to why Calgary has one of the better scoring offenses in the CFL. While a pass-first league, Dennis is great when it comes to pass protection, but isn't very experienced in run first schemes.
Given what the Bears went through in terms of injuries on the OL last season, any additional depth is greatly needed. Why not add someone who not only has the size, but will come cheap looking for a chance to play in 2020.
DERRICK MONCRIEF (LB Saskatchewan): If the Bears are looking to add more LB depth to their roster, Derrick Moncrief is not only a solid option but a cheap option also. The former Oklahoma ST. LB has made a living in the CFL the past three seasons in which all were played for the Roughriders.
Coming off an impressive season that saw him log 69 tackles, four sacks, and three interceptions, Moncrief has earned himself the title as one of the most athletically gifted LB's in all of the CFL and has no trouble backing that up with some of the plays he makes. Those four sacks he recorded last season are the first four of his professional career, while he now has five career interceptions and is approaching 200 tackles. He is the type of player that could fill the void left by Nick Kwiatkowski.
DEREL WALKER (WR Toronto): If the Bears are looking for some cheap, yet durable WR depth look no further than Argonauts WR Derel Walker. While Toronto didn't have much to cheer about last season, Walker was one of the more exciting players on the field and certainly made things happen.
At 6-2 187 LBS. Walker is ideal height when it comes to a WR and can line up both outside and in the slot if needed. After a few down years, Walker stepped up this season hauling in 69 catches for 1040 yards and six scores. Those were his best numbers since posting a 100-plus reception-1500 yards season back in 2016 as he has tallied 5248 yards and 32 touchdowns over five seasons in the CFL.
S.J. GREEN (WR Toronto): You would think a team with two 1000-yard receivers on it would have a bit more success than what Toronto did last season. Well, that was not the case despite Green putting up even better numbers alongside Walker. The former South Florida star is also 6-2 but at 217 LBS. offers a bit more size than Walker.
Now entering his mid 30's, Green is nearing the end of his football career, but after an 85 catch, 1039 yard season in which he had four scores he still has some football left in him. Green reminds me a lot of Hakeem Nicks in someone who isn't going to blow you away with any pure skill but knows how to make plays on the field.
In 12 CFL seasons, Green has logged 10,222 career receiving yards to go with 60 scores. He has also put together seven seasons of 1000 yards or more including his last three years. From an age standpoint, I don't know if this signing would make a ton of sense, but given what he has done for 12 years, is it really not worth taking a chance for a cheap depth contract?
Upgrade Your Account
Unlock premium boards and exclusive features (e.g. ad-free) by upgrading your account today.
Upgrade Now