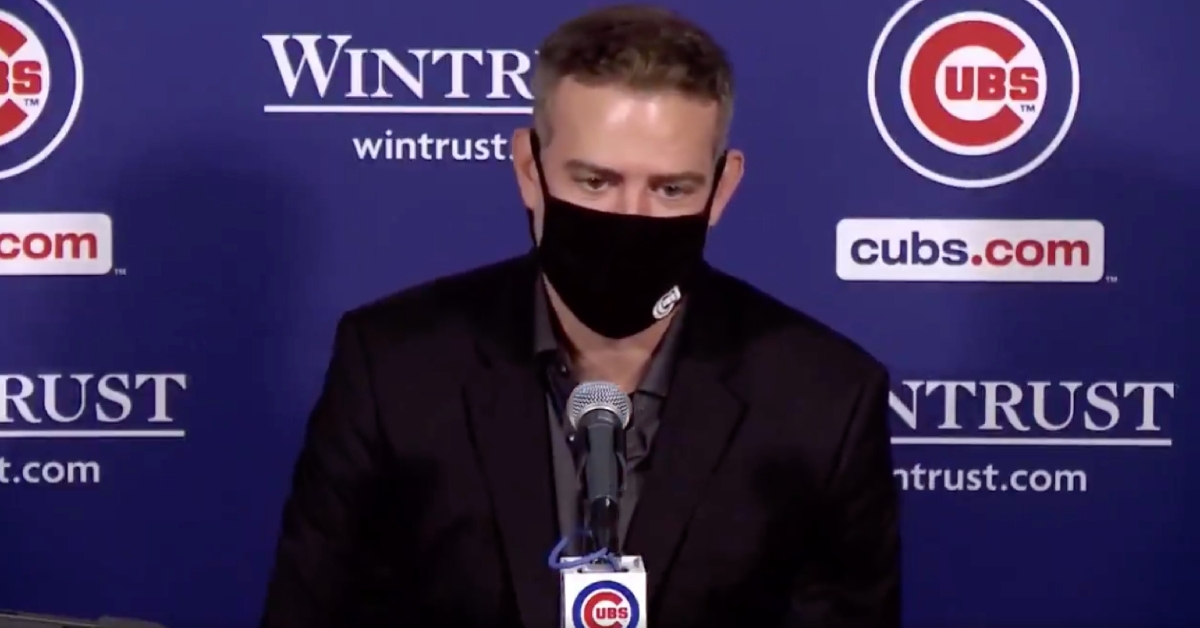 | | |
| --- | --- |
| Highlights, reactions from Theo Epstein's end-of-season press conference | |
---
| | | |
| --- | --- | --- |
| Monday, October 5, 2020, 3:56 PM | | |
CHICAGO — Like he does every year, Chicago Cubs President of Baseball Operations Theo Epstein held an end-of-season press conference on Monday. While the presser was not exactly revelatory concerning what all the Cubs' offseason will entail, it was rather insightful and made clear that Epstein intends to remain with the Cubs organization at least until the end of his contract, which is set to expire following the 2021 season.
Epstein began the press conference, which reporters attended via Zoom, by extending his condolences to the loved ones of Danielle Long, the woman reportedly murdered last week by Charlie Haeger, the pitching coach for the Cubs' Double-A affiliate. Following that nice gesture, Epstein took questions from the media. Continue reading for highlights from the press conference and media members' reactions to it, and, after that, click here to view the press conference in its entirety.
Addressing his future with the Cubs, Epstein commented that he plans to be around this offseason but also hinted at his "10-year shelf life" philosophy, which indicates he could leave the club next fall. Read more on that here.
Theo Epstein on 2021 season: "My expectation is that I'll be here"

— CubsHQ.com (@ChicagoCubsHQ) October 5, 2020
"Do you have a sense for what will be next for you?"

Theo Epstein: pic.twitter.com/4ACrrv8if2

— Aldo Soto (@AldoSoto21) October 5, 2020
Don't have to read between the lines too much when it comes to Theo Epstein: He will be back for the final year of his contract and then most likely move on. Been trending that way for a while so no surprises to his comments today. He reinforced that idea just now

— Jesse Rogers (@JesseRogersESPN) October 5, 2020
Theo Epstein: "My expectation is that I'll be here" and also do the best thing for the Cubs, which includes being "thoughtful about a transition," whenever that may happen.

— Maddie Lee (@maddie_m_lee) October 5, 2020
Epstein also revealed that his meeting with Chairman Tom Ricketts, which is planned for this week, is nothing out the ordinary and no cause for concern. Read more on that here.
Theo Epstein says leadership gets together after every season to discuss the future. "As part of that process, I usually meet with Tom one on one." No different this year.

"My expectation is that I'll be here" for final year of his contract. Says his focus is on the 2021 Cubs.

— Jordan Bastian (@MLBastian) October 5, 2020
When asked about the offensive struggles that the Cubs dealt with this season, Epstein implied that they will play a role in determining what moves he and general manager Jed Hoyer will make this offseason.
Theo on the offense: "That's something that we have to own," but says context of the 2020 season has to be taken into account when evaluating the group for the future.

— Jordan Bastian (@MLBastian) October 5, 2020
For the first time in one of Epstein's annual end-of-season press conferences, the front office maven seemed to indicate that the Cubs' core, which has largely remained intact since the 2016 season, which saw the North Siders win the World Series, will finally be shaken up some.
Theo on the offense: "That's something that we have to own," but says context of the 2020 season has to be taken into account when evaluating the group for the future.

— Jordan Bastian (@MLBastian) October 5, 2020
Theo: "We've had a lot of belief in this group, to our benefit. ... And if one wants to turn that around and say that's been to our detriment the last three Octobers? I can own that, too."

— Jordan Bastian (@MLBastian) October 5, 2020
Theo on core group of hitters:

"Is it an end? No. Is is clearly a period of transition and crossroads? Yes."

Says, similar to last year, no one on roster off limits while acknowledging uncertainty of transaction landscape during pandemic/revenue losses MLB-wide.

— Gordon Wittenmyer (@GDubCub) October 5, 2020
While discussing his approach to the offseason, Epstein mentioned the uncertainty regarding the financial ramifications brought on by COVID-19, hinting that hefty contracts may not be on the table in an offseason as nebulous as the one that lies ahead. With that being said, Epstein touched on the value of one-year deals, signifying that he and Hoyer could look to take advantage of short-term deals in rounding out the 2021 roster.
Theo Epstein said of the Cubs' payroll: "The only thing I can acknowledge is that we're in a period of great uncertainty. ... We know what are losses were this year. We don't know what our revenue is going to be next year."

— 670 The Score (@670TheScore) October 5, 2020
Really interesting the Epstein kinda leapt to preemptively pointing out the value - in any market - of having guys on one-year deals, whether value to your own team or in the trade market ...

— Bleacher Nation (@BleacherNation) October 5, 2020
This definitely caught my attention too.

Theo on value of guys with 1-year deals for the 2021 Cubs and the trade market: https://t.co/qbJFl5VlFN pic.twitter.com/fMNWCxX6Pd

— Aldo Soto (@AldoSoto21) October 5, 2020
Upon being asked about what was next on his agenda, Epstein revealed that exit interviews for players and staff members had been pushed back by one week. This was done in order to give players and staff members the opportunity to visit and relax with family after being isolated for the last few weeks of the season due to MLB COVID-19 protocol.
No exit interviews for Cubs this week. Staff/players told to head home, see family, take time to process this season. Theo says the typical exit process will be pushed back about a week.

Theo lauded the work of the coaching staff, but recognizes areas where the team fell short.

— Jordan Bastian (@MLBastian) October 5, 2020
Epstein did not dive into specifics regarding which notable players might not return to the club in 2021, but he did leave open the possibility of starting pitcher Jon Lester returning. The final year of Lester's contract, which is priced at $25 million, could be bought out by the Cubs for $10 million, and there have been plenty of signs pointing to a buyout occurring. Whether or not Lester would be willing to re-sign with the Cubs by way of a smaller deal is currently unknown. Read more on that here.
Theo on Lester: exchanged texts last night. "It remains to be seen whether he's pitched his last game as a Cub or not." Whether he leaves or stays, this is an appropriate time to acknowledge the unique impact he made on this franchise.

— Mark Gonzales (@MDGonzales) October 5, 2020
Referring to the offseason ahead as "a period of change," Epstein alluded to the fact that, while some of the Cubs' core players will remain with the team, some notable players will likely be leaving the Cubs to play elsewhere. Several key roster pieces are under contract through 2021, but Epstein and Hoyer may choose to make use of the trade market in the coming months.
Theo Epstein acknowledged that while they aren't calling it a definitive end for this core, he says #Cubs are in period of transition. Says he expects some of this group to have long careers in Chicago, but knows some will have long careers elsewhere.

— Russell Dorsey (@Russ_Dorsey1) October 5, 2020
On a more positive note, Epstein praised first-year manager David Ross and his coaching staff and roster for competing as well as they did in a season underscored by the volatility brought on by the pandemic. He praised pitchers Alec Mills, who threw a no-hitter this year, and Adbert Alzolay and said that Alzolay appears ready to start on a regular basis. In addition to complimenting aces Yu Darvish and Kyle Hendricks , two of the few players who are all but guaranteed to return to the Cubs in 2021, he stated that he will be seeking out additional starting pitchers from outside the organization.
Theo says Cubs have a great rotation foundation with Darvish & Hendricks at the top. Mills impressed and Alzolay looks ready to step in, too. But...

"We certainly have to seek starting pitching and starting pitching depth from outside the organization."

— Jordan Bastian (@MLBastian) October 5, 2020
Epstein has held many media sessions of this ilk throughout his successful MLB front office career, so he expertly addressed all of the questions at hand without giving too much away. The main takeaway from the press conference is that Epstein will be busier this offseason than he has been in quite some time. While Epstein's primary focus of last offseason was finding a replacement for Joe Maddon and integrating the replacement, Ross, into his newfound managerial role, much-needed roster changes will make up the focus of this offseason.
As for the weeks and months ahead, Epstein will assuredly be aiming to rejuvenate a roster that has seemingly hit a wall in terms of competing with the best of the best in the major leagues. Too many inconsistencies have taken place in recent seasons to justify maintaining the Cubs' core exactly as it is now, and Epstein's comments on potential roster moves, though not too specific, were enough to reveal that the Cubs' batting order and starting rotation will both look noticeably different by the time spring training rolls around.
Theo: "Some change is warranted and necessary. ... Simply hoping for a better outcome going forward doesn't seem like a thoughtful approach."

— Jordan Bastian (@MLBastian) October 5, 2020
If 2021 does prove to be Epstein's final year on the job, Cubs fans should expect the future Hall of Fame executive to work his magic one last time on the North Side. Buckle up for an exciting offseason.