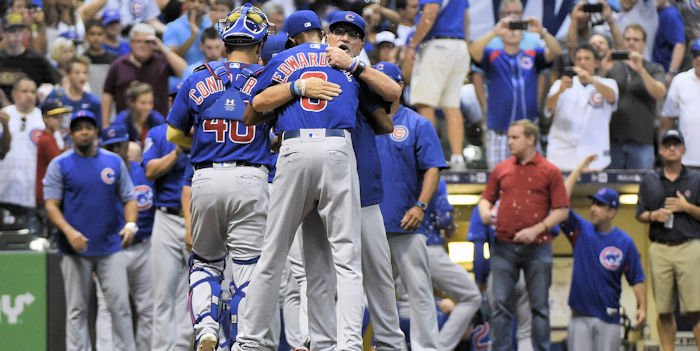 | | |
| --- | --- |
| Twitter reacts to Joe Maddon being hired by Angels | |
---
| | | |
| --- | --- | --- |
| Wednesday, October 16, 2019, 11:53 AM | | |
The Angels announced on Wednesday morning that former Cubs manager Joe Maddon has been hired to manage their ballclub on a new three-year contract worth $12 million.
Best of luck to Maddon with the Angels and on behalf of all Cubs fans, thanks for your help in breaking the title curse in 2016!
Cubs Twitter and the entire sports world seemed to be discussing the new hire.
Check out the best of Twitter:
Going back to where it all started! Excited for the next chapter!! pic.twitter.com/DT2W3tYAUP

— Sarah Maddon (@SarahMaddon) October 16, 2019
Time for a shameless plug. Book I co-authored on Maddon covers his time w the Angels organization. Passed over for ML coaching jobs and manager. Now going back there. Its a HUGE deal for him. Try Not To Suck available at Amazon and book stores!

— Jesse Rogers (@ESPNChiCubs) October 16, 2019
Good for Joe, good for the Angels. Hope to see them meet the Cubs in the 2020 World Series. That'd be fun. https://t.co/ged30LBUTo

— Bleacher Nation (@BleacherNation) October 16, 2019
Joe Maddon is the #Angels new manager. In '02, Maddon's father passed away so he carried his fathers Angels hat with him in his bag. They won the '02 WS.

During game 7 of the 2016 WS with the #Cubs, Maddon brought his dads Angels hat w/ him during extra innings. They won the WS. pic.twitter.com/WMLXVbr1qg

— Cubs Live (@Cubs_Live) October 16, 2019
Forever a staple in Chicago. Good luck with the Angels, Joe. ???? pic.twitter.com/WmNTkDo8BU

— Cubs Live (@Cubs_Live) October 16, 2019
Happy for @CubsJoeMadd, who is returning to his original baseball home to manage the @Angels. LA got themselves a Hall of Fame manager and a Hall of Fame human being. Joe will always have a special place in the hearts of @Cubs fans.https://t.co/eF67U1N13c

— David Axelrod (@davidaxelrod) October 16, 2019
.@Angels officially name Joe Maddon as manager.

He returns to the organization after spending his first 31 seasons with the club. pic.twitter.com/35KK1E6mqe

— MLB (@MLB) October 16, 2019
October 16, 2019
Super move by @Angels JOE MADDON a quality chioice & the ?@Mets? would be smart to hire a WINNER in JOE GIRARDI Now! https://t.co/iWyAjhXZgJ

— Dick Vitale (@DickieV) October 16, 2019
Congratulations to Joe Maddon on becoming the new coach for the Los Angeles Angels. Good Luck Joe! pic.twitter.com/LhRx8W3tTG

— Cubs Zone ™? (@CubsZone) October 16, 2019
Welcome back, Joe!

The @Angels have come to terms with Joe Maddon to be the team's next manager. pic.twitter.com/mVe4bvyXSy

— FOX Sports West (@FoxSportsWest) October 16, 2019
#OFICIAL ??

¡Joe Maddon firma por tres años con @Angels!

El hombre que lideró a los @Cubs hacia su primer título de Serie Mundial en 108 años. #MLBxESPN ?https://t.co/13OfBCmVmv pic.twitter.com/28ZnJCVaJ9

— Sportscenter en español (@SportsCenter_nt) October 16, 2019
The last time Joe Maddon managed the Angels, they had Tim Salmon.

Next season, he'll have Mike Trout ?? pic.twitter.com/TkvVxmxRbS

— SportsNation (@SportsNation) October 16, 2019
The last Angels lineup Joe Maddon managed:

DH Jeff DaVanon
CF Jim Edmonds
1B Mo Vaughn
RF Tim Salmon
3B Troy Glaus
LF Garret Anderson
C Bret Hemphill
2B Trent Durrington
SS Andy Sheets
P Jarrod Washburn

— Christopher Kamka (@ckamka) October 16, 2019
Los Angeles Angels hire Joe Maddon to 3-yr deal worth $12-15M. Maddon spent his first 31 years in professional baseball with the Angels, was bench coach from 2000-05.

3-time Manager of the Year is 1 of 7 to win in both league; Rays (2008, 2011), Cubs (2015). pic.twitter.com/a6qkAYXL8d

— ESPN Stats & Info (@ESPNStatsInfo) October 16, 2019
Joe Maddon will look to become the 5th manager to win the WS with 2 different franchises:
- Bill McKechnie (1925 Pirates, 1940 Reds)
- Bucky Harris (1924 Senators, 1947 Yankees)
- Sparky Anderson (1975-76 Reds, 1984 Tigers)
- Tony La Russa (1989 Athletics, 2006 & 2011 Cardinals)

— ESPN Stats & Info (@ESPNStatsInfo) October 16, 2019
Joe Maddon to the Angels?

Old news. ?? pic.twitter.com/Z8iv9FIh9I

— Minor League Baseball (@MiLB) October 16, 2019
Joe Maddon when hired as Idaho Falls Angels manager.

(The Standard Speaker, Hazleton, Penn. December 1980) pic.twitter.com/MrAEsTnhYX

— Minor League Stories (@MinorsTeamNames) October 16, 2019