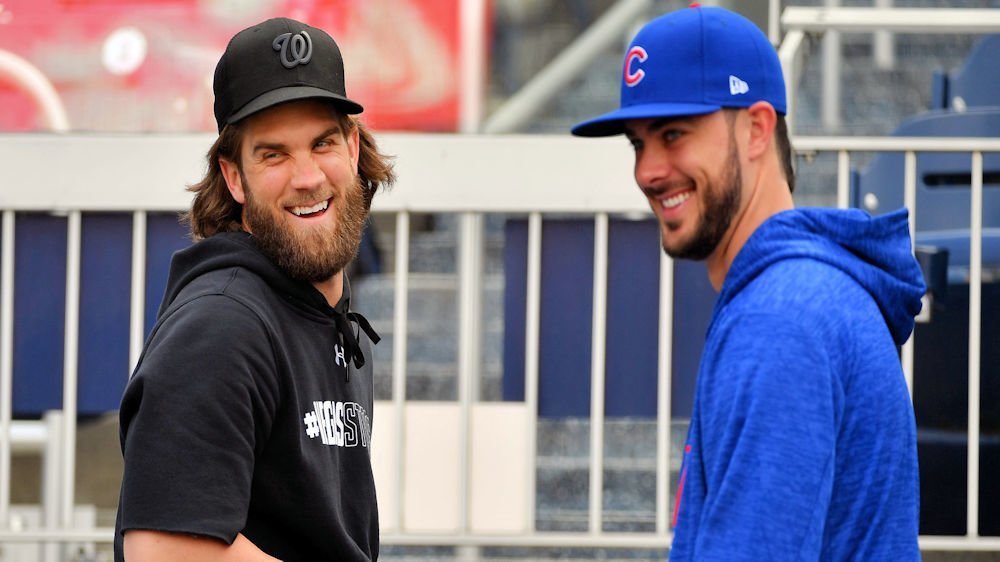 | | |
| --- | --- |
| Bryce Harper not a fan of trading for Kris Bryant | |
---
| | | |
| --- | --- | --- |
| Sunday, February 16, 2020, 11:05 AM | | |
Bryce Harper and Kris Bryant are long-time buddies growing up together in Las Vegas.
Harper is currently in the middle of a 13-year contract worth an enormous $330 million with the Philadelphia Phillies and thinks that the ballclub can't really afford or necessarily need Bryant.
He told the media Monday that the Phillies probably should wait for their younger players to blossom.
"I mean, you have to have certain guys on your team that make less money to also have guys that make more money, as well," he told the media Sunday morning. "Kris, of course, you want an All-Star caliber player, but we have [Alec] Bohm. We have a big-time third baseman, and we were able to get him in the draft. Of course, any time you're able to add an All-Star player, you're going to want to add an All-Star player. But you have to be able to know that you developed a player in the minor leagues that can also help you at third base, and Bohm could be that guy for us. He could come up and be one of the best third basemen in the second half or whatever it is.
Harper knows since the Phillies spent so much money on him, they will need some minimum-type players.
"As a team, you have to have guys like that, that are only making the minimum so you can go out and spend at the deadline. If the Cubs aren't where they are, you never know at the half what they're going to be doing. He could be cheaper at that point. But I can't give up Spencer Howard and Bohm, and possibly give up our whole future, for a year and a half of K.B. if we don't sign him to an extension. And I know that's a guy in there that we need to sign to an extension. I think having a guy like J.T. for the next six years would help us."
There you go. Part-time general manager Harper would rather improve his team through the minor leagues at this time.
Bryce Harper says he would love to have Kris Bryant...

"But I can't give up Spencer Howard and Alex Bohm and our future for a year and a half of KB if we don't sign him to an extension. And I know there's a guy we need to sign to an extension there (JT Realmuto)

?? @phillies pic.twitter.com/Bqy5xR1Zgb

— John Clark (@JClarkNBCS) February 16, 2020