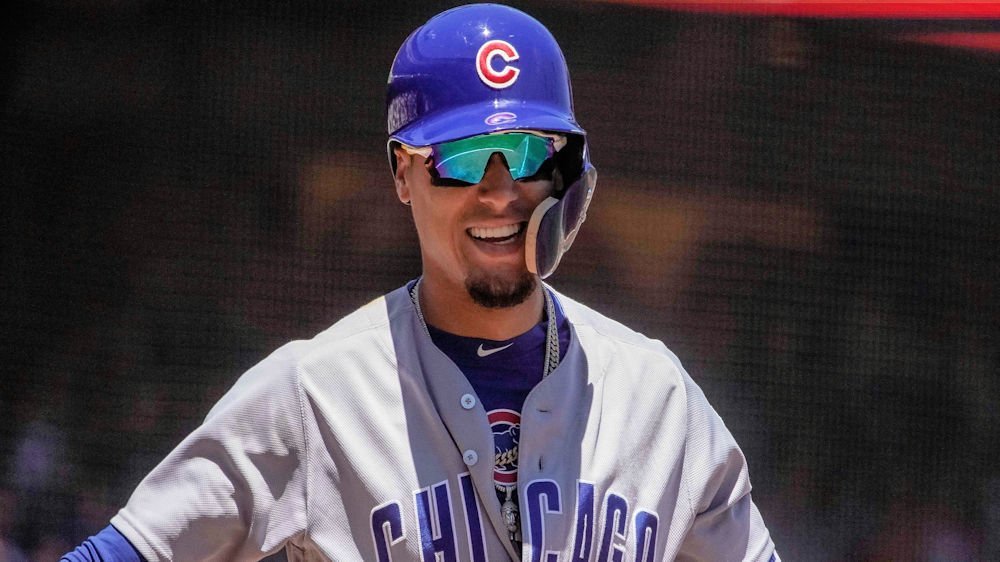 | | |
| --- | --- |
| Javy Baez wins his first Gold Glove Award | |
---
| | | |
| --- | --- | --- |
| Tuesday, November 3, 2020, 9:24 PM | | |
'El Mago' gets tremendous news.
Chicago Cubs shortstop Javy Baez has won his first career Gold Glove Award over finalists Miguel Rojas and Dansby Swanson, announced on Tuesday night.
Baez is the first Cubs shortstop to win the prestigious award since Don Kessinger in 1970. Overall, the Cubs have had three shortstops in history to win the award (Baez, Kessinger, and Ernie Banks).
"It's a different feeling when you have that commitment with that position," Baez told ESPN on playing shortstop full-time in 2020.
Baez was asked during the ESPN interview if he will get a tattoo of a gold glove icon on his body.
"Yeah, I'm pretty sure I will, somehow and somewhere. I don't have much space now. I'll try to get more and then I'll get more."
This is the second defensive award that he was won in 2020 as he also won the Field Bible Award last week.
Cubs first baseman Anthony Rizzo was also named a Gold Glove winner tonight which was the 12th time that the Cubs have had two Glove Glove winners. The last time was Rizzo and Jason Heyward in 2016.
Congratulations to @javy23baez and @ARizzo44 on their 2020 #RawlingsGoldGloveAwards! pic.twitter.com/skLnxoj9LS

— Chicago Cubs (@Cubs) November 4, 2020
Congratulations to @javy23baez, who wins his first career Gold Glove! pic.twitter.com/i6y5YcZfJf

— Chicago Cubs (@Cubs) November 4, 2020
Congrats to @javy23baez! El Mago wins his first Gold Glove. @Cubs

— Taylor McGregor (@Taylor_McGregor) November 4, 2020
Congrats to #Cubs Javy Baez, who finally wins Gold Glove

— Carrie Muskat (@CarrieMuskat) November 4, 2020
Javier Baez wins his FIRST ever Gold Glove. Let's go!!!! pic.twitter.com/KFFUqT7zpv

— Cubs Live (@Cubs_Live) November 4, 2020
Javy Báez (@javy23baez) wins the first Gold Glove Award of his career. pic.twitter.com/6n8qnP8Gmk

— Russell Dorsey (@Russ_Dorsey1) November 4, 2020
For the first time in his career, Javy Báez is a Gold Glove winner! pic.twitter.com/cLFQ8uOZ92

— Cubs Insider (@realcubsinsider) November 4, 2020
Javy is golden!

— Alec Mills (@ATMills37) November 4, 2020
Rawlings Gold Glove Award Winner - Shortstop - NL: Javier Báez #TeamRawlings #RawlingsGoldGloveAwards pic.twitter.com/vUMQYX7Kd5

— Rawlings Baseball (@RawlingsSports) November 4, 2020
Javy Báez was a Gold Glove snub in 2019, when he led all MLB infielders with 19 Outs Above Average and was tied for lead among MLB shortstops with 26 Defensive Runs Saved.

Not left out this year. Báez takes home his first career Gold Glove Award.

— Jordan Bastian (@MLBastian) November 4, 2020
Congrats to #ElMago on winning his first #GoldGlove!@Cubs @javy23baez #GoCubsGo pic.twitter.com/2x82K7x5O4

— Billy Krumb (@ClubhouseCancer) November 4, 2020
Here's a quote from Baez in 2018 spring training on how much the Gold Glove Award means to him: "I'll try to be healthy the whole year again and try to get that Gold Glove I want because obviously a lot of people notice me because of my defense."

— Mark Gonzales (@MDGonzales) November 4, 2020
?? Gold Glove infield ?? pic.twitter.com/geeSNJlRku

— Marquee Sports Network (@WatchMarquee) November 4, 2020
Congrats to my teammates @ARizzo44 and @javy23baez I'm a witness of your hard work ??????

— Willson Contreras (@WContreras40) November 4, 2020