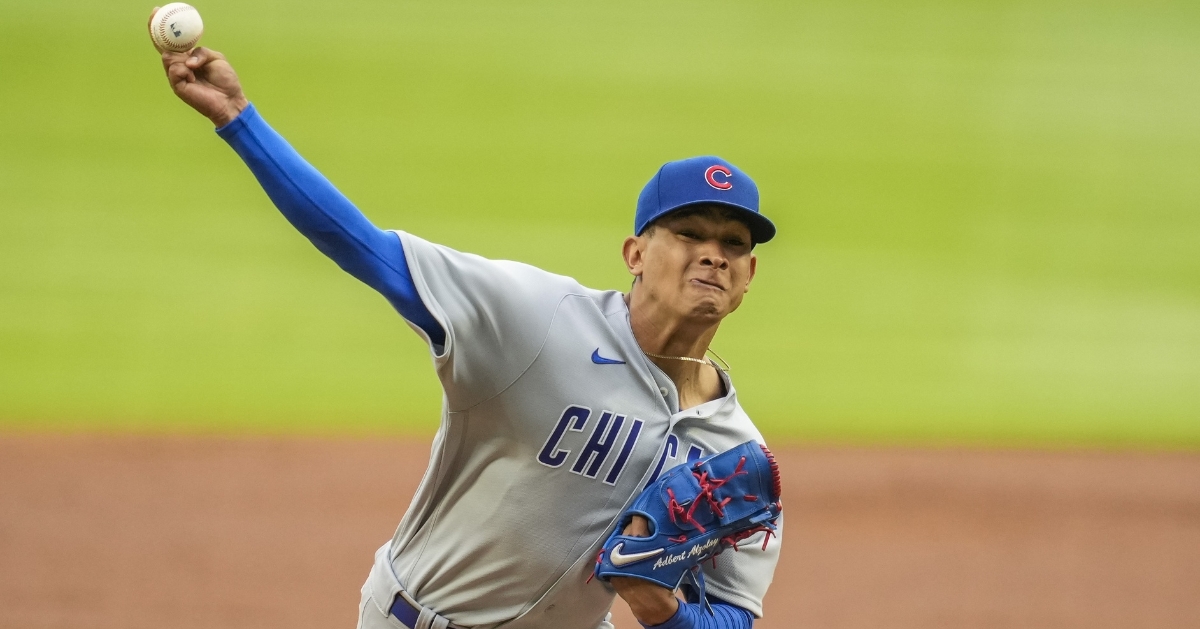 | | |
| --- | --- |
| Predicting the 2023 Cubs Bullpen | |
---
| | | |
| --- | --- | --- |
| Friday, January 27, 2023, 1:00 PM | | |
The Cubs' most recent era has been known as a hitting era, and pitching was never at the forefront of the farm system or of the future plans. Of course, the organization boasts the best Canadian arm of all time in Fergie Jenkins, one of the best pure pitchers ever in Greg Maddux, a historic run from Jake Arrieta, and other excellent pitching performances from Rick Sutcliffe, Kerry Wood, Carlos Zambrano, and Jon Lester to name a few.
But the issue with the Theo Epstein and now Jed Hoyer era, which has been well documented, is that the Cubs promised to be a player development machine but instead turned into an organization that threw money at pitching problems. The most straightforward indication of this disparity between pitching and hitting came simply on the 2016 World Series Championship roster — that core contained numerous homegrown hitters (Kris Bryant, Kyle Schwarber, Willson Contreras, Jorge Soler, Albert Almora Jr., to name a few) and zero homegrown pitchers.
The only homegrown pitcher on the roster was Rob Zastryzny, who pitched only 16 innings that season.
The Cubs spent their prime window of contention, spending more than half of their payroll on pitchers acquired from outside the organization, like Jon Lester, Jason Hammel, John Lackey, Cole Hamels, Jose Quintana, Yu Darvish, Tyler Chatwood, and more. So when Epstein left the organization ahead of the 2020 season, it seemed like Jed Hoyer wanted to flip the script on the organization's misfortune — and start developing pitching.
Hoyer has done an excellent job so far, and the Cubs finally find themselves with some depth in the starting pitching department. The best part is they have players at each level: proven big leaguers, young contributors, and prospects.
So let's break down the candidates for the Cubs bullpen by category:
If you remember, in our starting rotation prediction from last week, our best guess has Kyle Hendricks, Marcus Stroman, Jameson Taillon, Justin Steele, and Drew Smyly as the rotation — that would leave Hayden Wesneski and Caleb Kilian in the minor leagues as potential depth in the rotation.
Hendricks is still recovering from an injury, potentially returning in April or May, so a fifth job in the starting rotation will be available out of the gate.
That would leave Keegan Thompson, Adbert Alzolay, Javier Assad, and Adrian Sampson as depth in the rotation or bullpen.
I would imagine Sampson or Assad would take that spot, as the Cubs could potentially hope to get Thompson or Alzolay settled into a bullpen role. While all four have proven to be capable starters, the Cubs have some depth in that department — so if the Cubs would like to get these capable arms innings, barring injuries, the bullpen would be their best chance.
In addition, the Cubs have a few virtual locks in the bullpen: Rowan Wick and Brandon Hughes. Brad Boxberger is the lone veteran the Cubs have signed this offseason, who also appears to be a lock for the back end of the bullpen.
Codi Heuer is another attractive candidate. The hard-throwing righty missed the entire 2022 season due to injury. However, upon his return, he would slate toward the back end of the bullpen as well — but that may not be til June.
In addition, Ethan Roberts and Brad Wieck are rehabbing from Tommy John, which could give the Cubs a boost of depth in the middle of the season.
Aside from those ten players, there is a slew of players on the 40-man roster in the pool for potential relief innings: Jeremiah Estrada, Ryan Jensen, Julian Merryweather (a hard-throwing righty who the Cubs claimed from Toronto), and Michael Rucker. Anthony Kay, Mark Leiter Jr., and Manny Rodríguez were expected to be in the mix but were designated for assignment to make room for Eric Hosmer, Trey Mancini, and Merryweather.
With a 26-man roster, 13 would be pitchers. After a starting rotation, that leaves eight bullpen arms.
BULLPEN:
RHP Javier Assad (long relief / fifth starter early in the season)
RHP Adrian Sampson (long relief / fifth starter early in the season)
RHP Adbert Alzolay
RHP Keegan Thompson
RHP Julian Merryweather/ RHP Michael Rucker
LHP Brandon Hughes
RHP Rowan Wick
RHP Brad Boxberger
MINORS: RHP Julian Merryweather/ RHP Michael Rucker, RHP Jeremiah Estrada, RHP Ryan Jensen
INJURED LIST: RHP Codi Heuer, LHP Brad Wieck, RHP Ethan Roberts
The Cubs have been rumored to be in on left-handers Matt Moore and former Cub and fan favorite Andrew Chafin — which could give the Cubs oodles of more depth and roster decisions to make.
"You never feel comfortable with [the bullpen], just given the volatility of it," President of Baseball Operations Jed Hoyer said. "Are we looking to add guys? Yes, but I do feel comfortable in that we're getting more and more [to a place where] we have guys that can fill that role."

Tags: Chicago Sports Baseball
,
Jake Arrieta
,
Jon Lester
,
Kris Bryant
,
Kyle Schwarber
,
Willson Contreras
,
Jorge Soler
,
Albert Almora
,
Rob Zastryzny
,
Jason Hammel
,
John Lackey
,
Cole Hamels
,
Jose Quintana
,
Yu Darvish
,
Tyler Chatwood
,
Kyle Hendricks
,
Marcus Stroman
,
Justin Steele
,
Drew Smyly
,
Hayden Wesneski
,
Caleb Kilian
,
Keegan Thompson
,
Adbert Alzolay
,
Javier Assad
,
Adrian Sampson
,
Rowan Wick
,
Brandon Hughes
,
Codi Heuer
,
Ethan Roberts
,
Brad Wieck
,
Jeremiah Estrada
,
Ryan Jensen
,
Michael Rucker
,
Mark Leiter
,
Andrew Chafin
,
Theo Epstein