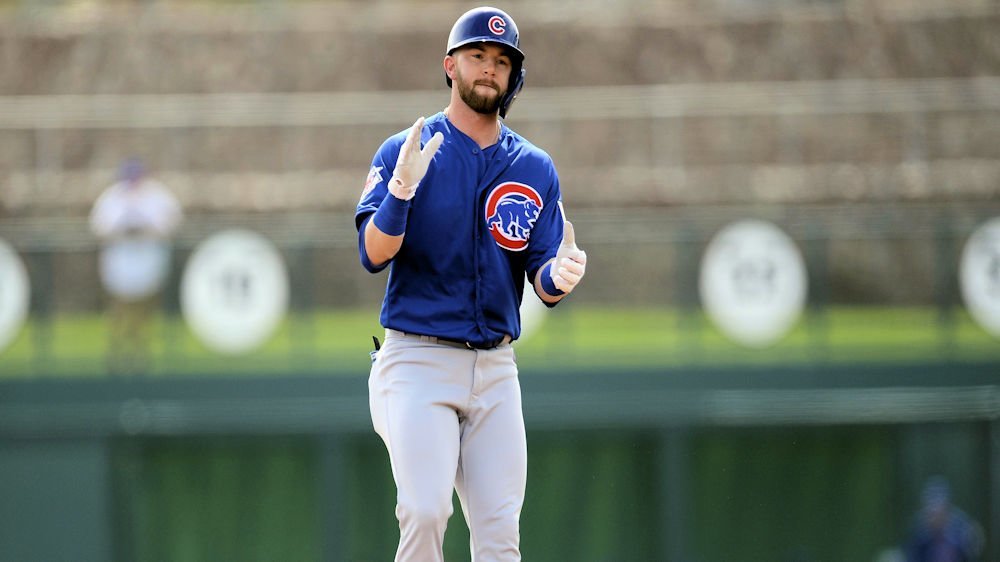 | | |
| --- | --- |
| 2020 Season Projections: Cubs 2B depth in minor leagues | |
---
As news broke that MLB would not only be canceling the rest of spring training but delaying opening day by at least two weeks, many people are starting to wonder if or when we may see baseball again. As of now, the plan is to play the games at some point this season, with 30 days being the best possible scenario for fans.
With some states, including Illinois, not allowing teams to host large gatherings until after May 1st, could that be the target date for MLB as they try to figure out the best way to go about this. We also must look at the real possibility of baseball not starting until around the all-star break if at all. I fully expect baseball to resume at some point this season, so my season projection series will continue as planned until we hear otherwise. The only difference now, however, is that I will not worry about how many games players will play because we still don't know how long the season will be.
Today we move to the Cubs minor league second base position as I will be highlighting several players in the system.
TRENT GIAMBRONE: For the second spring in a row, Giambrone not only hit the cover off the ball but proved he could contribute on the big-league roster. However, with multiple options remaining putting him in AAA seems to be the path at this point as Nico Hoerner is the Cubs' future at 2B.
What Giambrone has shown the Cubs over the past two springs, is the ability to play both second and third base while showing he can handle corner outfield duties also. He may not be the biggest guy in the world, but he certainly packs a punch and provides a ton of power in his swing. He was one of the final cuts in 2019, and I expect that to be the case once again this year.
Projection: .254 average, 15 homers, 44 RBIs
Giambrone may have hit just a .241 last season, but he certainly made up for that in the power department. Not only did his trend of increasing power numbers continue, but he smashed a career-high 23 homers to lead Iowa, to go with 66 RBIs, which put him right up there with Ian Happ for the team lead.
Giambrone also showed some speed picking up 17 steals, but his 41BB/131K performance is a little concerning. Giambrone is a free swinger for sure but will provide the Cubs with a ton of power. Given what he has shown this spring, it is only a matter of time before he is in Chicago contributing full time.
HERNAN PEREZ: Signed as a minor league free agent this offseason with a non-roster invite to spring training, I was intrigued to see what he could bring to the table as he was a valuable super-utility man for the Brewers in seasons past. After losing Ben Zobrist this offseason, the Cubs are looking for players who can play every position on the field, and Perez is someone who can do just that.
However, Perez may be having the worst spring on the team this season even worse than Descalso, which has him ticketed to AAA now and possibly off the roster altogether. Regardless of what happens when he gets to AAA every day playing time can only help him as he looks to carve his way on to the roster at some point.
Projection: .253, 5 homers, 24 RBIs, 12 steals.
Perez will see plenty of time, but it will come all over the field. He isn't going to wow you in any category but gives you plenty of options on how to use him in various situations. He knows what he is good at and knows his role on this team. That is what has kept him in the league so long to this point.
REIVAJ GARCIA: A name people may not be very familiar with is that of Reivaj Garcia. The 18-year-old second baseman made his pro debut in 2018 for AZL Cubs 2 Rookie League squad before opening the season at Eugene in 2019. After struggling through 12 games for the Emeralds, Garcia was sent back to AZL 2 as the Cubs felt he needed a bit more time to develop.
Through his career thus far, Garcia has put together a 269 average with zero homers and 25 driven in. Most of that production has come with AZL as he just never seemed comfortable with Eugene last year. Garcia is still very raw, but the intangibles are there for him to make great strides this season.
Projection: .243 average, 1 homer, 21 RBIs.
Once again, I look for Garcia to open in Arizona, mainly because of the COVID 19 issue going on. However, he won't be there very long and will once again be sent to Eugene early on. Garcia will struggle in a different league given his age but don't look for him to be sent back to Arizona this time. He will be more experienced and ready to adjust this year, and he will give the Cubs a nice sneak peek of his high ceiling.
Chase Strumpf: Finally, we have come to what could be the Cubs top 2B prospect in the system in 2019 second-round pick Chase Strumpf. Taken out of UCLA, Strumpf needed just one week in Arizona before the Cubs felt he was ready to make the jump to Eugene. That proved to be the right decision as Strumpf battled through some early struggles to post a .292 average 2 HRS and 14 RBI's.
His successful season didn't end there as South Bend was looking for weapons during their postseason run, and Strumpf was added to that roster in August. Despite managing to hit just 125 over his six games for the South Bend Cubs, Strumpf connected for one homer as his first pro season couldn't have gone any better.
Projection: .265 average, 11 homers, 54RBIs.
Strumpf will always be known for one thing no matter what he does in his career from here on out. That would be hitting a homer right after finding out the Cubs drafted him during the 2019 College World Series. Since then, Strumpf has proved to the Cubs that he was worth a second-round pick as he continues to climb up the Cubs prospect list.
Viewed as a player comparable to Ian Happ, Strumpf provides the Cubs with another infield power option that they can build around once their current core is broken up. Expect his first full season in A ball to be a successful one as Theo seems to know a ton about College bats, and Strumpf appears to be the next in line of what has been a strong track record for the Cubs since 2014.
JUAN MORA: Another under the radar 2B prospect is that of Juan Mora for the DSL Cubs 1. After just 14 games played in 2018, Mora busted through in 2019 with a very solid and impressive showing in his 63 games. Not only did he improve his average to .271, but his power numbers went up also as he connected for six homers and 26 RBI's. Add in his 19 stolen bases, and Mora has the makes of a good hitter at 2B.
The thing that makes Mora stand out more than the other 2B in the Cubs system is his eye and patience at the plate. At just 20, Mora appears to have a better grasp on the strike zone than people three or four years older than him. That is evident by his 34BB/34k performance last year as he now has 43BB compared to 40K in two minor league seasons. Mora also brings the speed component to his game, which is an element the Cubs don't have much of at the MLB level.
Projection: .278 average, 7 homers, 33 RBI, 25 steals
Make no mistake about it, Mora knows his game and knows it very well. He is going to work the count and see pitches, but will not hesitate to take walks or put the ball in play. Once he reaches first base, his legs also pose a problem for defenses as they always need to keep an eye on him. I don't expect him to advance past rookie ball this season, but Mora is a name to watch starting in 2022 and beyond.