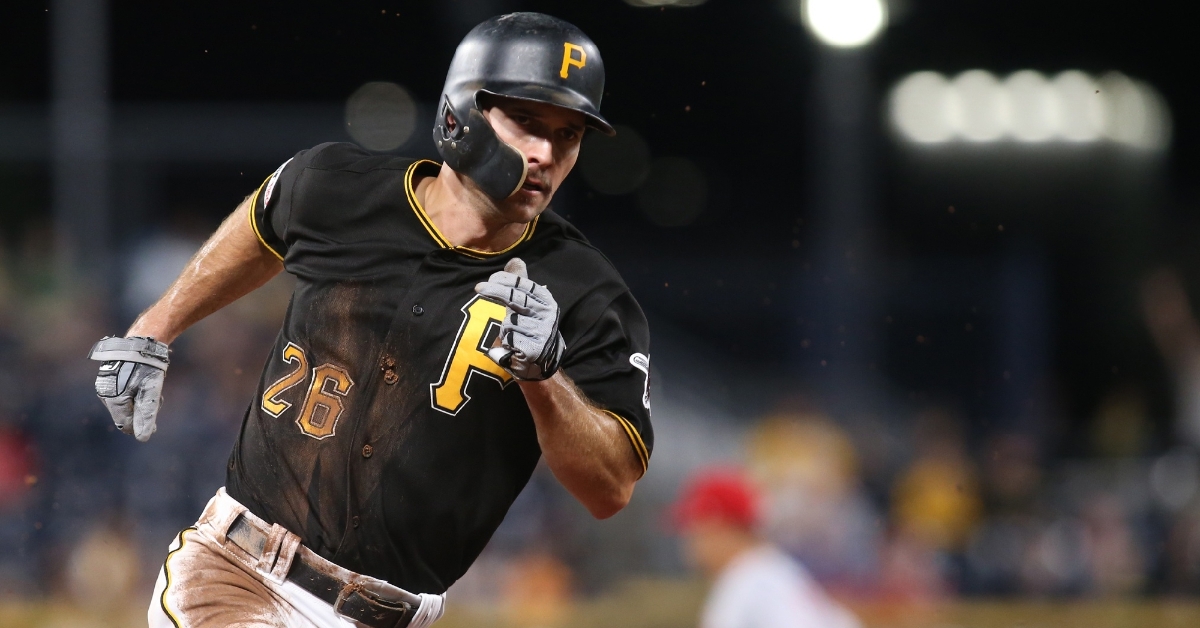 | | |
| --- | --- |
| Adam Frazier would be an interesting fit for Cubs | |
---
| | | |
| --- | --- | --- |
| Friday, November 22, 2019, 5:55 PM | | |
The Cubs have had reported interest in the past with Kansas City utility man and leadoff hitter Whit Merrifield. If second base and leadoff are indeed spots the Cubs are looking for in a trade, another exciting player who provides a high contact bat may be a better option for this team long term.
That player is Pittsburgh Pirates second baseman, Adam Frazier. Not only is Frazier younger, by six years, but he is also much more affordable cost-wise and wouldn't take the haul a guy like Whit Merrifield would. Granted in division trades tend to happen rarely, but considering all that went on in the Pittsburgh franchise last year from Felipe Vazquez on down, you can bet lots of players will be unloaded or shopped soon.
As of now, there is isn't a ton of traction regarding a Cubs/Frazier trade, but it shouldn't be ruled out of the equation. Not only are the Cubs familiar with him given his success against them, but he would provide them with precisely what they need at the top of the lineup in a high average high contact player that plays an adequate second base.
With new Pirates GM Ben Cherington faced with a daunting task to bring the franchise to respectability, no name should be off-limits for the Pirates as they certainly will listen to offers. One thing that does go in the Cubs favor regarding Frazier, however, is that Cherington and Theo Epstein worked together in Boston and get along quite well. That means there shouldn't be any trouble making an inter-division trade should both team fill needs in the process.
You must note that these are not direct rumors as the teams have not discussed anything like this, but certain media types have brought up Frazier's name on their own should the Cubs entice the idea of trading for a controllable leadoff bat. I honestly wouldn't mind this deal over the Merrifield deal, and I can tell you why.
First, from an off-field perspective, Frazier is just 27 years old as opposed to Merrifield, who is approaching 32. He is also extremely cheap, reaching arbitration for the first time this season and still has three more years of team control beyond this year.
Second, his primary position last year was second base, which is something the Cubs are certainly looking to figure out right now. However, Frazier isn't just locked in as a one-position guy as he can play all three outfield positions quite well. In other words, he could be a younger version of Ben Zobrist, which we all know the Cubs love their utility men.
Finally, and most important is his approach to the plate as he checks all the right boxes as a high contact player. Despite his average being .279, which is decent but not great, Frazier strikes out at a low 13.4% clip well below any of the Cubs hitters. He also does a decent job taking walks, so his on-base percentage has been above average for his entire career. That is something the Cubs need not only in their lineup but especially at the top to set the table.
Frazier's 85.8% contact was third in the national league with only Anthony Rendon and Jean Segura ahead of him. With a lineup full of home run or bust hitters, Frazier would bring a different approach to the group, and that would hopefully trickle down to more players throughout the starting nine.
Another reason why this interdivisional trade may work is that the Pirates are not the Brewers, Cardinals, or even Reds for that matter, and they will be in full tilt rebuild mode. Look at when Theo took over way back in 2012. The first two seasons on the job, he traded away anyone without any questions. With an entirely new regime running the show in Pittsburgh, look for a similar approach the next few years as Pittsburgh will have to build from the ground up again.
You can certainly bet that if the Cubs go after Merrifield, one or two MLB players and a minimum one high-level prospect would have to be included; otherwise, how does that benefit the Royals. Pittsburgh, on the other hand, would take a different approach as the relationship between Cherington and Epstein may help them see eye to eye about the value of this deal.
Pittsburgh is going to want prospects in return, but Frazier isn't a top of the line stud, so the Cubs wouldn't have to part with any top tier prospects. They may, however, have to lose some of their role players like Addison Russell or Albert Almora Jr. may be the ideal player to get this deal done. Russell needs a change of scenery to get back on track and what better change than going to a team with no pressure.
There is no question that several hurdles would have to get cleared for this deal to become a reality, but when you think about it in hindsight, it does make sense. The Cubs would get the perfect player for their lineup at a much cheaper cost and return.