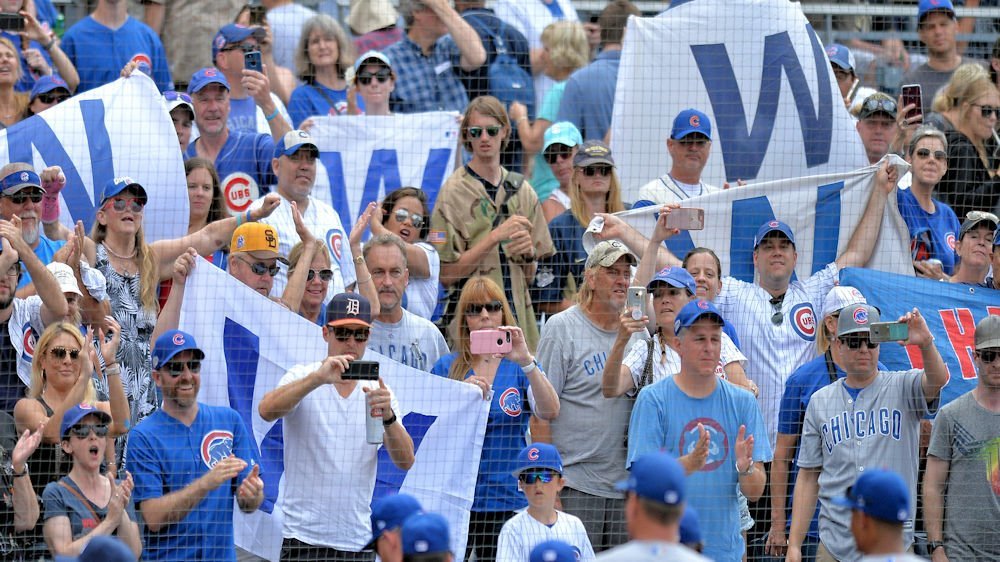 | | |
| --- | --- |
| Breaking down MLB Pipeline's Top 30 Cubs prospects (Part 2) | |
---
| | | |
| --- | --- | --- |
| Monday, April 20, 2020, 8:14 AM | | |
Yesterday we starter our series by looking at the bottom five of the Cubs newly posted top 30 prospect list for the 2020 season. Today we continue that series by focusing on numbers 25-21 as once again, a trio of arms will highlight this group offset by a pair of infielders.
#25 Rafael Morel (SS DSL 1 Rookie League): If the last name sounds familiar, your right as he is the younger brother of another Cubs prospect whom you will see later on this list. Morel is a long ways away from making an impact on the Cubs as the 18-year-old shortstop is just getting his career starter. Signed for 850,000 back in 2018, Morel made his pro debut last season playing for the DSL 1 Cubs as part of the Dominican Rookie League during the summer.
In his 60-game sample that we have seen thus far, Morel certainly showed the sky is the limit for him as he batted .283, with four homers and 32 RBIs. His 26BB/38K ratio shows he has a good sense of the strike zone, and his 23 stolen bases show that he has some speed in those legs. Not only did he bat .283, but he picked up 25 extra-base hits and put together an 821 OPS, which is impressive enough for more polished prospects.
Before being signed by the Cubs, scouts couldn't decide whether he was better to stay at shortstop or as a CF. Given what the Cubs have seen from him athletically, they feel he will have no trouble staying on the infield where he could be alongside his brother at some point in the future.
#24 Kevin Made (SS DSL 1 Rookie League): Another young and untapped SS in the Cubs system is that of 17-year-old Kevin Made. Much like Morel, Made has a long way to go before he reaches the MLB, but he has shown the Cubs a lot in his short time with the organization. Signed for 1.5 million dollars in the 2019 International Free Agent draft, Made quickly made an impression on the Cubs as he will be playing in the Dominican Rookie League whenever the season gets underway.
While Made has yet to play a professional game, that hasn't stopped scouts and coaches from giving their take on what they think he is all about. If his 6-1 frame fills out the way the Cubs hope, he has the potential to provide you with average tools at worst across the board with obvious growth also. Not only does he give you excellent hand-eye coordination right now, but his approach is far more advanced than most people his age and has the potential to grow into a 15 homer a season player. With so many shortstops in the Cubs system, Made may have to switch positions eventually, but that is water under the bridge right now.
#23 James Norwood (RHP Iowa Cubs): At least we reach a name everyone should be familiar with by now in Iowa relief pitcher James Norwood. The 26-year-old and seventh-round pick way back in 2014 seems like he has been in the Cubs system, but that is because he has been there awhile in particular Iowa. Norwood has bounced on and off the Cubs top prospect list the past few seasons as he has the stuff to be a reliable reliever, but hasn't found the consistency to remain solid.
Armed with a fastball that sits 96-98 mph consistently while topping out at 100 several times, Norwood has the big arm you look for in a late-inning reliever as his running fastball can be a nightmare for hitters. Not only is his fastball about power, but so are his secondary pitches as he backs up that fastball with a slider that sits around 86 mph and a splitter around 88 mph. While the fastball has been his best pitch in the minors, it has been his slider that has stood out during his brief stint in the majors as he still needs more consistency in the strike zone.
Norwood saw action in 45 games for Iowa this season, in which he went 3-2 with a 4.21 ERA. That ERA seems high, but if you look at the AAA numbers for pitchers, that was a very good season. His 31BB/81K was a significant improvement command wise while hitters managed to hit just .195 off him for the season. Norwood also added six saves as he was mostly a seventh and eighth-inning guy.
In 20 career big league games, Norwood has gone 0-2 with a respectable 3.54 ERA. The problem has been his command as he has walked 13 and struck out 20. Hitters are also hitting .277 off him. Should he harness that command and use both his secondary pitches consistently, Norwood is someone who could be competing for that final bullpen spot this year and will be a late-inning option in the future.
#22 Tyson Miller (RHP IOWA): Another up and coming arm in the Cubs system is that of 2016 fourth-round pick Tyson Miller. I will be honest with you, I was unfamiliar with Miller heading into last season, but after about a month, I really loved what I saw. Miller also made some history when he was drafted as Miller was the first NCAA Division II that year and was the highest selection ever for California Baptist.
When you watch him pitch, nothing stands out in terms of elite stuff, but he knows how to pitch. His style of pitching reminds me of Matt Clement, which worked out for the Cubs for three seasons in the early 2000s. Miller got off to a slow start, but he broke out in 2018 before continuing that climb this past season. Over the past two seasons, Miller has gone 16-17, but his ERA has dropped to 3.78 compared to his 4.05 career mark.
Record aside once promoted to Iowa last season, going 3-5 with a 7.58 ERA, it was what he did for Tennessee in his 15 starts prior that the Cubs loved to see. Miller went 4-3 during his time with the Smokies last year while posting a 2.56 ERA. His 18BB/80K ratio was also quite impressive, while opponents hit just a .219 off him compared to .305 at Iowa.
While the struggles were indeed evident in AAA, I believe most of that came from Miller learning to adjust to that league as he did look much better the final five starts. He will be a middle of the rotation arm for Iowa this season with a possibly big league debut in 2020 or early 2021.
Miller comes with a fastball that ranges from 90-95 mph but is consistently around the 92-93 mark. He throws both a four and two-seamer but has gone with his two-seamers much more lately. Along with his two fastballs, Miller brings with him a slider/cutter that sits in the mid-80s while he is now starting to get a feel for his changeup. That changeup is the critical pitch to reaching the majors, as it will be essential to offset his faster pitches.
#21 Justin Steele (LHP Tennessee): The final prospect we will cover today is another pitcher in left-hander Justin Steele. Taken way back in the fifth round of 2014, Steele has been a frustrating prospect for the Cubs as he simply hasn't been able to stay healthy. On paper, Steele has all the makings to contribute on the MLB level, but Tommy John surgery in 2017 set him back a bit before command issues last season halted any more development at the AA level.
Even with health and command issues, Steele continues to show scouts two plus pitches but is looking to develop a third soon. His four-seamer sits 92-95 mph but has touched 97 mph at times. That is not what the scouts like, however, as it is Steele's secondary pitch that steals the attention. Not only does Steele feature a great curve, but it is the best curve in the entire system mixing power and true downward action if he is on. Picture a Brad Weick break combined with a Mike Montgomery speed on his breaking pitch, and that is what you get with Steele's bender.
Steele would have been a lock to the roster this season, but given that he has less than 330 innings in six seasons, he needs better health before being able to make any sort of impact. After making 11 starts in 2018 in which Steele went 2-2 with a 2.31 ERA across three levels, he took a step back in 2019, going 0-6 with a 5.59 ERA. After opponents hit just .176 off him in 2018, the lack of command 20BB/42K allowed hitters to square him up for a .308 average. While the Cubs would love to add him to their rotation as a left-handed arm, I think a middle relief role is his long-term outlook, given his health problems over his career.