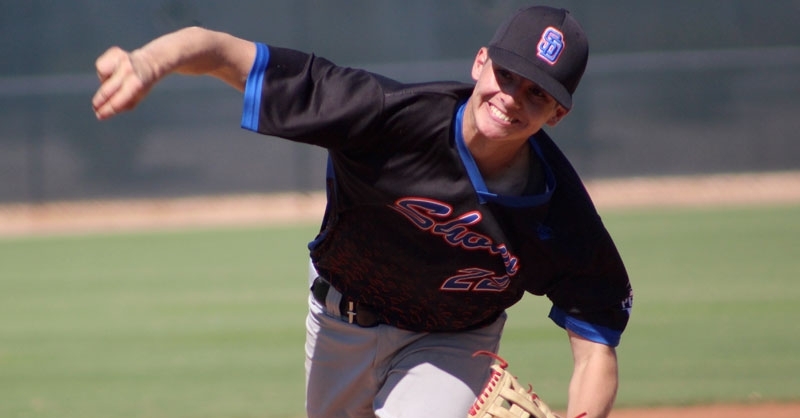 | | |
| --- | --- |
| Breaking down MLB.com's Top 30 International Prospects | |
---
Baseball is BACK! Man, that feels good to say. While baseball has not returned stateside, the KBO opened its season Tuesday morning in front of no fans, but it appeared to be a success, which is a positive step for American baseball. While no fans is certainly weird, especially when ESPN was broadcasting the game, it gives us plenty of light at the end of the tunnel to fully expect baseball back at some point this season.
This is the time when we start to look at not only the MLB draft in June but the International Signing period shortly after. We already know MLB and the MLBPA are discussing pushing the draft back, but nothing has been decided on the International Free Agent period, which also picks up soon.
MLB.com recently released its top 30 international prospects, and for the next few days, we will dive into each of them and how they fit with the Cubs. Chicago has always been big spenders during the International Signing days, so you can bet they will be in on some of these kids.
#30 VICTOR LIZARRAGA (RHP Tijuana, Mexico): By now you shouldn't be surprised about the Cubs drafting not only an international arm, but a young one for that matter as Theo and company have done that plenty of times in the past. Adbert Alzolay and Brailyn Marquez come to mind, among others, but where does Lizarraga stand in their minds.
At 16 years old, he is far from polished and has a ton of work to be done before moving up any system. However, at 6-3 and 180 lbs, he has a big body that he will fill out that will make him a legitimate pitching arm in baseball. Not only is Lizarraga the best pitching prospect out of Mexico this year, but he also screams starter potential, given his body build and type.
Currently, Lizarraga is drawing similarities to Cal Quantrill of San Diego, which is not a bad comparison. Armed with an 88-92 MPH heater, Lizarraga is all about throwing strikes as his fastball has the makings to become a real plus pitch in the future. Add that to his 77 MPH curve, and he already has two great pitches in his repertoire as he is working on a changeup also.
Not only is he a strike-thrower, but he shows a high baseball I.Q. on the mound, which is impressive for a young arm. Although at this point the Padres appear to be the favorites to land him, Chicago does like young arms and shouldn't be counted out to ink him as another pitching project.
#29 MAIKOL HERNANDEZ (SS ISLA DE Margarita, Venezuela): The Venezuelan baseball community is one of the most talent-rich South American countries, and it will only continue to get better. Look no further than the 6-1 175 16-year-old shortstop Maikol Hernandez. Not only is he lean, but very athletic. So athletic that some scouts are comparing him to a young Alex Rodriguez which is an honor in itself.
If Hernandez can continue to develop into his body, he has a chance to provide plus tools across the board as many people love his upside, and he is starting to show a lot of that potential. Not only does he show scouts a nice smooth swing, but he produces tons of raw power from that swing. That power allows him to hit the ball out of the ballpark while also offering line-drive power to all fields.
Looking for a new face of the franchise, keep an eye on the Orioles as they seem to want his services. However, as we all know, the Cubs do love their shortstops, so money talks in the end.
#28 DENZER GUZMAN (S.S. San Pedro De Macoris, Dominican Rep.): Another 16-year-old shortstop is that of Denzer Guzman from the D.R. Unlike his counterpart Hernandez, Guzman is not quite as big standing 6-1 170 pounds, but there is plenty of time to develop. While there is a lot to love about Guzman, it is the hitting that stands out as he is one of the best pure hitters in this year's class.
Not only does he show a solid swing, but he knows the strike zone already and has a great eye. He loves to use the middle of the field and gaps at this stage of his career, but watch for the power to increase over time. While he is listed as shortstop right now, don't be surprised to see him move to the hot corner before it is all said and done. Former Cubs manager Joe Maddon and the Angels appear to be on the radar to bring him in as their future.
#27 FREDY LA FLOR (S.S. San Pedro De Macoris, D.R.): If we have noticed anything about this year's class, it may be loaded with shortstops. Fredy La Flor is another one of those shortstops, but at 15 years old, he is the most unknown at this point. Physically speaking, at 5-10 150 lbs, La Flor has a lot of growing into his body to do, but he does compare to Eduardo Escobar from a physical standpoint.
Given his lack of size, don't expect La Flor to have the same type of power Escobar brings to the table, but that doesn't mean he doesn't have a high upside or lots to like about him. For starters, La Flor will start his pro career at S.S., but given his glovework and versatility, don't be surprised to see him shift to second. If the infield doesn't work out, La Flor is athletic enough to make a move to center field, showing how versatile he can be.
La Flor is a switch hitter and has shown the ability to make hard contact from both sides of the plate. He uses the entire field and appears to be a top of the order fit given his high contact rate, plus speed and base stealing abilities. Already with a loaded outfield, the Twins are keeping tabs on him, hoping to bring him to Minnesota. Cubs could sneak in and steal him, especially if they view him as a top of the lineup presence, much like a Dexter Fowler with less power.
#26 ABEL BASTIDAS (SS Carora, Venezuela): Make that four shortstops in part one of this series as Venezuelan born Bastidas cracks the list at 26. Again, another young star at 16, Bastidas is 6-2 but needs to grow into his 160-pound frame. Trained by former MLB stars Cesar and Maicer Izturis, Bastidas has a pair of good infielders showing him the ropes that will help him get to the next level.
From a physical standpoint, Bastidas is being compared to Carlos Guillen, who had a 14-year playing career. With that being said, not only do scouts love his ability, but many feel he could be in the big leagues sooner than most in this entire class. The thing that stands out the most about his game right now is his defensive ability as he could hold up well in the low-level minor leagues. Watching him field, he reminds you of Omar Vizquel with how smooth he is up the middle.
Another switch-hitting prospect, Bastidas, shows power from both sides of the plate and does so with a very balanced swing. There is some lift in his swing, which will translate to more power over time. Bastidas is expected to hit for a higher average more so than the power numbers and has worked hard to improve his speed as a base runner. Teams love his baseball I.Q. and the Tigers look to turn their fortunes around by inking this man.
Upgrade Your Account
Unlock premium boards and exclusive features (e.g. ad-free) by upgrading your account today.
Upgrade Now