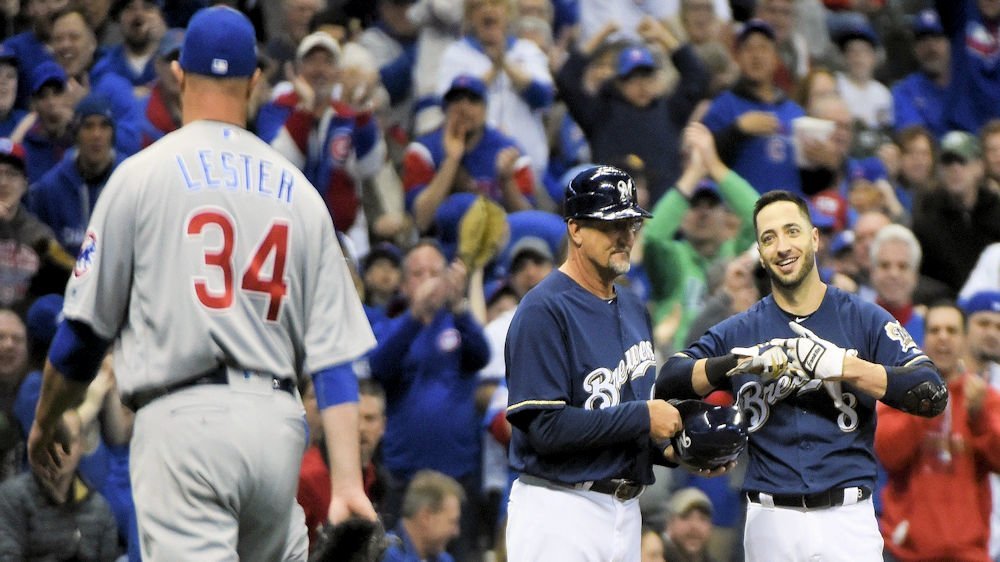 | | |
| --- | --- |
| Commentary: I like Ryan Braun as DH option for Cubs | |
---
For the longest time, Ryan Braun has been a Cubs killer. No matter the pitcher or when the game is being played, the Milwaukee Brewers have always been able to count on Braun as a player to deliver big hits. Often, many of those big hits came against the Cubs, so seeing him on the Free Agent list must be a pleasant sight to Cubs fans everywhere.
What if the Cubs tried to turn the tables and went after Braun for their roster. I know the hatred fans have for him, and I am sure to take criticism on this column for making this suggestion, but should the Cubs add a guy like Braun, it could alter the entire NL Central landscape.
Before we get into his career stats and not, allow me to enlighten you on why I like this move. For starters, Braun is a third baseman by trade but has spent much of his career playing both left and right field. The Cubs already have a stable hand in right with Jason Heyward, but with the uncertain future of Kyle Schwarber, there could be an opening in left.
Braun also has seen time at first base the past few seasons, and the Cubs don't have a backup first baseman on this roster. Victor Caratini sees the most time over there in place of Rizzo, but should Rizzo be lost for extended periods, the Cubs need a better option than Caratini. Braun gives them that.
I support this signing because the DH is once again on the horizon for the National League. Should that indeed be the case, the Cubs could sign Braun strictly for DH duties taking care of that part of the roster. He won't be asking for as much money as he has in the past, but the price range may still be too much for the Cubs, so it will be interesting to see how the Cubs view this as an option.
Braun came into the League in 2007 after being a top 5 pick for the Brewers in 2005. Immediately upon his arrival, Braun proved he was one of the best power hitters in the game. In just 113 games as a rookie in 2007, Braun busted out the lumber for 34 homers and 97 RBIs. He was a unanimous rookie of the year that season. Braun followed that up with back to back 30 plus homer 100 plus RBI seasons giving the Brewers an amazing 1-2 punch with him and Prince Fielder.
After a down year in 2010, Braun responded positively, belting 33 more homers in 2011 before his career-high 41 in 2012. That was the last time he
surpassed 31 homers in a season, as injuries sure have taken a toll on him the past six seasons. Still, Braun has posted a .296-career average with 352 homers, 1154 RBIs, and 216 career steals, making one of the better players of the past decade.
Along with all the good comes the bad, and Braun will be known for something he doesn't want to be known for. Following the terrific 2012 season in which he earned the MVP, Braun was busted for Performance Enhancing Drugs after repeatedly denying the use. It put a large asterisk next to the numbers he put up as fans never knew if those numbers were legit or not.
Now eight years after that incident, fans still haven't let Braun forget, and his numbers were significantly affected by the use. One of the most significant side effects of steroids or any other PED for that matter is injury frequency. After being one of the healthiest players his first few seasons, the injuries started to pile up, which was a huge red flag.
Once those injuries piled up, the production went down, and a once legitimate MVP candidate started to become a role player as age began to take its toll. Still, through thick and thin, Braun was going to go out there and give you 120 plus games a season while still averaging roughly 20 homers and 70 RBI's per year. A far cry from what he did early on, but still substantial numbers.
A big reason why the Cubs may investigate Braun is his career numbers at Wrigley Field. Take the Steroids and everything out of the equation, and Braun loves Wrigley. At Wrigley, his .354 average is the best average of any park in his career, even better than his home park. In over 170 career games at Wrigley, Braun has hit 20 of his 33 career homers off the Cubs at Wrigley. I would love to see what he could do with a full season at Wrigley.
A move like this is undoubtedly out of the norm, but given the year we all just endured, would you completely rule it out of the question. Braun may not be the player he once was and may never have the same reputation again. Still, for a DH, he is someone that makes your team better and could be a huge X-Factor for someone.
Upgrade Your Account
Unlock premium boards and exclusive features (e.g. ad-free) by upgrading your account today.
Upgrade Now