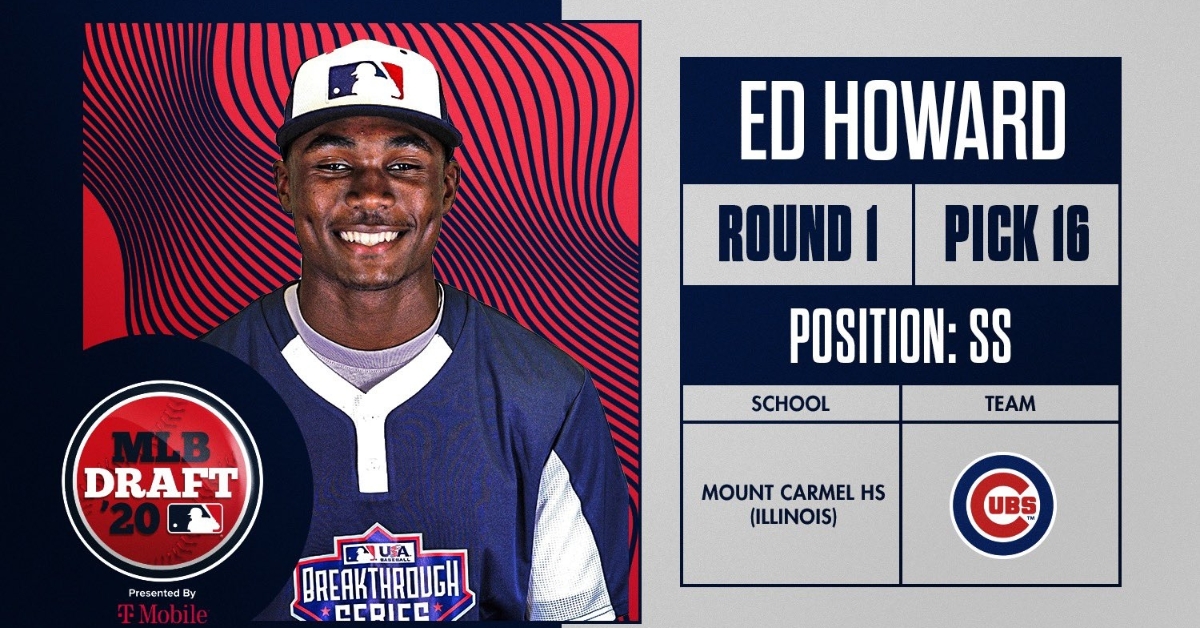 | | |
| --- | --- |
| Cubs News and Notes: Cubs draft hometown kid, Baseball will return "100 percent", more | |
---
After an almost month-long hiatus, I'm finally back to work (much to the dismay of some). I've finally washed my hand of Missouri, and we're settling into our new home in northern Wisconsin (plenty of Cubs fans up here).
Until baseball returns, there's always fishing, and I managed to find a great deal on a used bass boat on Tuesday. Unfortunately, later that afternoon, I had to find a body shop, as a damn deer remodeled the front end of my F-150 to the tune of $6,100.00 while I was on my way back with the boat. Oh well, body shop next week (for a week), but in the meantime, I have some time to get the boat in the water this weekend.
No Baseball: Day 78.
MLB Draft: In the first round of the 2020 MLB June Amateur Draft, the Cubs wound up with the 16th pick. This was quite a bit different than a "normal" draft, as scouts weren't allowed to go see prospects in live-action, as the COVID-19 pandemic continues to hamper baseball – and everything else in life.
So far as the changes to this year's draft: (1) Scouts were only allowed to use video of players; (2) There'll only be five rounds this year (the second is airing tonight on ESPN), (3)) There are new signing bonus limits imposed, and; (4) The first round consisted of only 29 picks, as the Astros were in a "time out" due to the punishment they received for cheating. Houston will lose its second pick this evening, satisfying their(overly weak) punishment for the scandal.
For all of the uncertainty that remains with the bullpen and an aging starting rotation, it's interesting that the Cubs chose a shortstop in the first-round – and a high schooler at that. Mt. Carmel High School (Chicago) senior, Ed Howard, wound up getting the nod from Theo and the crew, making this the second time in three years that the Cubs have chosen a shortstop as their first-round draft pick. In the 2018 draft, Chicago chose Nico Hoerner (Stanford), who's still maturing, but obviously Major League ready.
Admittedly, I missed the beginning of the draft, so I was forced to rely on recaps from Jeff Passan (ESPN) and the rest of the crew for intel on Howard. The young middle-infielder was described as a rising star and someone who could potentially be "the face of the city" in a few short years. The same TV crew touted Nico Hoerner in 2018 as being an excellent draft pick for the Cubs, but he didn't receive half the praise that Howard got last night.
The Chicago kid is staying home—the Cubs make @ehowardIV the 16th overall pick in the MLB Draft. He grew up a White Sox fan, but I think he's okay switching allegiances now.
Check out the reaction. @WGNNews pic.twitter.com/lt8ApqkwZm

— Josh Frydman (@Josh_Frydman) June 11, 2020
Great that Howard carries the potential to be a superstar, but also a little disconcerting that the Cubs seem to be hunting a replacement for Javier Baez. Hoerner's signing spelled the end for Addison Russell, but even with Hoerner spending most of his time at second base during his MLB debut last year, his primary position is at short. Further raising questions is the fact that the Cubs were supposed to prioritize locking Javy down to an extension this past winter, but almost eight months later, the sides are at an impasse.
In addition to Hoerner – and now Howard as potential shortstops of the (not so distant) future, also waiting in the wings is Zack Short, who's been impressive the last two years during Spring Training.
It's possible the Cubs starting shortstops at 7 levels next year look like this.

Chicago: Javy Baez
AAA: Nico Hoerner (if not: Zack Short)
AA: Aramis Ademan
A+: Andy Weber
A: Luis Verdugo
A-: Ed Howard
R: Cristian Hernandez

I couldn't even fit Kevin Made!
????????

— Cubs Prospects - Bryan Smith (@cubprospects) June 11, 2020
If – or rather when – the Cubs' core is going to implode, I certainly thought Baez would be the last man standing, but it would appear as though the Cubs are taking steps to ensure that they have young and controllable coverage for the foreseeable future at short regardless of Baez's future.
Best of luck to Ed Howard, as he starts his professional baseball journey at the age of 18.
Baseball will return: During last night's draft, ESPN aired a portion of an interview with MLB Commissioner, Rob Manfred. When asked the likelihood of MLB returning this year, Manfred replied, "100 percent."
The MLBPA sent another proposed offer to the league on Tuesday night (details unknown at this time), for which Manfred acknowledged that MLB would be submitting a reasonable counterproposal. Before the latest round of proposals, MLB was looking at a 50-60 game schedule. Meanwhile, I was informed by a baseball insider that the union would be holding out for a 100-114 game schedule, full prorated salaries, with playoffs lasting until around Thanksgiving.
According to ESPN, the sides are now looking at a schedule consisting of about 85 games, or roughly half of a season. That proposal would have the sides both meeting in the middle from the original proposals; however, pay for the players remains the primary sticking point.
Let's hope that we can get some sort of suitable arrangement between the sides, as other major sports are figuring out a way to work around the pandemic to get their seasons in. I miss baseball, but in the meantime, I'm going fishing.
Cubs' Birthdays: Celebrating (posthumously) yesterday, were ex-Cubs Frank DeMarée (110) and Mike Kreevich (112).
Baseball Quotes: "They give you a round bat, and they throw you a round ball, and then they tell you to hit it square." - Willie Stargell
I enjoy talking baseball. I don't have all the answers, and I don't claim to, but I'm more than happy to share my beliefs. -Roy Halladay pic.twitter.com/ezaku1D2G6

— Baseball Quotes (@BaseballQuotes1) May 2, 2020
Upgrade Your Account
Unlock premium boards and exclusive features (e.g. ad-free) by upgrading your account today.
Upgrade Now