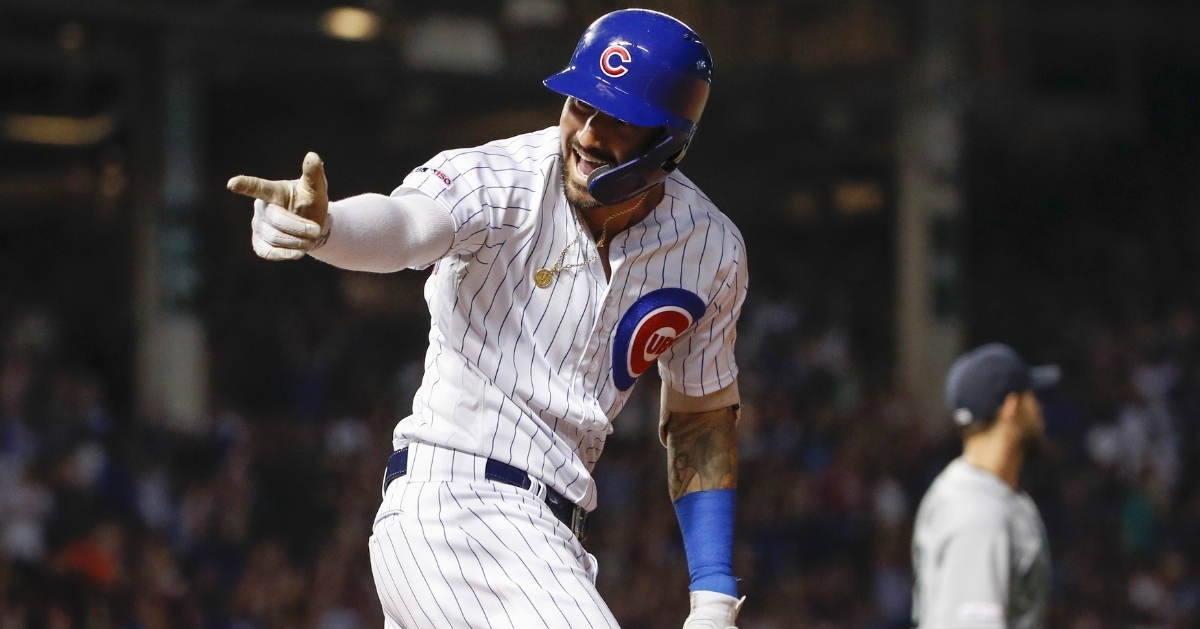 | | |
| --- | --- |
| Cubs News and Notes: Fly the W, Ben Zobrist returns, Contreras activated, Top plays, more | |
---
| | | |
| --- | --- | --- |
| Wednesday, September 4, 2019, 7:52 AM | | |
Next Game: Thursday: LHP Jose Quintana (12-8, 3.90 ERA) vs Chase Anderson (6-4, 4.58 ERA). Game information: 6:10 PM CDT; Televised on NBC Sports Chicago.
Tuesday's Game Recap:
Coming off of an explosive come-from-behind win on Tuesday, the Cubs looked to make it a perfect 4 for 4 with Mariners this year, as they concluded their interleague series yesterday at Wrigley Field.
Big Jon Lester took the mound for Chicago, while Mariners' manager, Scott Servais, sent King Felix Hernandez to do Seattle's bidding. The Cubs took the field last night, sporting a very different (yet vaguely familiar) look, with Ben Zobrist at second and Willson Contreras behind the plate.
From the get-go, it looked like Lester was going to be in for a rough night, as it required 28 pitches for him to escape a bases-loaded jam in the first (2 walks and a single).
A standing ovation welcomed Ben Zobrist to the plate in the first, but despite the crowd's support, Zo would fan. A walk to Kyle Schwarber was wasted, with the inning-ending in a 0-0 tie.
Lester sailed through the second, then got a little help from another "new" face, Willson Contreras, who belted a 450-foot home run on the third pitch that he saw. Welcome back, Willy. Cubs lead 1-0.
Does anyone know if @WContreras40 is back?#EverybodyIn pic.twitter.com/hLiovi5Dcs

— Chicago Cubs (@Cubs) September 4, 2019
The Cubs would turn an insane 9-1 double play in the third when Dylan Moore flied out to Castellanos in right. Mallex Smith had broken for second on an attempted steal, and with Rizzo in the outfield trying to make a play, Lester broke to cover first. Castellanos fired a bullet to Lester, and the Mariners suddenly found themselves with two outs.
Your run-of-the-mill 9-1 double play. pic.twitter.com/cITlB61B0t

— Chicago Cubs (@Cubs) September 4, 2019
The Cubs would cash in on Ben Zobrist's third-inning walk, when Castellanos hit a sac-fly to the right, giving the Cubs a 2-0 lead while setting up an interesting situation for Seattle in the fourth.
Down by two, the Mariners had the bases loaded again, and with two-away, Scott Servais elected to pinch-hit for King Felix. That at-bat would result in a strikeout, leaving the Mariners scoreless, while turning the game over to the bullpen.
Zo would bunt his way on to open the fifth, followed by Bam-Bam's single. With two on and nobody out, Castellanos would jack a home run into the right-field bleachers. Cubs up 5-0.
Have you ever heard of Plato? Aristotle? Socrates?

Morons. #OpeningDay pic.twitter.com/Dr5lzTK7a1

— Chicago Cubs (@Cubs) September 4, 2019
Lester would pitch himself out of another bases-loaded jam in the sixth, keeping his shutout intact. That would be all for Jon, as Steve Cishek got the ball in the seventh. The Cubs would continue to lead 5-0 after six. Good quality start by Lester- something he desperately needed.
6 IP, 9 K, 0 R.

?? pic.twitter.com/pWcFDzVOE0

— Chicago Cubs (@Cubs) September 4, 2019
How about a Schwar-bomb to start the bottom of the seventh? Cubs up 6-zip. (That's #33 for Kyle, by the way…)
Night, night. pic.twitter.com/uHxchS6d7Y

— Chicago Cubs (@Cubs) September 4, 2019
Joe Maddon was directly responsible for the Mariners getting on the board in the eighth. This was screwy, so let me set it up for you. Dee Gordon was on second with two-away, Bishop was on first. Vogelbach singles to left, and Gordon races to third, then trots home. Schwarber ended up back-picking Bishop, who'd rounded second, and the tag was applied before Gordon scored, which created the third out, thus nullifying the run. Servais challenged the call at second, and it was upheld- Bishop is out. Maddon then went to challenge the run-scoring and was denied, as he waited too long to challenge.
Maddon contends he had no way of knowing whether or not to challenge the run until he knew whether Bishop was going to be called safe or out at second. Common sense dictates that you immediately approach the home plate ump and tell him that if the runner at second is deemed to be out, that you're going to challenge the run-scoring.
No biggie, the Cubs win it 6 -*1 (note the asterisk next to the "1") and sweep the season series 4-0. Fly the W, sing the song.
The flag is flying, the song is being sung, and Jon Lester picks up the W at Wrigley.

My preferred way to spend a Tuesday night. @Cubs pic.twitter.com/LSYNl1YgcZ

— Corey Freedman (@CFCubsRelated) September 4, 2019
CUBS NEWS AND NOTES
Cubs/Brewers Probable Pitchers: Friday: LHP Cole Hamels (7-5, 3.69 ERA) vs RHP Zach Davies (8-7, 3.76 ERA). Game information: 7:10 PM CDT; Televised on NBC Sports Chicago. Saturday: RHP Yu Darvish (5-6, 4.25 ERA) vs LHP Gio Gonzalez (2-2, 4.14 ERA). Game information: 6:10PM CDT; Televised on WGN. Sunday: RHP Kyle Hendricks (9-9, 3.47 ERA) vs RHP Adrian Houser (6-5, 3.52 ERA). Game information: 1:10 PM CDT; Televised on NBC Sports Chicago.
All Hail the Professor! Kyle Hendricks doesn't have velocity in his favor- but he does have finesse. Hendricks uses that finesse to find and paint the corners of the zone, leading to a ton of strikeouts and very few walks.
Kyle Hendricks has walked two or fewer batters in 25 straight starts, the longest single-season streak by a Cub since 1968.

Powered by @Biofreeze. pic.twitter.com/6QNQ2qgJFD

— Chicago Cubs (@Cubs) September 3, 2019
Welcome back: After long and (literally) painful absences, the Cubs welcomed both Ben Zobrist and Willson Contreras back to the lineup yesterday. The Cubs also activated LHP Derek Holland from the IL.
Zo would go 1 for 3 with a walk, while Contreras belted his way to a 2 for three night with a homer and a walk.
One step forward, two steps back: Just as the Cubs welcomed several players back to the roster, others seemed to be heading for unwanted days off. Kris Bryant was a late scratch last night due to right knee soreness- a condition that's been bothering him for over two months. Anthony Rizzo remains day-to-day with back issues, and Javier Baez has now sat out two games due to a thumb injury and a sore neck. Yu Darvish is said to be doing better, but his forearm tightness leaves a question mark around him for at least the near future.
Maddon mentioned his knee in passing when giving KB a day off last Friday. He's slashing .227/.298/.375 since being removed from a game in SF with the knee on July 24.

— Sahadev Sharma (@sahadevsharma) September 3, 2019
Top plays of the month: The Cubs and Pepsi have released a video of the Cubs' top plays for August. Featured, are Victor Caratini, Nicholas Castellanos, Anthony Rizzo, Jason Heyward, and Kris Bryant.
The #Cubs top plays for the month of August, presented by @pepsi. pic.twitter.com/E91uNlmWQF

— Chicago Cubs (@Cubs) September 3, 2019
Lester's Record: With last night's win, Jon Lester now has 189 career Ws, surpassing John lackey's 188.
Another milestone for @JLester34!#EverybodyIn pic.twitter.com/PlcED3JdLO

— Chicago Cubs (@Cubs) September 4, 2019
The match-up game: Joe Maddon isn't the only guy who's shuffled through a ton of pitchers this season. According to MLB's Sarah Langs, there have been a total of 659 relief pitchers used this year (including position players), which is the most in the history of MLB. The count is now six more than last year's 653, and it's still rising. Insane.
Brad Wieck: I was a little skeptical about the Cubs taking on Brad Wieck as part of the Carl Edwards Jr. trade with San Diego, after all, the guy did come to Chicago with an ERA of 6.57 (24.2 IP). After seeing this curveball, I do believe there's hope (and maybe a future) in Chicago for Brad.
Watch the video… this is sick!
Looks like Brad Wieck fooled Seager a little... pic.twitter.com/cXh4gE8CCc

— Jordan Bastian (@MLBastian) September 2, 2019
New Cubs' video: The Cubs have released a new video, documenting how Ian Happ and Cubs' photographer Stephen Green prepare for road games.
Props to the Atlanta Braves: As Florida, Georgia and the Carolinas continue evacuating for Hurricane Dorian, the Atlanta Braves have done something to help take evacuees' minds off the situation. Starting last night and continuing on Thursday, Atlanta offered free tickets to all evacuees.
This is an incredibly kind gesture by the Braves, as people evacuating have their lives uprooted in an instant. Many are forced to flee, having minimal funds to last them until it's safe to return- assuming they still have a home to go back to when it's over. Once you evacuate, your days are spent wondering if things will ever be "normal" again after the storm, and anything to take your mind off of worrying is helpful. Nice job, Atlanta.
Baseball Quotes: "Somebody once asked me if I ever went up to the plate trying to hit a home run. I said, 'Sure, every time." -Mickey Mantle
You give me Babe Ruth over any king who has ever sat on the throne, and I'll be happy with that trade. -Bob Costas

pic.twitter.com/j5XLxaxQyb

— Baseball Quotes (@BaseballQuotes1) August 30, 2019
Cubs Birthdays: Celebrating yesterday, were ex-Cubs Carl Edwards Jr. (28), Chad Fox (49) Luis Gonzalez (50), Ced Landrum (56), Dave Clark (57), and posthumously, Steve Boros (83), Morrie Martin (97), Frank Jelin?ich (101), Eddie Stanky (103), Dakin "Dusty" Miller (143), and Mike Kahoe (146).
THIS WEEK'S NL CENTRAL SCHEDULE:
(Wins in green, losses in red)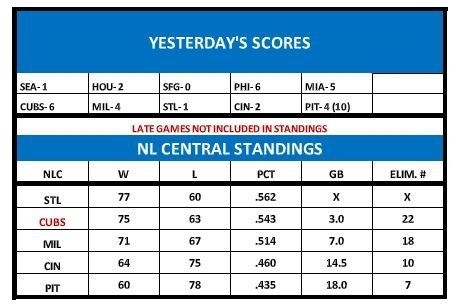 Tags: Chicago Sports Baseball
,
Jose Quintana
,
,
Ben Zobrist
,
Willson Contreras
,
Kyle Schwarber
,
Steve Cishek
,
Cole Hamels
,
Yu Darvish
,
Kyle Hendricks
,
,
Anthony Rizzo
,
,
Victor Caratini
,
Jason Heyward
,
,
Joe Maddon