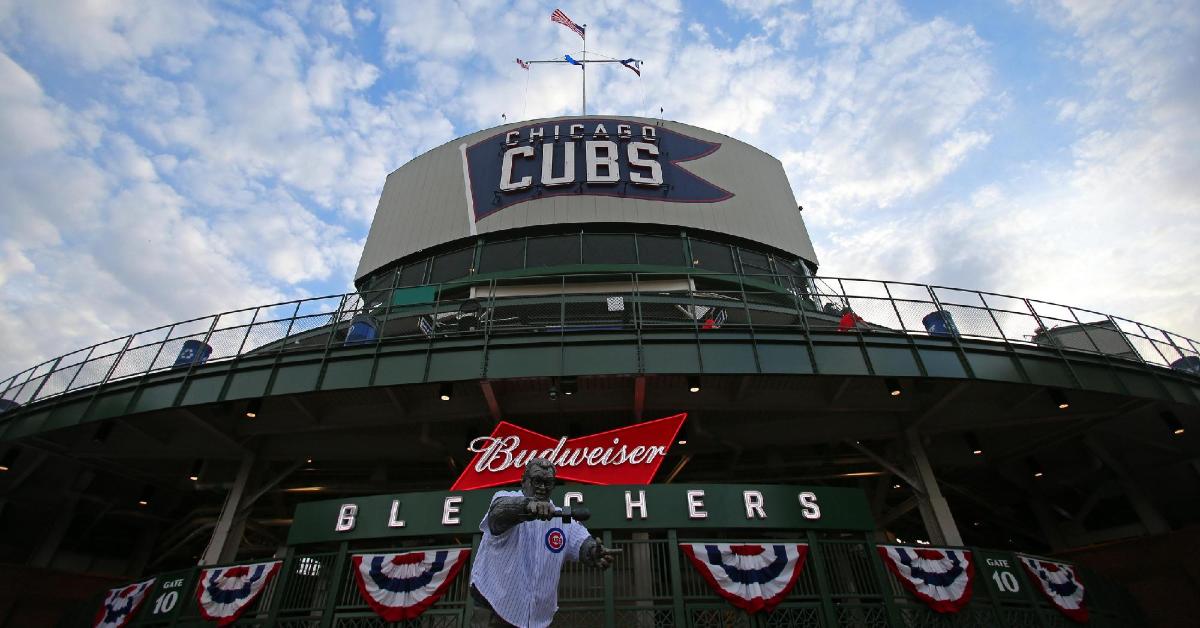 | | |
| --- | --- |
| Cubs News and Notes: Harry Caray, Friendly Confines, Rizzo's meals, Mt. Rushmore, more | |
---
| | | |
| --- | --- | --- |
| Tuesday, March 31, 2020, 9:07 AM | | |
CUBS NEWS AND NOTES
Opening Day: Postponed.
Today would have been the home opener for the Cubs. According to video game MLB The Show, it's being reported that in a simulation game between Chicago and Milwaukee, that the Cubs won. Contributing to the scoring was Jason Heyward, who smacked a pair of home runs. If only…
Check out some of the memories from Cubs fans of past Opening Days:
You answered the call.

Here's your #CubsOpeningDay memories. pic.twitter.com/qSGWR8U3y5

— Marquee Sports Network (@WatchMarquee) March 30, 2020
As long as we're enjoying a virtual Opening Day, who better than the legendary Harry Caray and a ton of other celebs to get us all through the seventh-inning stretch.
A one, a two, a three ...@budweiserusa pic.twitter.com/mcLVCeKZer

— Chicago Cubs (@Cubs) March 30, 2020
Cubs acknowledge fans: Even without baseball, the Cubs still acknowledge their fane. "Cubs fans, you are what makes Wrigley Field the Friendly Confines," read a tweet from the Cubs this morning.
I thought about that for a second and realized just how right those words are. I can't remember a single game that I'd ever been to, where fans didn't talk amongst each other in the stands.
Cubs fans, you are what make Wrigley Field the Friendly Confines.

Share how you're showing your Cubs pride today at home with #MyFriendlyConfines. pic.twitter.com/NG157Xp63m

— Chicago Cubs (@Cubs) March 30, 2020
Even after my 30-year hiatus from being at a game in person at Wrigley Field, things hadn't changed. Fans all around us were still high fiving us (and others) when then things went right for the Cubs that day (June 27, 2019). Between innings, plays, and pitches, we'd all talk a little baseball, then get back to celebrating together when the next big play came.
Even with as crazy and dangerous as Chicago has become, you never fear walking around Wrigleyville, and it's almost Bourbon Street-like atmosphere. The bars, restaurants, street vendors, and tourists make it feel more like a festival than an unwanted, block-long walk from a parking spot.
Wrigley will always hold a special place in the hearts of fans. Going there means a lot more than just seeing a ballgame; it means spending time with "friends."
Rizzo ups the ante: Remember when I wrote the other day that the Anthony Rizzo Foundation had been sending pizzas by the thousands to healthcare workers in Florida and Chicago? Yeah, well, he just upped the ante. Steak anyone?
I love that these are the kinds of meals we are providing health care workers. They need nutrition and well balanced meals to make sure they can stay on their feet. They deserve the best. Thanks @BOKArestaurant for helping us keep our promise. https://t.co/xVX1zG5g9F

— Anthony Rizzo (@ARizzo44) March 30, 2020
Most of you have no idea how vital these things are to those who work in healthcare or as a first responder. People in those professions live their lives eating fast food, vending machine food, or whatever else you can manage to scavenge, as often meal breaks are a luxury rather than a necessity. A lot of these people are working 80+ hours a week at this point, and they deserve the best.
Rizzo may be worried about the staff at various facilities, but he certainly hasn't forgotten about the kids that his foundation supports. Rizz was supposed to make his first appearance at Lurie Children's Hospital tomorrow, but obviously, that's now been postponed due to the virus outbreak.
Feeling the love from my @LurieChildrens family on what would have been @Cubs opening day. I had a visit scheduled for tomorrow, my first of the season. Wish I could see these kiddos. I will be back there soon. pic.twitter.com/KX8Iuprqt2

— Anthony Rizzo (@ARizzo44) March 30, 2020
Chicago's Mt. Rushmore: CubsHQ staff writer Anthony Pasquale posted an interesting question on Twitter. Who would be the four faces on your version of Mt. Rushmore for sports in Chicago?
Anthony left one stipulation: You MUST have seen them play in person.
I've seen a lot of people do Chicago Sports Mount Rushmores, so let me ask you guys, who is on your Mount Rushmore for Chicago Sports. One rule, you have had to have watched them play.

Here's mine:
1. Anthony Rizzo
2. Patrick Kane
3. Brian Urlacher
4. Jonathan Toews

— Anthony Pasquale (@Ant_Pasquale3) March 30, 2020
In no particular order, mine would have to be Michael Jordan, Stan Makita, Billy Williams, and Ernie "Mr. Cub" Banks. Had I ever seen a Bears game in person, Walter Payton, Mike Ditka, Mike Singletary, and Jim McMahon would have all been options, with Payton making it for sure.
Runners up (from players that I have seen play) would include Scottie Pippen, Bobby Hull, Denis Savard, Anthony Rizzo, Bill Buckner, Andrea Dawson, and Ron Santo.
Cubs' Birthdays: Celebrating yesterday, were ex-Cubs James "Ripper" Collins (116), Ed Sicking (123), Herman Bronkie (135), George van Haltren (154), and Tom Burns (163).
Baseball Quotes: "Bad ballplayers make great managers, not the other way around. All I can do is help them be as good as they are." - Earl Weaver
A life is not important except in the impact it has on other lives. -Jackie Robinson pic.twitter.com/BdL5fKKe8j

— Baseball Quotes (@BaseballQuotes1) March 2, 2020