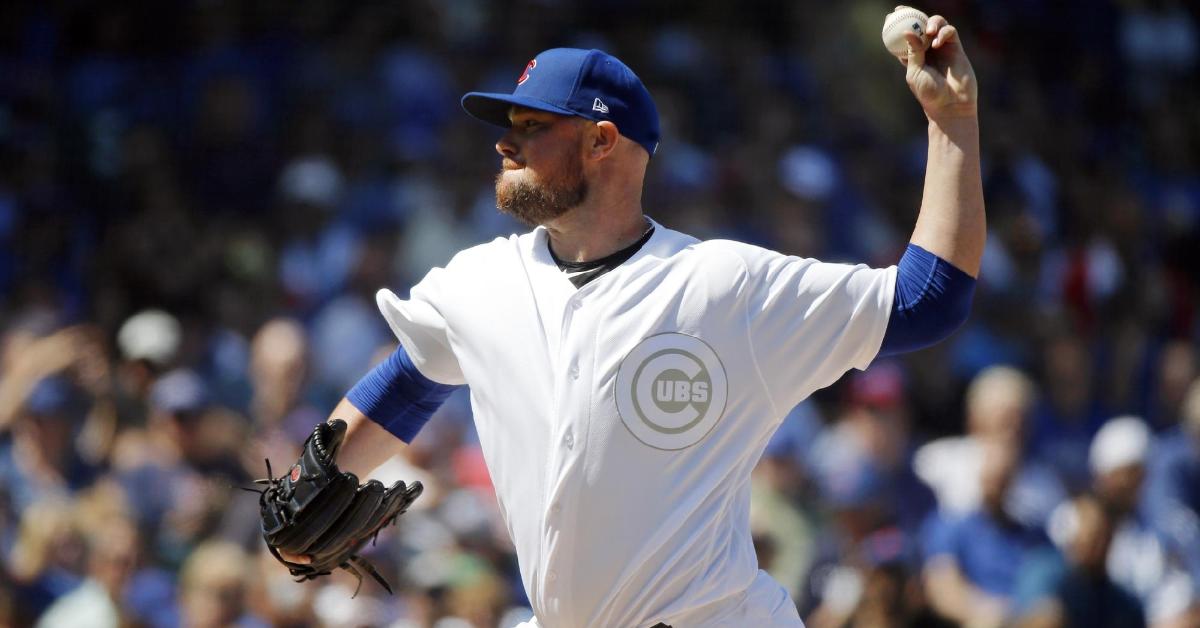 | | |
| --- | --- |
| Cubs News and Notes: Playoff odds, Uniform talk, Contreras injury update, Rizzo hot, more | |
---
| | | |
| --- | --- | --- |
| Saturday, August 24, 2019, 8:30 AM | | |
Next Game: Today: LHP Jose Quintana (11-7, 3.91 ERA) vs RHP Joe Ross (3-3, 5.48 ERA). Game time 1:20 PM CDT; NBC Sports Chicago, MLB Network (out of market only).
Friday's Game Recap:
No sooner did the Cubs sweep their way past the Giants, they ushered in the chance to do the same against Washington. Game-1 would see Jon Lester climb the hill to face off against Nats' righty, Anibal Sanchez.
The Cubs' winning streak couldn't last forever, but I certainly would have thought it would have lasted through at least today. While I have to admit that I didn't see the game live (thanks to my wife's demand that I mow the lawn), seeing a score of 9-3 in favor of the Nationals as I came in for some water, certainly didn't inspire me to mow any faster so that I could sit down and watch the game from the beginning.
Eaton would take Lester deep in the first, to give the Nats a 1-0 lead, but their offensive showing was from over. The Nationals would add another run in third (sac-fly), then Suzuki's RBI single in the fourth would make it 3-0. Still in the fourth, with the bases loaded, Anibal Sanchez would lay down one of the best bunts I have ever seen. The Cubs attempted to let it roll foul, but the ball stopped dead before crossing the foul line. Nats up 4-0.
Another wild pitch issued by Pedro Strop with the bases juiced would give the Nats a 5-0 lead in the fifth, followed by Strop giving up a two-run double to make it 7-0. Add another homer in the sixth (Soto), given up by David Phelps, and that would make it 8-0, then add another in the ninth to make it 9-zip.
The Cubs would finally eradicate Sanchez's shutout in the ninth, beginning with Tony Kemp's walk. Addison Russell's groundout would advance Kempt to second, marking the first time in the game that the Cubs had a runner in scoring position. Victor Caratini would reach on an error, scoring Kemp in the process.
With two outs in the ninth, Nicholas Castellanos would chalk up his 45th double of the year, scoring Caratini from first (at this point, Castellanos owned both of the Cubs two hits for the day). Anthony Rizzo wasn't about to go hitless and drilled one back up the middle to score Castellanos, but that's all the Cubs would get.
Final: Nationals-9; Cubs-3.
CUBS NEWS AND NOTES
Cubs/Nationals Probable Pitchers: Sunday: LHP Cole Hamels (7-4, 3.37 ERA) vs RHP Stephen Strasburg (15-5, 3.65 ERA). Game time 1:20 PM CDT; WGN, TBS (out of market only).
Javy's heroics: For everything that may have gone bad yesterday for Chicago, the play of the game had to go to Javier Baez. If just fielding the groundball wasn't brilliant enough, El Mago showed a little of his sixth sense, nailing Kendrick, who rounded third by what would prove to be a few steps too many.
Here's the play by Baez... pic.twitter.com/TACqfRq6ZW

— Jordan Bastian (@MLBastian) August 23, 2019
Not right in white: I used to think that the Cubs' gray road uniforms were duller than dull, and not what I'd describe as "cool-looking" on any level, but I'd take those any day over the all-white uniforms that they wore yesterday. In my opinion, these things were so hideously ugly, that I don't even want to sit and look at the picture of them, so I can start telling you why I think so. Oh well, more motivation for me not to sit and watch the replay of the entire game. #NoMorePlease
We'll try to get these dirty.#PlayersWeekend pic.twitter.com/4PmDgvPMQ9

— Chicago Cubs (@Cubs) August 23, 2019
Guess who's flying to NY? The Cubs announced yesterday that after this homestand, Willson Contreras would be boarding the flight with the team as they travel to New York for a series against the Mets. If he continues to progress without any setbacks, he should be able to ramp up his baseball activities there.
Willson Contreras is still working in a strengthening routine. He will travel with Cubs to New York next week and may be able to ramp up his baseball activities at that time.

"Everybody's optimistic right now," Maddon said.

— Tony Andracki (@TonyAndracki23) August 23, 2019
Playoff chances: According to Fangraphs, before yesterday's loss, the Cubs odds of making the playoffs currently stand at 79.1%. While that's not a great percentage, especially when compared to the Nationals, who have a 90.4% chance of seeing October action, the Cubs indeed fare better than anyone else in the NL Central.
Playoff chances, per Fangraphs:
Nationals 90.4%
Cubs 79.1%
Mets 51.4%
Cardinals 50.9%
Brewers 12.6%
Phillies 11.4%
D-Backs 2.8%
Reds 1.0%
Giants 0.4%
Padres 0.1%

— Buster Olney (@Buster_ESPN) August 23, 2019
Schwarber's Block Party: If I could go to any Cubs-related charity event, this would be the one. As a former paramedic, I can appreciate on a very different level, everything Kyle Schwarber does for the first responders in the Chicago area, as I lived that life for a lot of years. While I can't speak for the police or fire ends of the first responder network, I can tell you that being an EMS provider is (quite often) a very thankless job. Thanks, Kyle.
??@kschwarb12's Third Annual Block Party raised a record-breaking $316K for first responders tonight! #NeighborhoodHeroes pic.twitter.com/MRN9Agf9ln

— Chicago Cubs (@Cubs) August 24, 2019
Good publicity, lousy premise: Make no mistake, I like to see fans going to minor league affiliate's games. The games are far less expensive and depending on who's rehabbing; fans may even get a glimpse of one of their favorite pros. The Iowa Cubs posted the following tweet, exclaiming that Ben Zobrist and three other players from the Cubs' 2019 Opening Day roster would be starting the game yesterday. Great news for Iowa who wants to draw fans; bad news for those of us who can figure out that this equates to the fact that 16% of the Cubs Opening Day roster is now starting games in Triple-A.
Ben Zobrist and Daniel Descalso continue rehab assignments with Iowa tonight at Principal Park. 8 of 10 I-Cub starters have suited up for Chicago this season.

??>>https://t.co/TQg6pz91EJ pic.twitter.com/IHQF5cvbXz

— Iowa Cubs (@IowaCubs) August 23, 2019
Powering up: Since August 4th, Anthony Rizzo has a .370/.500/.630 slash line with more walks (9) than strikeouts (5) in 68 plate appearances.
Rizzo on Kimbrel: "It's Craig Kimbrel. You can't help but just watch him run in from the bullpen every time and get chills. I'm fortunate enough to play with him and - in my opinion - another Hall of Fame closer in [Aroldis] Chapman. It's fun to see these guys just come out."
Baseball Quotes: "I really love the togetherness in baseball. That's a real true love." -Billy Martin
No baseball pitcher would be worth a darn without a catcher who could handle the hot fastball. -Casey Stengel pic.twitter.com/GOhoXg8oKF

— Baseball Quotes (@BaseballQuotes1) August 23, 2019
Cubs Birthdays: Cole Liniak (43), Mark Bellhorn (45), Jerry White (67), Dave Dowling (77), Danny Murphy (77), and posthumously, Al Montreuil (76), Lonny Frey (109), Guy Bush (118), Roy Leslie (125), Jerome "Red" Downs (136), Lew Richie (136), and Fred Andrus (169).
Wishing a happy birthday to #Cubs hitting coach @AnthonyIapoce! #EverybodyIn pic.twitter.com/vxqFvSdNR8

— Chicago Cubs (@Cubs) August 23, 2019
THIS WEEK'S NL CENTRAL SCHEDULE:
(Wins in green, losses in red)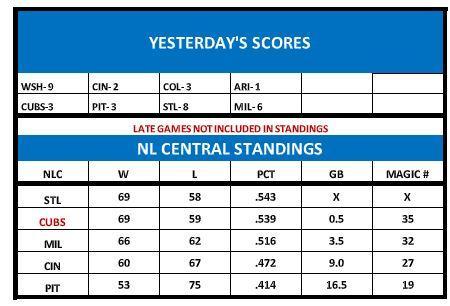 Tags: Chicago Sports Baseball
,
Jose Quintana
,
,
Pedro Strop
,
Addison Russell
,
Victor Caratini
,
Anthony Rizzo
,
Cole Hamels
,
,
Willson Contreras
,
Kyle Schwarber
,
Ben Zobrist