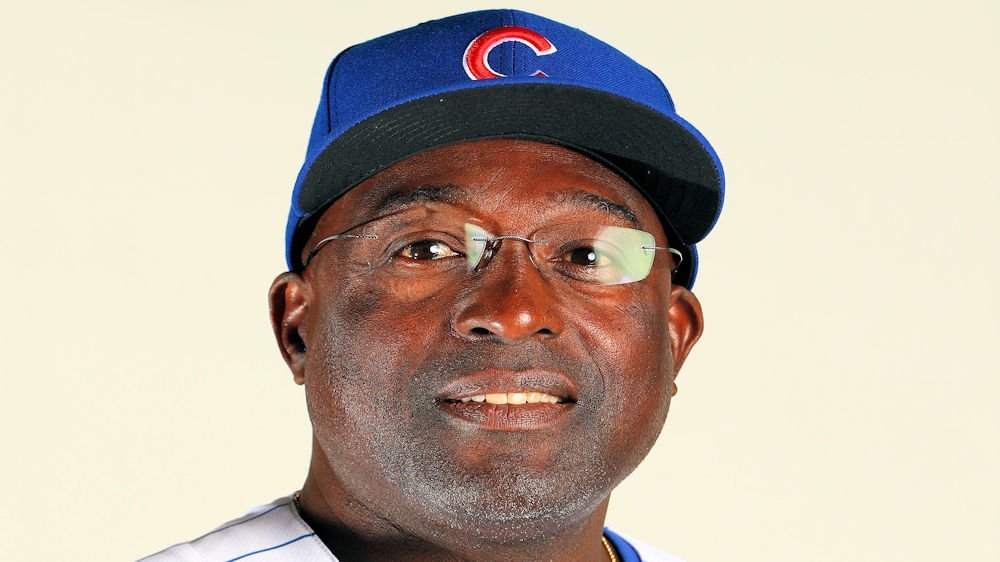 | | |
| --- | --- |
| Cubs News and Notes: Strode strolls, Marquee Network grows, collusion in MLB, Hot Stove | |
---
| | | |
| --- | --- | --- |
| Thursday, November 7, 2019, 9:16 AM | | |
Strode strolls out of the pen: Longtime bullpen coach Lester Strode will no longer be putting on a Cubs' uniform. Strode has been there so long that I'd have to struggle even to remember who he replaced way back in 2007. He has reportedly been offered "another prominent spot" with the team.
According to Jesse Rogers (ESPN), former Phillies pitching coach Chris Young has already interviewed for the position. Young worked as a scout for the
San Diego Padres from 2010 through 2014, and as a scout and scouting supervisor for the Houston Astros from 2015 through 2017. After the 2017 season, the Phillies hired Young as an assistant pitching coach for their major league roster, promoted him to full pitching coach for the 2019 season, and then fired him after the 2019 season.
Source- Lester Strode will not be the Chicago Cubs bullpen coach in 2020. Strode has been with the Cubs 31 years and the bullpen coach the last 13.

— Bruce Levine (@MLBBruceLevine) November 6, 2019
Choosing to want Young should show that David Ross isn't going to be the "yes man" that a lot of people seem to think he's going to be, as not even Joe Maddon was brazen enough to remove Strode from his decade-plus perch.
Strode knew that job well, and while the bullpen coach has a lot less responsibility that the pitching coach does, maybe a change of coaching scenery within the pen will help – especially if Strode's replacement (speaking in terms of Young) is a guy who'd be coming from a pitching coach position.
Equipped with scouting reports, Strode was able to give pitchers limited information, but the bullpen coach's role is generally a lot less than what people think it is. A player once told me that when the phone rang in the pen, Strode's primary job was to tell Maddon, Mark Loretta or Tommy Hottovy, that a pitcher was ready, then alert the pitcher of the game situation and who'd be standing at the plate when he got to the mound; "Two out, bottom of the seventh, runners on the corners and Yelich at-bat."
Beyond that, the bullpen coach had limited input, so telling Maddon that Craig Kimbrel's delivery looked wrong or that Brandon Kintzler's sinker wasn't sinking wasn't something that was part of his job description.
Darvish attacks (again): First the fried chicken remark, then Yu Darvish playfully trolled Anthony Rizzo over Rizz winning the Gold Glove, and now he's at it again… Yesterday, Darvish released an Instagram video showing him in the batting cage, mocking Rizzo's swing.
Marquee Network: Just yesterday I wrote about how the Cubs' new Marquee Network would be reaching agreements with new platforms to deliver their content; today, the Cubs announced a multiyear deal with Mediacom Communications to cover parts of Illinois, Indiana, and Iowa.
Iowa Cubs: While there's been no official announcement yet, but according to Jon Heyman, the Cubs are expecting to have Marty Pevey back as manager for 2020.
More MLB Drama: OK, so now there is a collusion issue in MLB.
Union chief Tony issued statement after Alex Anthopoulos was quoted as saying he has "had a chance to get a sense of what the other clubs are going to look to do in free agency..." 1/2

— Ken Rosenthal (@Ken_Rosenthal) November 6, 2019
Clark said, "The statements made by Braves GM Alex Anthopoulos call into the question the integrity of the entire free-agent system. The clear description of Club coordination is egregious, and we have launched an immediate investigation looking into the matter." 2/2

— Ken Rosenthal (@Ken_Rosenthal) November 6, 2019
And, so now, MLB will be investigating (immediately). When Anthopoulos mentions talking "to 27 clubs" about what to due this winter, it may have been the death punch to free agency as we know it.
Wow. Gloves off early this off-season https://t.co/SGrS1a8krA

— Jesse Rogers (@ESPNChiCubs) November 6, 2019
Free agency was a great tool for players when it debuted in 1975, but as players (agents) continue to demand more and more (rightfully so in most cases), owners and GM are finding ways to circumvent it. The answer to this is simple – though many players would probably protest – setting some free agency salary guidelines would be a start. I'm not saying for a minute that Cole isn't worth $200M (though I will say that Bryce Harper is worth nowhere near the $330M that he got). Still, organizations are going to have a tougher time paying guys these multi-hundred-million-dollar salaries- at least not with the current luxury tax in place.
MLBPA unhappy with #Braves' GM https://t.co/xMyCnkQTz4 pic.twitter.com/oMM2ljsvv4

— MLB Trade Rumors (@mlbtraderumors) November 7, 2019
Scott Harris: Cubs' Assistant GM Scott Harris is one of the finalists being considered for the manager's spot in San Francisco.
Scott Harris, #Cubs assistant GM, is among candidates for #SFGiants' GM opening, sources tell The Athletic. Unclear where search stands, how close SFG are to conclusion. Finalists for manager, per @PavlovicNBCS: Joe Espada, Pedro Grifol, Gabe Kapler.

— Ken Rosenthal (@Ken_Rosenthal) November 6, 2019
Cubs' Birthdays Celebrating today were former Cubs Justin Speier (46), Don Wengert (50), and posthumously, Bob Addis (94), Joe Munson (120), Chick Tolson (121), and Danny Green (143).
Baseball Quotes: "To all the kids out there, there is no shortcut to success. Hard work, commitment, and dedication. Stay true to who you are. -Frank Thomas
Is losing fun? pic.twitter.com/PFkKudmhNa

— Baseball Quotes (@BaseballQuotes1) November 5, 2019
MLB and the Hot Stove
NL Central Hot Stove:
Crickets.
From the rest of MLB:
Athletics: After spending all of last year in the minors, utility infielder Adam Rosales has hung up his cleats and accepted a minor league coaching job with Oakland.
Special thanks to the eight different organizations who have all given me the opportunity of a lifetime! Today, I'm hanging up these beat-up cleats and opening a new exciting chapter in my life! @Reds @Athletics @Rangers @Padres @Dbacks @Phillies @Indians @Twins #retired pic.twitter.com/kS2uiAOtoF

— Adam Rosales (@arosie7) November 5, 2019
Nationals: No surprise here, but Nats utilityman Howie Kendrick is reportedly drawing a lot of early interest. The Rays and Marlins (among others) have already checked.
Martin Prado: Veteran infielder Martin Prado is reportedly going to call it quits after 14 seasons.
Royals: KC has requested unrestricted waivers on RHP Jacob Barnes.