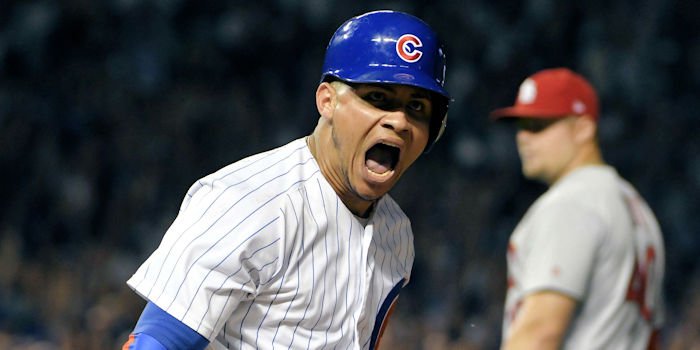 | | |
| --- | --- |
| Cubs Odds and Ends: Catching market, Cubs sign righty, Theo's mindset, more | |
---
| | | |
| --- | --- | --- |
| Sunday, December 8, 2019, 6:01 PM | | |
Catching market
As rumors – and anger in the case of some fans – continue to fly about Willson Contreras being on the trading block, Willy's stock just went up again. Recently, the Twins snagged free agent backstop, Alex Avila off the shelf, making one less catcher available. This was a one-year/$4.25M deal, far less than what Contreras would fetch in trade, but noteworthy, nonetheless.
The Pirates are now officially shopping Starling Marté and are said to be looking for a catching prospect in return. The Bucs were already down a quality catcher in Francisco Cervelli, and now Elias Diaz has elected free agency after being non0tendered, leaving only Jacob Stallings to catch in Pittsburgh.
The Cubs desperately want to sign a center fielder who can hit leadoff – and Marté is undoubtedly that guy – but it is highly unlikely that Theo would deal either Willson Contreras or Victor Caratini to a division rival, though Miguel Amaya could come into play, should a deal be struck.
So, who's left in the free-agent catching market? A ton, actually, but between age, inexperience, and WAR, the choices for a quality catcher are slim.
The current list of unemployed backstops includes: Wellington Castillo (age 33), Jason Castro (33), Francisco Cervelli (34), Robinson Chirinos (36), Elias Diaz (29), Tim Federowicz (32), Chris Herrmann (32), John Hicks (30), Bryan Holaday (32), Nick Hundley (36), Chris Iannetta (37), Jonathan Lucroy (34), Luke Maile (29), Martin Maldonado (33), Russell Martin (37), John Ryan Murphy (29), Josh Phegley (32)
Kevin Plawecki (29), Austin Romine (31), Kevan Smith (32), Jesus Sucre (32), Blake Swihart (28) and Matt Wieters (34).
Epstein has already eluded that it will take quite an offer to snag Contreras, but with the amount of (quality) free agent catchers growing thinner by the day, that deal may come along sooner than you think.
Cubs sign right-handed reliever
Woohoo! (little sarcasm…) The Cubs have signed free agent, righty reliever, Dan Winkler to a one-year deal. Winkler and the team settled on a split contract, earning Winkler $750k in the majors, while only netting him $200k in the minors. Winkler can earn up to another $750k in major league incentives.
"Winkler struggled through 21 2/3 innings at the MLB level in 2019 (4.98 ERA, 22-to-11 K/BB ratio), he was a very effective bullpen piece with the Braves just a year prior. In 2018, Winkler returned from a grueling injury absence to post 60 1/3 innings of 3.43 ERA ball with 10.3 K/9 against 3.0 BB/9." -MLB Trade Rumors -
Bullpen depth for #Cubs:https://t.co/9VGS4yBA7Y pic.twitter.com/H6Vchp5FUO

— MLB Trade Rumors (@mlbtraderumors) December 6, 2019
Another Tommy John Survivor, Winkler, underwent his surgery in 2014, returning to the mound in 2016, only to suffer another nasty injury when he audibly snapped his elbow (fractured) while delivering a pitch. In addition to limited work in the majors last year. In addition to his work in the Majors last year, Winkler tossed 30 2/3 innings in Triple-A (with a 2.93 ERA, 29 strikeouts, and a hideously ugly 23 walks).
The Cubs can control him through 2021, and Winkler does have minor league options yet, making him a prime candidate to earn frequent flyer miles on the Chicago - Des Moines shuttle.
What exactly is Theo thinking?
Between Drew Smyly, Kendall Graveman, Danny Hultzen, Jharel Cotton, CD Pelham, and now Winkler, Theo seems to have developed quite a taste for recovering Tommy John candidates. Smyly and Graveman were never used outside of Iowa before being dealt away, and Hultzen only hurled 3.1 innings at the major league level.
Adding to the pattern of becoming a physical rehab facility, the Cubs are also looking (very seriously) at bringing 35-year-old Brandon Morrow back on a minor league deal. A decision is expected by the end of this month on the Cubs former closer, but the idea seems to be gaining momentum in media circles.
#Cubs reportedly working on re-signing Brandon Morrow: https://t.co/nwE5eASj68 pic.twitter.com/aBCMroACM4

— CubsHQ.com (@ChicagoCubsHQ) December 6, 2019
With no hard feelings attached, one would think that Theo would want to run like hell in the opposite direction from Morrow, yet he seems hellbent on re-signing him.
More like ... https://t.co/EYmy4Wp7S0 pic.twitter.com/pIOk9Gk3Em

— Michael Cerami (@Michael_Cerami) December 6, 2019
The Cubs saved a ton by letting Morrow walk as a free agent, escaping the $21M he'd have earned in 2020, had the Cubs picked up his option, but based on his track record and propensity for injuries, Morrow seems to be even riskier than any of the other new acquisitions – he hurt himself putting on a pair of pants in 2018, for God's sake.
The only sense that I can make out of any of these signings is that Theo is content on relying on the remaining bullpen members from 2019. Brad Wieck and Rowan Wick both proved to be solid, as did Kyle Ryan, who turned it around after some time in Iowa. Craig Kimbrel had a lousy year, but one can only blame his extended offseason and lack of adequate preparation time for his poor showing in 2019.
Re-signing Brandon Kintzler is key, but Epstein better get after it, as there are about a half-dozen teams who are interested. I know first-hand that Kintzler wants to remain in Chicago and that he's not looking for an insanely high contract with a lot of years (two max). Brandon is also highly motivated by the thought of a one-year deal, as he knows that nothing is guaranteed beyond that unless he shines.
It remains to be seen who Theo may acquire when he finally gets around to orchestrating what appears to be an inevitable trade. Still, for now, he seems content with loading up on pitchers who come with more question marks than anything else.