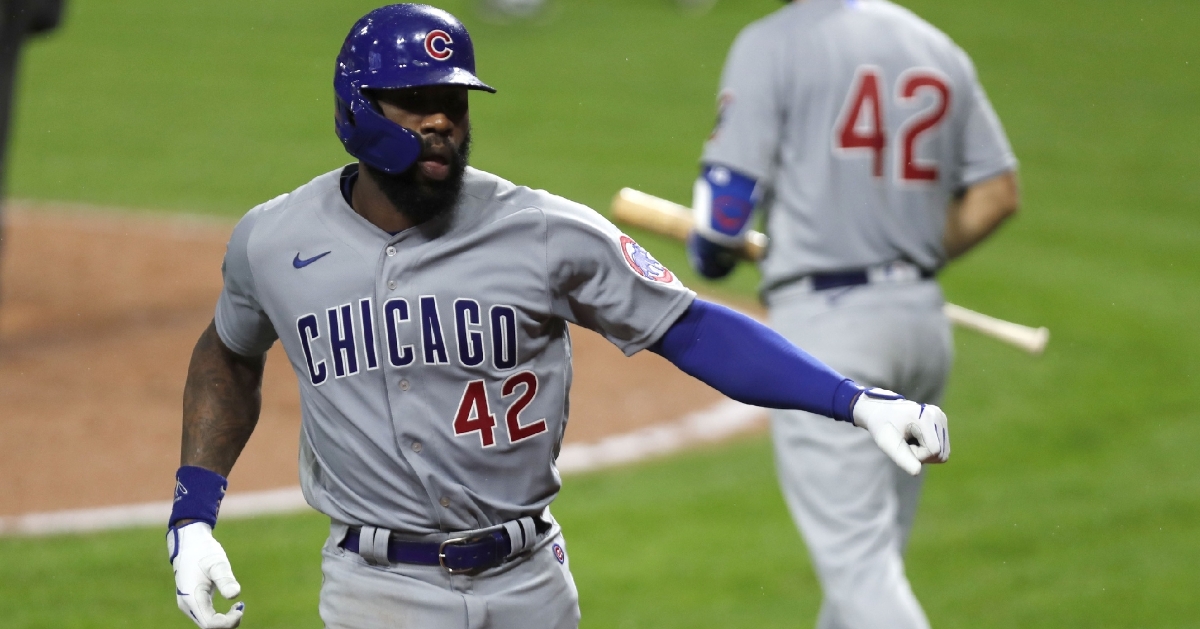 | | |
| --- | --- |
| Cubs Odds and Ends: J-Hey nominated, Happ on fire in leadoff spot | |
---
| | | |
| --- | --- | --- |
| Friday, September 4, 2020, 8:17 AM | | |
J-Hey Nominated for Roberto Clemente Award
Yesterday, Major League Baseball released its list of nominees for the annual Roberto Clemente Award. A very good majority of the Cubs players do a lot for charity and for bettering the community, which is what the Roberto Clemente Award is all about. Heyward does an exceptional job at contributing his own money to causes that he deems worthy.
As per a related article on MLB.com, "Since joining the Cubs, Jason Heyward has contributed more than $95,000 to fellow Cubs player foundations and community efforts, demonstrating his commitment to his teammates." The article (which also lists the other 29 candidates (one from each team), goes on to say that in addition to his $95k in donations, J-Hey has also donated to "multiple community organizations that work with youth and families in under-resourced communities in Chicago."
Heyward's work and dedication to helping others doesn't stop there. The Cubs right-fielder (who has been on absolute fire at the plate lately), has worked closely with Future Ties, "a nonprofit on the South Side of Chicago which supports low-income families through summer and after-school programs and helps parents build life skills, escape domestic violence and mentor young people in the community." Finally, when the COVID-19 pandemic struck this year, Heyward took a pretty good-sized swing at fighting back. Jason contributed $300,000 to nonprofit organizations helping those stricken with the virus in areas where resources were limited.
Kyle Hendricks, Jon Lester, and several other Cubs do a ton of work for charity. Anthony Rizzo is also very involved with pediatric cancer, just as Lester is, but those names don't even make up the tip of the Cubs' generosity. Every penny donated by every player helps someone in some way, but my hat is absolutely off to Jason Heyward this year. During this unprecedented time of crises, Hayward has stepped and reached deep into his pockets, so that others can have things that they need.
Best of luck in the final voting Jason.
We are honored to nominate Jason Heyward for the 2020 Roberto Clemente Award.

J-Hey's off-field commitment to social justice and efforts to address societal inequities are among his greatest achievements. pic.twitter.com/AMgb6bA1DV

— Chicago Cubs (@Cubs) September 3, 2020
Bryant out, Happ in for the leadoff spot
I hate to say I told you so, but I've been preaching for over a month that David Ross should have pulled Kris Brant out of the leadoff spot and Happ into that role. Finally, it's happened. I wasn't at all fond of KB batting in that role when it was announced that he'd do so way back in Spring Training 1.0. I'll give Rossy credit though, he certainly hung in there as long as he could - hopefully not too long.
Much has been made about how Chicago always does better with Bryant in the lineup, but I don't believe that to be true - at least not at this point. Len Kasper showed a graphic the other night, indicating the Cubs had something like a .540 winning percentage with KB in the lineup over his years in Chicago, but bear in mind, that includes his stellar 2016 season. This season? Yes, they are winning more with him in the lineup, but they're also doing well without him (see below).
I went back and looked at the game logs… yes, every single one of the 37 they've played, so far. Bryant has played just 17 games this season, equating to only 48.6% of the time. During Bryant's time in the lineup in 2020 (18 games), the Cubs have posted a record of 11-7 (.611), which is certainly respectable. When KB isn't on the scorecard (19 games this year), the Cubs have posted a record of 11-8 (.579). Yes, we're talking about a difference of .032 winning percentage points, but that's a minuscule difference. If KB plays and the Cubs lose to the Cards today, it means that it makes no difference (in 2020) in terms of the team playing with or without him.
Yes, Bryant will remain a Cub through the end of 2020, but his future is undoubtedly cloudy beyond that point. He says he wants to stay, the Cubs say they'd like to keep him (operative words: "would like to"), but you know Scott Boras…
Between an abysmal batting average and recent injuries to his wrist and ring finger (left hand), Bryant spent a few extra days on the injured list, exceeding the 10-day IL stint that he was initially placed on almost two weeks ago. After just one start since his return, he was held by Ross before playing a second game yesterday afternoon (0 for 5), in the Cubs 6-2 loss to the Pirates.
I digress. Let's get back to Happer leading off.
.@ihapp_1 now owns the #Cubs all-time record for home runs by a switch-hitter (60)! pic.twitter.com/P0urNNFmAx

— Chicago Cubs (@Cubs) September 1, 2020
I've used this Latin term before in some articles, but it certainly applies here: Res ipsa loquitur - which translates to "the thing speaks for itself."
Bryant in the leadoff role this year:
70 plate appearances (62 official at-bats)
11 hits (including three doubles and two dingers)
4 RBI
6 walks
20 strikeouts (28.6% strikeout rate)
Slash line: .177/.271/.333. Not good.
Meanwhile, when Ian Happ is leading off: 75 plate appearances (64 at-bats), 20 hits, 11 of which went for extra bases, including three doubles, a triple and seven bombs), 12 RBI, 11 walks, and 15 strikeouts (20% strikeout rate). Slash line: .313/.413/.719. Happ's defense has been incredible, his bat looks better than most of those playing MLB, and he's absolutely in the running for NL MVP.
Keep it up, Ian. You're unbelievable this season.
Baseball's current top 5 in OPS:

1. Juan Soto
2. Nelson Cruz
3. Jesse Winker
4. Ian Happ
5. Fernando Tatis, Jr.

Can't say that's the group I would have expected before the season started.

— Jared Wyllys (@jwyllys) September 3, 2020