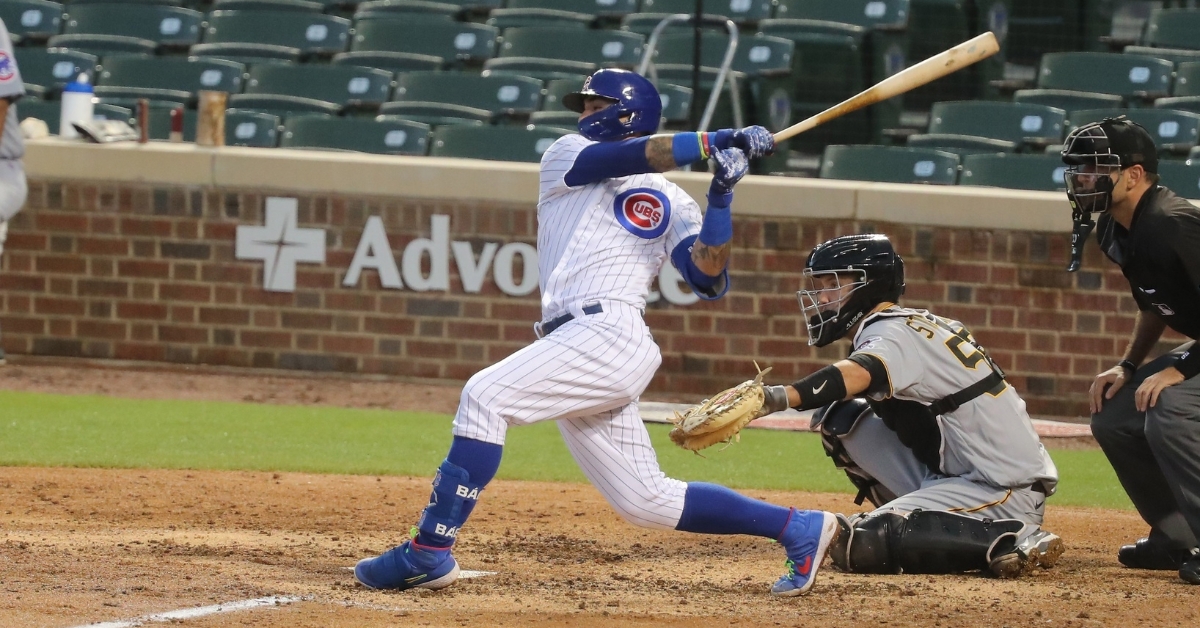 | | |
| --- | --- |
| Cubs Report Card 2020: Javy Baez, other shortstops | |
---
| | | |
| --- | --- | --- |
| Thursday, October 8, 2020, 12:32 PM | | |
Heading into the 2020 season, the Cubs were looking to start strong with a new manager in charge. They did just that when they started 13-3 but played under .500 the final 44 games. The fact that they won 34 games this season is a miracle when you consider that nearly all their core hitters had career-worst seasons. That can't happen again if the Cubs expect to contend next season or any other season for that matter.
Today we will continue to give out our end of the season report cards as we shift to the shortstop position. Unlike most team positions, this one is clear cut as to who claims this spot, and he starts nearly every game possible. Now and then, you have a back-up come in, but even then, playing time will never waver much.
Javier Baez: Coming into the season, only one core player on the entire roster reportedly was in contract extension talks. That player was Baez and had it not been for COVID-19, there is a good chance that something would have gotten done, or at the very least, the groundwork would have been laid. The 2018 MVP runner up has been putting up some big-time numbers the past few seasons, and unlike most of the players on this roster, it appears he is improving from one season to the next.
Since the start of the 2017 season, Baez has averaged 30 homers and 87 RBIs per season, including his 34 homer, 111 RBI campaign in 2018. That is all you can ask from in the middle of the lineup bat despite his inability to work walks given his aggressive approach. Once on the bases, Baez becomes a treat to watch as his pure instincts of the game make him second to none. With a 60-game season, most people expected a solid season of roughly 12 homers, and 35 RBIs as that would have been great production.
Instead, fans saw Baez struggle so much that he looked like a rookie once again. For the year, Baez hit just .203 with eight homers and 24 RBIs. His seven walks and 75 strikeouts was another glaring concern as Baez was frustrated all season. Things got so bad for Baez that he went on record and said he struggled to find himself and who he was this season. Some people think it had to do with no in-game video or lack of fans, but something was not right with Baez.
Please make no mistake about it, Baez will never be the one to take walks. However, he is also a much better hitter than he showed this season. He will never be a .290 to .300 hitter because he doesn't walk enough to do that. You should get someone who hits in the .275 range and will be a 30 homer 100 RBI guy if he can remain healthy. 2020 was rough on Baez, and he can't wait to start over.
The numbers are in, and Javy Báez is the only player to achieve THE MATHIS™ in 2020. Many came close, but El Mago is El Mathis this year.

Requirements for The Mathis are 200+ PA and 60 OPS+ or lower. That did not change during the shortened season. pic.twitter.com/s89t9GiMYy

— Foolish Baseball (@FoolishBB) September 29, 2020
Season Grade D-: I almost gave him an F, but he saves himself a bit, given his defensive and base-running value. 2020 was the most challenging year for Baez as a pro, and it affected him both at the plate and in the field. Along with looking lost and guessing much of the plate's season, he made a lot more uncharacteristic errors than he has in the past. They may have to do with his struggles at the plate, but Baez was not himself this season.
Many people are calling for Baez to get dealt mainly because he doesn't walk and swings at everything. However, I would urge those people to think long and hard about that. Baez has always been that type of player, and nothing has changed. There was just something off with him this season including not getting to use in-game video, but I fully expect him to bounce back next season. Do the Cubs want to get rid of a player of Baez's caliber. While I think this season will affect his contract talks, I still firmly believe they get an extension done with him eventually.
Javy Baez on his future: "Hopefully I stay here my whole career": https://t.co/qd36FyyNKV pic.twitter.com/xVOFmJjM24

— CubsHQ.com (@ChicagoCubsHQ) October 2, 2020
Hernan Perez: When the Cubs signed Perez as a minor league free agent this offseason, I was one of the few that was happy. With Ben Zobrist no longer in the picture, Perez was the super-utility player the Cubs love as he can play every position in the field. Perez didn't have a great spring, and that hurt his bid to earn the final roster spot out of camp, but he was going to play a considerable role with Iowa this season up until the season was canceled.
Perez spent much of his time with South Bend this season but did make it to the show for a little while. Perez has never been a regular player, but he has shown that he can put together solid MLB seasons with consistent playing time. Across three games this season, Perez made one start and had six plate appearances. He managed to go 1-6 on the season before being optioned back to South Bend to finish the season.
Season Grade: Incomplete: When you only see time in three games, there is no way you did enough to receive a grade. Much like many the Cubs minor league players this season, Perez didn't see a ton of action, but he knew that going in. With a full offseason ahead, Perez will be looking for work once again. He is the type of player the Cubs like to have, and it wouldn't shock me to see the Cubs bring him back on another minor league deal, hoping more at-bats lead to better success.