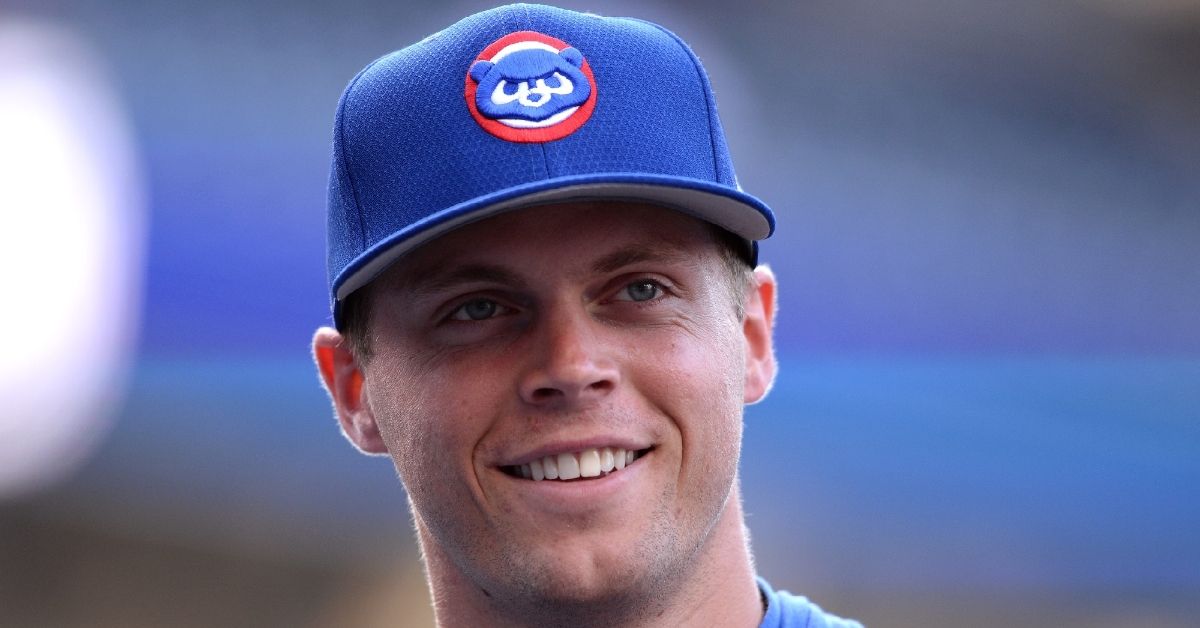 | | |
| --- | --- |
| Cubs Report Card 2020: Nico Hoerner, other second basemen | |
---
Ever since Ben Zobrist elected to sit out most of the 2019 season, the Cubs second base position was the roster's biggest question mark. Even before that, the future was still in question, but Javier Baez did an excellent job filling in while Addison Russell covered the shortstop position. Towards the end of the 2019 season, the Cubs called up Nico Hoerner, who immediately lit a spark with the team.
Hoerner appears to be the future at second base, but how soon will the second base job be his for good? This season, Hoerner didn't see the playing time that most expected from him as he split time with several others at second base. While that may have hindered his development a bit this season, I was not sold on Hoerner being on the opening day roster out of camp to begin the season. Once it was revealed that the minor league season would be canceled, the only way Hoerner was going to get better was to play on the roster. Hoerner is the future but may not be fully ready quite yet.
Here are second base report cards for the year.
Nico Hoerner: As mentioned above, most people believed the second base job was Hoerner's to lose. I was not one of those people as I thought he needed to start the season in the minors. Hoerner had less than 100 games of minor league experience across two seasons before getting promoted to the bigs. Across 20 games following a September call up last season, Hoerner hit 282 with three homers and 17 RBI's. Those are all positive signs but consider pitchers had no idea how to pitch to him yet.
With a full offseason, pitchers studied how to pitch to Hoerner, and they took advantage of his aggressive approach. This season, Hoerner hit just .222 with no homers and 13 RBIs. His 12 walks and 24 strikeouts are promising, but Hoerner is an aggressive hitter who makes contact more often than not. Back to what I said about him starting the season in the minors. I wasn't saying that because he wasn't good enough. Instead, it was more to develop his game a bit further.
Nico Hoerner or Derek Jeter? Can't tell which #2 this is.. ?? pic.twitter.com/6QFwe4iOpA

— Cubs Zone ™? (@CubsZone) August 24, 2020
Season Grade B-: I am giving Hoerner the benefit of the doubt this season, mainly because of where he is with his development. He was not ready to break camp to open the season and needed a month or so of every day playing time for Iowa. Once the minor league season was canceled, the only way to get playing time was to play big-league games. Hoerner shouldn't let this season eat him up as he will be better off for it.
Jason Kipnis: Signed as a minor league free agent in February, Kipnis received an invite to spring. Upon his arrival, this was one name that people were talking about to make the opening day roster. Not only is he a Chicago native, but Kipnis was a great player for the Indians and provided the Cubs a veteran presence in the Clubhouse. He solidified his spot on the opening day roster with an impressive spring and did enough to not only earn the opening day start at second but played more than Hoerner before the season ended.
Kipnis is not a wow factor type of second basemen, but he is as reliable as they come. A career .260 hitter, Kipnis has topped .275 four times in his career, including a career-best .303 in 2015. Kipnis also has connected for 126 homers and swiped 136 bases as he demonstrates some surprising speed and pop. Most people don't understand about Kipnis because he is a better defender than people give him credit for. Kipnis is the definition of a ballplayer and was a pleasure to have in Chicago this season.
Didi Gregorius (60 games) hit .284/.339/.488 (116 wRC+) overall, with a 132 wRC+ against RHP ... but a 79 wRC+ against LHP: 1.4 WAR

Jason Kipnis (44 games) hit .237/.341/.404 (102 wRC+) with a 113 wRC+ against RHP, while sucking harder against LHP (65 wRC+): 0.6 WAR

— Michael Cerami (@Michael_Cerami) October 5, 2020
Season Grade B: Take away his .237 average, and Kipnis had a productive first season with the Cubs. Across his 44 games, Kipnis connected for three homers and 16 RBIs. Put that in perspective for a full season, and you're looking at a 13 homer 65 RBI season, which is excellent production from a veteran second baseman with a minimum contract.
I don't know what the future holds for Kipnis, but with Daniel Descalso coming off the books, the Cubs will be in a position to add a veteran left-handed bat. Why not bring Kipnis back for one or two seasons. Not only should the Cubs be able to get him cheaper, but you add a veteran presence to the team who is solid at second base. He can provide rest for Hoerner and give the Cubs way more than others have done the past two years.
Ildemaro Vargas: One of the more intriguing players the Cubs added through the season was Ildemaro Vargas. Signed to South Bend in August, the former Arizona and Minnesota infielder reminded me a lot of Tony Kemp. Vargas is the type of player who can play multiple infield positions while offering a high contact approach at the plate. Vargas does provide more pop than Kemp, but his speed is not quite where Kemp's is.
Vargas has just under one full season of MLB experience seeing action in 142 games. He has posted a 254 average with eight homers and 35 RBIs to go with two steals during his time. This season in six games with the Cubs, Vargas saw action in six games going 2-9 with a solo home run off Josh Hader. He injured his hamstring late in the season.
Gracias a Dios por permitirme culminar una temporada más, por guiarme bendecirme y protegerme, sin él nada es posible... Gracias a todos por su apoyo en mi carrera, desde ya preparándome para la que viene, 2021 ?????? Caripito Pawer pic.twitter.com/pyy6Nd1fBy

— Ildemaro Vargas ?? (@ildemaro_tigre) October 4, 2020
Season Grade Incomplete: Vargas didn't play long enough to earn a grade, but I did like what I saw in his limited action. He has an excellent approach to the plate and can handle high velocity, similar to what Tommy La Stella did when he was in Chicago. Vargas would be a nice option to have stashed in Iowa next season as a possible injury replacement throughout the season.
Daniel Descalso: During the 2019 offseason, the Cubs and Daniel Descalso agreed to a two-year deal with the Cubs. This was another one of those low-risk moves that Theo was banking on that certainly never paid off. After getting off to a great start in 2019, Descalso went south in a hurry to finish with a 189 average, two homers, and 15 RBI's. He then missed time with an ankle injury the final three months of the season.
As if 2019 wasn't bad enough, 2020 was worse as he never got things going during spring training. That allowed the Cubs to place him on the 60-day IL following summer camp. His career with the Cubs is all but over at this point.
Congrats to Cubs infielder @DanielDescalso on recently reaching 10 years of major league service.

— Mark Gonzales (@MDGonzales) September 23, 2020
Season Grade F: It is impossible to grade someone who didn't play, but looking at what he did last season, anything better than an F is generous. I understood the Descalso signing previous season in terms of a depth piece, but there was no reason for him to be on the roster this year after what he did. Hopefully, now the Cubs have seen all they need to and will use the money on Kipnis or someone else to fill his old role.