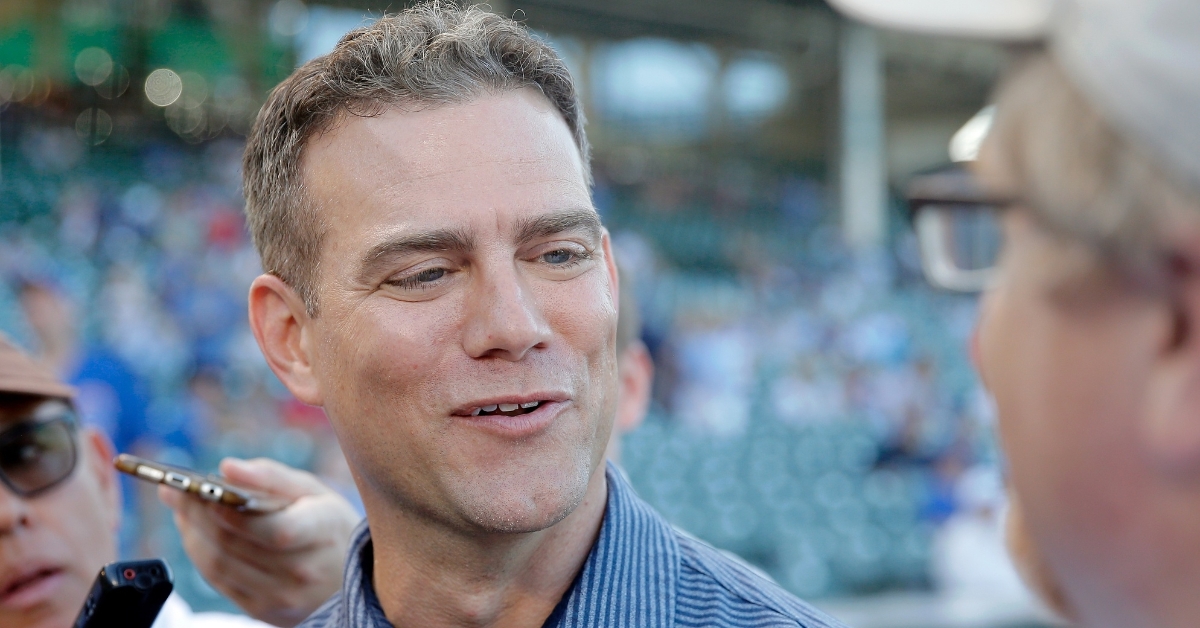 | | |
| --- | --- |
| CubsHQ Mailbag: Theo Epstein's job, Castellanos' free agency, Marquee Network mystery | |
---
| | | |
| --- | --- | --- |
| Monday, January 20, 2020, 1:06 PM | | |
Ernest F. asks: "Why do you believe that Theo Epstein still has a job, especially with not fixing the real problems that the Cubs have, but just patching them up?"
Much like Joe Maddon, I think Tom Ricketts is going to leave Theo alone for the rest of his contract, which ends after the 2021 season.
Theo may have made some blunders, but the guy undoubtedly does more right than wrong. Bad deals include Jason Heyward on the high-dollar side, Daniel Descalso on the lower-dollar side, but Epstein built a World Series Champion team in the matter of just a few years, something that the Cubs' ownership will not soon forget. Tom Ricketts has pulled access to the checking account, so he has managed to essentially hogtie Epstein for this year (and last), but I do believe that he's issued the directive for Theo to fix what's now become broke.
As you've seen this winter, Theo has been attempting to bolster the farm system, although signing guys like Dan Winkler and Ryan Tepera aren't exactly what that system needs. The Cubs are lacking a surplus of young, promising prospects – something that a Kris Bryant trade will likely bring in return – but until the Cubs can trade KB or go fishing in the 2020 June Amateur Draft, the minor league system is likely to remain weak.
That's not to say that the Cubs have no talent in the junior leagues, but it's nothing compared to what it once was. With the majority of the core getting ready to hit free agency at the same time Epstein's contract expires (2021), fans can, unfortunately, expect a mass exodus, which is why he's working hard now to find prospects for the future.
Trading Eloy Jimenez and Dylan Cease (along with Brian Flete and Matt Rose) for Jose Quintana doesn't look so good now, but at the time, the Cubs needed a starter. Quintana has been a workhorse, but that was four prospects – two of them very promising – that Theo gave up in order to plug a hole. Unfortunately, this has become a case of robbing Peter to pay Paul.
With no money to sign free agents, limited trade value on the 25-man roster, and no surplus of prospects to entice trade partners, the Cubs are going to be stuck for a while. Ricketts knows that he's now tied Epstein's hands, but bringing in a new President of Baseball Ops now would only mean that he'd undergo the same treatment, until the ship rights itself. Recent reports have said that Theo's mission for the remainder of his term will be restocking the farm system for the next wave of Cubs.
Bonnie Lyles asks: "Why can't they re-sign Castellanos? The Cubs are signing all of these minor leaguers. They cost money. I really like Castellanos, and he is good for the team. Do not understand Theo."
Never say never. The Cubs and Castellanos haven't, and the fact that Castellanos hasn't signed anywhere yet means something. The Cubs need money to be able to sign him, and the only way to do that and remain under (or close to) the luxury tax is going to be the result of trading Kris Bryant and losing his $18.6M salary.
This entire offseason for the Cubs has hinged on KB's service time agreement (now almost 1,710 days old), and until that answer comes, the offseason will remain in limbo. I've maintained that the answer would come by January 22, but the calendar keeps ticking away, and there's still not been an answer. Losing Bryant's $18.6M salary would go a long way in re-signing Castellanos, but until that decision finally comes down, nobody is going to bite.
An interesting scenario would be KB to Atlanta for third baseman Austin Riley and a couple of good pitching prospects, then re-signing Nick. That would give the Cubs a promising, young, and controllable third baseman while being able to add Castellanos' bat back into the lineup.
By all accounts, a decision will be handed down by month's end, but until then, we'll just have to wait and see how it plays out.
Jim Fambro asks: "I live in New Mexico. I have Dish, will I be able to watch Cubs games?"
Jim, that's the 64-thousand-dollar question for a lot of fans who don't live in the Chicago area. That's still a big concern for people living in Chicago who rely on Comcast.
The Cubs don't do things without a ton of investigating and researching, so I'd be hard-pressed to believe that they haven't considered the millions of fans outside the viewing area. Thus far, they have deals in place with AT&T and DirecTV, but there's been no word on Dish yet, at least that I'm aware of.
The tricky part with Dish, AT&T or DirecTV is that they may only provide the Marquee Network as a local premium channel, but again, I'd have to think that the Cubs have worked out arrangements for out of market coverage.
The most promising news for me (I live in SW Missouri) is that according to Jordan Bastian, the Cubs will be putting the network on all streaming services, such as Hulu Live and YouTube TV, so those may be an option for you. I'm also quite confident that MLB Extra Innings (available on Dish Network) and MLB TV may carry the games, but you won't be able to see the ancillary programming that is supposed to be the hallmark of the Marquee Network.
I've made attempts to call Marquee, but I've yet to find a working phone number for customer support. This is going to be a big opportunity for the Cubs and their fans, but I'm afraid, just like anything else, they'll have a ton of bugs to iron out during the first year or so.