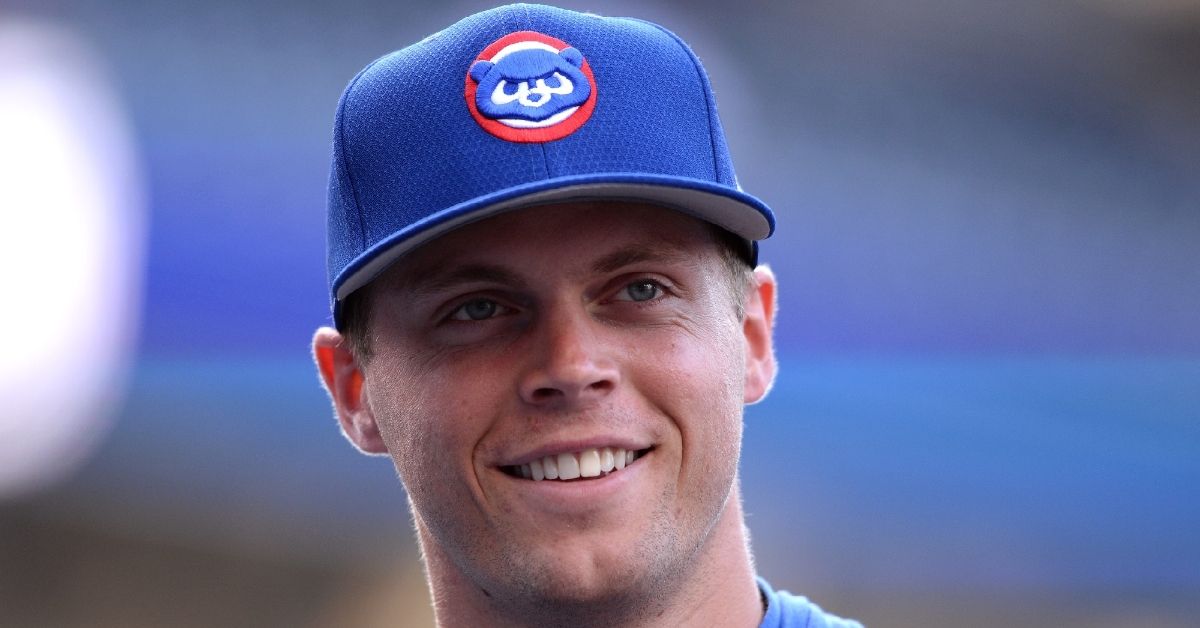 | | |
| --- | --- |
| Infield options for 26th man for Cubs | |
---
A new rule that will be implemented when the 2020 MLB eventually starts is that teams will be allowed to have a 26th man on the roster, and an additional player from the traditional 25 that the MLB had over the past years.
While the MLB has not announced an official start date for the 2020 season amidst the Covid-19 pandemic craziness, commissioner Rob Manfred canceled Spring Training and pushed the regular season that was supposed to begin on March 26th back two weeks. In a more recent announcement, Manfred said that the season's start would be at least pushed back until Mid-May, following a plan from the center for disease control that recommends all events consisting of more than 50 people to not take place until then.
Whenever it is that the season begins, David Ross will have to make some challenging roster decisions to get the right 26 to break camp with and start the 2020 season on the right foot.
To breakdown the roster and explain the potential solutions to any of David Ross' predicaments, we decided to break down this article in an infield and outfield part.
Here is the infield portion.
When looking around the diamond, first baseman Anthony Rizzo, shortstop Javier Baez, third baseman Kris Bryant, and utility man David Bote appear to be locks to make the opening day roster. Aside from that, there are various roles to be filled and position battles to be won before the season begins.
Hoerner is the most complicated player to dissect. It seems entirely likely that the Cubs decide to bring Hoerner out of camp with the major league team and make him the opening day second baseman, however, it also seems likely that the Cubs choose to send Hoerner to Triple-A to develop a little more.
The Cubs sped up Hoerner's development process when they called him up after the Tennessee Smokies season ended to the big leagues last fall. During that time, Addison Russell and Javier Baez were both injured, and the Cubs were in the middle of a pennant race.
The 22 year old middle infielder appeared in 20 games and certainly impressed. Hoerner hit .282 with three homers and 17 RBIs while performing admirably on the defensive side at both shortstop and second base. However, the Cubs typically don't speed up their prospects' development processes, so it is unknown what the Cubs' plan of action will be. In Spring Training, Hoerner was off to a good start, hitting over .300.
Hoerner would be a considerable domino in terms of declaring the roster, but it is unclear what is more likely at this point. My personal opinion is that Hoerner should make the team, and if he does not, he will certainly make contributions to the big league squad at some point this season.
If everybody had their way, Descalso would not make the major league roster — which would make the rest of these decisions so much easier. However, it seems apparent that the Cubs intend to have Descalso on the major league roster. The Cubs initially sign Descalso to provide a contact-oriented approach at the plate, defensive versatility, and a veteran presence in the clubhouse — and with Ben Zobrist retired, the Cubs could desperately use that. In his opening season in Chicago, however, Descalso did not turn any heads. Descalso had the worst year of his career, batting just .173 in 168 at-bats. His lack of production hurt the Cubs, and the Cubs have multiple better options than Descalso at this point — but they will hope to get some value back out of the contract they gave Descalso last offseason. The 33-year-old utility man is due to make $2.5 million in 2020, and the Cubs will look for Descalso to justify that contract.
Jason Kipnis
Jason Kipnis was delivered a minor league contract with a non-roster invite to Spring Training, and it has been reported that the Cubs are giving him every chance to make the major league roster. The Chicago native has been dying for his chance to play at Wrigley Field, and that has already been delayed by the Covid-19 outbreak, and may potentially be delayed even further if Kipnis does not make the major league roster initially. Although he had hit just .182 in 22 at-bats this spring before it was canceled, the track record is usually how veterans are judged.
For Kipnis, that track record consists of being a career .261 hitter, being a two-time all-star, and a left-handed hitting second baseman who plays above-average defense and has some power in his bat. Kipnis hit 17 homers a year ago with the Indians and averages 18 across his nine-year career.
The 32-year old's tenth year of his career he will serve a different role — due to his experience and ability to make contact from the left side of the plate, Kipnis will likely be relied on to help Nico Hoerner develop as well as serve as the left-handed platoon for the Cubs at second base (probably splitting time with Bote at the beginning of the year if Hoerner doesn't make the team, and Hoerner the rest of the way), which is why I believe it to be likely that Kipnis does make the roster.
Perez seems like a long shot to make the Cubs' major league roster out of camp, but it appears likely that he will make an impact on the big league team in one way or another in 2020. In his eight-year career, Perez has spent the last half-decade with the division-rival Brewers, and the Cubs liked what they saw enough to offer him a minor league contract with a non-roster invite to spring training.
In spring, Perez was hitting just .130, but he was signed more so to provide defensive versatility, speed on the basepaths as well as a viable backup plan for Javier Baez. Perez could play shortstop, third base, second base, or the outfield and is a career .252 hitter. However, in 2016, Perez hit 13 home runs, stole 34 bases and hit .272 — so in what was a magical year for the Cubs they are trying to channel a 2016 version of Perez if and when he eventually is called on to contribute to Ross' team for the Cubs in 2020.
Robel Garcia and Zack Short are other intriguing infield options but have already been demoted to the minor leagues to begin the 2020 season.
While Rizzo, Baez, and Bryant provide consistency and an all-star level of production — the Cubs also have a slew of infielders to chose from to help complete that infield and be valuable contributors to the North Siders this season.
Stay Tuned to CubsHQ for Part 2 to this story.

Tags: Chicago Sports Baseball
,
David Ross
,
Anthony Rizzo
,
Kris Bryant
,
David Bote
,
,
Addison Russell
,
Daniel Descalso
,
Ben Zobrist
,
Hernan Perez
,
Robel Garcia