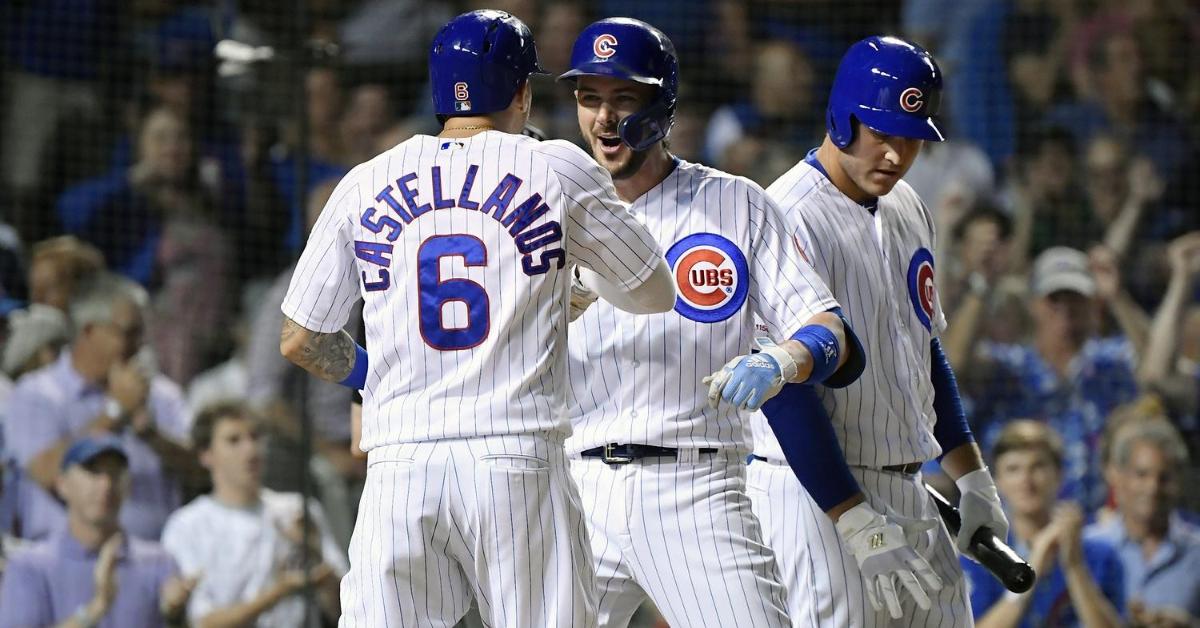 | | |
| --- | --- |
| Maybe Next Year- Part-7: Putting it all back together for the Cubs | |
---
| | | |
| --- | --- | --- |
| Sunday, October 6, 2019, 8:24 AM | | |
This winter is bound to be a year of transformation. The free-agent market isn't as appealing as it could be; however, the trade market could bear all sorts of surprises. As I see it, the Cubs are in a bit of a conundrum: They may not have the money to be buyers (based on my calculations in Part-6 of this series), and trading maybe their (only) answer.
The funny part is, that even if you shed as many players as I see them parting ways with, the Cubs still have substantial depth. The irony is that even parting ways with all those players (and all that money) still doesn't give Theo a windfall to work with, making trades the more likely option to acquire players. Alas, there's one problem with trading: You can only trade if what you're trading in return has worth.
The Depth Chart
If I'm right about who'll be leaving, Chicago will still have quite a bit of depth, even without Kris Bryant, Addison Russell, and a few others. I've seen similar articles written this week by NBC Sports Chicago (Tony Andracki) and Mark Gonzales of the Tribune: It's that time of the year again, and we're all getting our predictions in.
Surprisingly, Gonzales and I agree on almost everyone but David Bote (he says Bote goes), while Tony Andracki took a much bolder approach, suggesting that either Victor Caratini or Willson Contreras (as well as others) could be traded.
As I see it, The Cubs depth chart is going to look very similar to this (credit to my wife, Marianne, for being creative enough to put this together for me).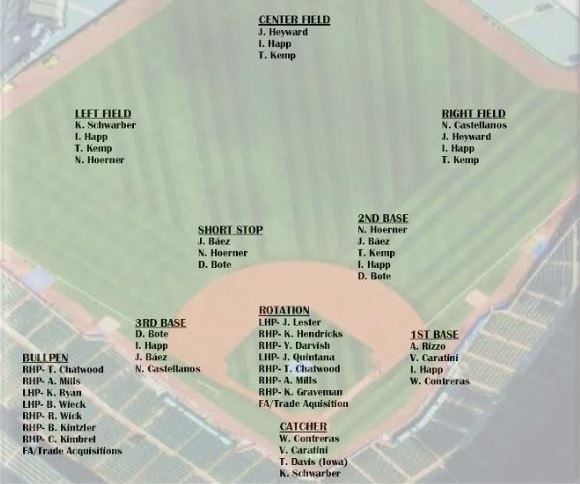 Depending on who they can trade for (or sign as a free agent), some of those names may get shuffled to Iowa, but I don't think any are actually going to leave the team. Before the Cubs venture off into trading and spending money on those costly and aging free agents, one big void needs to be filled: The manager's spot.
Joe Maddon's $6M salary for 2019 won't go back into player salaries, predominantly due to the luxury tax, but it may or may not go back into Tom Ricketts' checking account. Theo Epstein said in his end of the year presser that money wasn't going to be an issue when it came time to pay a manager, but there are some names on Theo's list that won't cost near as much as Maddon did. Would such a choice be practical? Time will tell.
Thus far, the odds-on favorites to land the job as the next Cubs' skipper seem to be Mark Loretta and David Ross. Neither has ever managed, Ross has never even coached, and Loretta has only just finished his first year as a bench coach. Loretta seemed to do a decent job this year, while David Ross says that he'd be honored to be back in the dugout "if the right opportunity presents itself."
Ross certainly has more time with the organization than does Loretta, and Ross has been glued to Theo's side in the front office since the day that he retired as a player. I think either of them would be a good choice, and the main concern I see readers voicing is whether or not Ross could manage his former teammates and friends. That's almost nonsensical when you think about it, as part of the reason Cubs' fans loved Ross so much, to begin with, was the leadership role that he assumed, both on the field and in the clubhouse. I vote Ross, though I wouldn't be surprised or upset if Loretta were named Maddon's successor.
Then out of nowhere came some other names: Raul Ibanez, Joe Girardi (once he officially announced his candidacy last week), Mark DeRosa, and Will Venable. Bruce Bochy's name has been mentioned, as have the names Kevin Youkilis and Carlos Beltran. Theo has some work to do, and he doesn't have much time; free agency starts in about a month.
As I mentioned earlier, the new trend in MLB is for teams to gravitate for younger, cheaper, (and in some cases) less experienced management, which is why I don't expect to see Joe Girardi in the dugout next year.
Once Maddon's post is filled (pun absolutely intended), Theo can start shopping on what may very well be a shoestring budget again this year. Tons of names are available in free agency, but overall, I don't think the list is nearly as impressive as last year.
A (very) condensed look at the Free Agent Class of 2020
While the media and fans continue to beat their drums for a bona fide leadoff man, the truth is, you'd have to have an open position for him to play, as Chicago could hardly platoon such a player if they signed one. With Castellanos, Jason Heyward, and Kyle Schwarber covering the outfield, they'd almost have to narrow the search to either a third baseman (plausible) or a second baseman, which is unlikely, given the statuses of Javier Baez, Nico Hoerner, David Bote, and others.
Just one thing, though- forget about Anthony Rendon. Great third baseman? Absolutely, but the cost is going to be astronomical. The Nats have already offered Rendon two million to stay, but they offered another one of Scott Boras' clients some big money last year, and we all know how that turned out. The experts at Spotrac are saying that KB's value over the next six years will be an average of $25,869,754.00, while Rendon's is estimated to be $32,580,842.00 over the next ten years. The Cubs cannot afford him. Period.
Age doesn't favor very many second base free agents, and although Scooter Gennett may have once been a decent choice, his post-injury (groin) status has left him with atrocious numbers at the plate. Mike Moustakas could be an option, but after putting up solid numbers for Milwaukee this season, the Brewers may very well re-sign him again. Former Cub, Starlin Castro, should also be available, but he wouldn't come cheap, nor would former Cardinal, Jedd Gyorko. Depending on who the Cubs grab, it's plausible that Javy could be shifted back to second, or even third, but for right now, I'd say he was next year's shortstop.
Who are we kidding here? The Cubs need pitching more than anything, and there's plenty of that to choose from. They've already shown interest in Gerrit Cole, and Zack Wheeler should also become available. I'm not sure that the Cubs would want an overrated Chris Archer, but Madison Bumgarner has probably pitched his last game as a Giant. Strasburg can opt-out of his remaining four-years ($100M still owed), but I can't see the Cubs upping the ante on that one, and the Dodgers aren't letting Ryu walk away either.
Dallas Keuchel is up for grabs this year, but I'd think the Cubs would shy away from signing more of the same older pitchers, who generally cause headache and heartache when they break down. All told, there are currently about 50 starters on MLB Trade Rumors' free-agent list, but I must caution you: Seeing names like Jose Quintana and Ben Zobrist listed aren't for the faint of heart.
So, What About Gerrit Cole?
There hasn't been a ton of free-agent starters linked to the Cubs yet, but the season is early. There have been confirmed rumors that the Cubs have interest in Gerrit Cole, but so do probably 20 other teams. The Astros don't want to part with the 29-year old right-handed wizard, but money appears to be a bit of an issue in Houston as well, and ownership admits that they're conflicted on what to do with Cole.
The Cubs say they want him. The fans want him, and about the only three things that stand in the way are whether Gerrit wants the Cubs, whether Boras will stand in the way and just how far Tom Ricketts may go to sign him.
Chicago is going to have to juggle a whole bunch of numbers to get him, and as of right now, I'd say they have less than a 30% chance. Cole is going to want an insane amount of money (think $200M+). Worth it? I'd say so, but if not, there'll be a bunch of other starters available, though none nearly as good.
Chicago could make an honest attempt at signing Cole, but he alone is going to put the Cubs over the threshold, as that $200M salary that he'll demand would only be based on about a seven-year deal, meaning his average annual value (AAV) would be somewhere in the neighborhood of $28.6M per year. Ouch.
The Relief Pool
This is where things start to get scary. The free-agent list has very little to offer in the way of right-handed relievers, as the average age seems to hover around 34 this year. To make things even more complicated, there are only 13 names listed in the lefty-reliever column worth exploring. Names like Will Smith and Aroldis Chapman may pique your interest, but neither of those guys are coming cheap. Smith would be the better buy, as his market value is now being reported at three years for $24,582,957, for an AAV of just over $8.1M.
The Trading Block
There are so many variables out there concerning trades that I'm not even going to begin to harbor guesses, as they'd be just that. I did, however, see an interesting article the other day that mentioned the Royals' desire to increase significantly their payroll next year, starting with a big upgrade at third base. Hmm.
Not five seconds after I thought about Kris Bryant, Jon Morosi (MLB) was on 670 The Score, examining the same thought. Morosi seemed rather focused on the possibility of KB to KC, and the Cubs and Rangers seem to do a lot of work together. Who could they possibly offer for KB that Chicago could use? Theo's not trading Bryant straight-up for one player, and while the Royals have some pieces that may interest the Cubs, I can't see such a deal-making sense.
Whit Merrifield's name was mentioned as a trade piece throughout 2019, and while the Cubs could use his offense and upgrade at second base, that does little in the way of helping Chicago's pitching dilemma.
Brad Keller could also be a good option, but it would take more than just him to sway Theo to move Bryant. Keller and Merrifield? I don't think so.
As I said, when it comes to trades, the possibilities are endless. We're all just going to have to wait for a while and see how things develop. It won't be too long before the rumors start to fly, but I can assure you this: The Cubs may find themselves struggling to connect all the dots.
Who knows? Maybe Theo works some of that magic of his, and the Cubs straighten out for 2020, but for the time being, all I can tell you is "maybe next year."

Tags: Chicago Sports Baseball
,
,
Addison Russell
,
David Bote
,
Victor Caratini
,
Willson Contreras
,
David Ross
,
Jason Heyward
,
Kyle Schwarber
,
,
Jose Quintana
,
Ben Zobrist
,
Aroldis Chapman
,
Joe Maddon
,
Theo Epstein
,
Will Venable
,
Mark Loretta