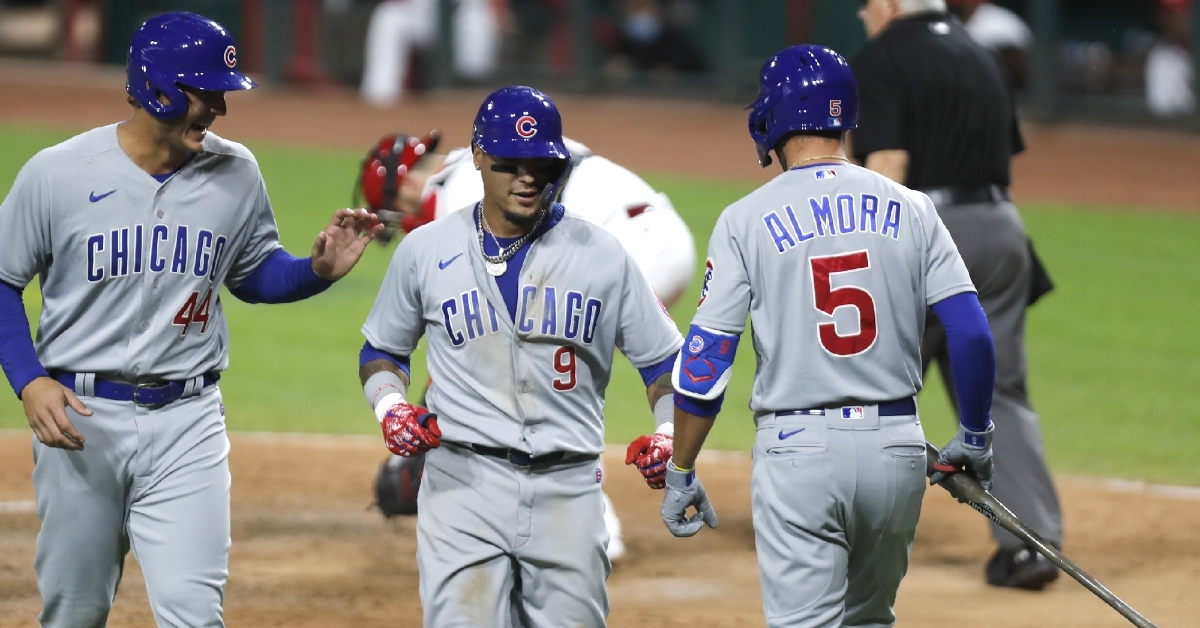 | | |
| --- | --- |
| Series Preview, X-factors and Prediction: Cubs vs. Reds | |
---
The Tigers series was a massive letdown as the Cubs dropped two of three against Detroit. They are now sitting at 18-12 on the season and in first place, but just 5-9 over their last 14 games as things get tighter in the Central.
Chicago did receive a little help this week as Pittsburgh and Cincinnati took care of the Cardinals and Brewers, helping the Cubs pick up a game in the standings without playing. We can thank them now or later, but when those are the Cubs next two opponents, the kind words are over, and it is time to get back to business.
The next two weeks will go a long way in determining how the NL Central shakes up for the season's final month. With four games against Cincinnati this week, followed by three at Pittsburgh before another five-game set with St. Louis, now is the time for Chicago to get hot and put some distance between them and the rest of the division. It won't be easy as the Reds are much better than their record indicates. Here are the Matchups.
Friday at 6:10 p.m. CDT on Marquee Sports Network: Kyle Hendricks (3-3 3.55 ERA 28 SO) vs Tyler Mahle (0-1 4-41 21 SO)
This will be a big start for the Cubs opening day arm as he is coming off two straight losses where he pitched well, but not great. This is also the sight where he threw his worst outing of the season as Great American Ballpark, and the Reds continue to be a problem for him.
Hendricks is all about location and changing speeds, and if he is even the slightest bit off, he gets hammered. For some odd reason, he tends to be off against the Reds, and they make him pay, especially at Cincinnati. The Reds have plenty of high averages against him in the lineup, but Joey Votto (367), Mike Moustakas (308), and Freddy Galvis (333) hit him the hardest, so he needs to avoid them.
Opposing him will be Tyler Mahle making the rare spot start. After Wade Miley pitched yesterday, the Cubs dodged a bullet in seeing him this series. However, don't let that fool you as Mahle has had some success against this Cubs team. In his last outing against the Cardinals, Mahle allowed three runs in three innings, so expect a little bit longer leash in this one.
Chicago has had a rough go of things on offense lately, but if there were a stadium to get them back on track, this would be one. Kyle Schwarber loves hitting in this ballpark and has great numbers against Mahle, as does Victor Caratini and Javier Baez. Surprisingly, Albert Almora has seen the ball well from Mahle so he could be in line for a rare start.
Saturday at 3:10 p.m. CDT on Marquee Sports Network: Yu Darvish (5-1 1.70 ERA 44 SO) vs. Trevor Bauer (3-1 1.65 ERA 49 SO)
If you like pitching, then game one of Saturday's doubleheader is for you as two of the National Leagues best will go at it. In a matchup between the leaders in terms of current Cy Young votes, Darvish and Bauer will continue their dominating starts.
For Darvish, it has been all about confidence as he has been unstoppable since last July. After dropping his first outing of the season, Darvish has now won five consecutive starts allowing two earned runs or fewer in each.
On the other hand, Bauer has been getting hit a little more recently but is still posting a sub 2.00 ERA. Those numbers could get better Saturday as Bauer has posted a 0.68 career ERA in three regular-season starts against the Cubs. Whatever team has their starter in the longest should win this game, but we could see both hurlers in the seventh with this being a seven-inning game.
Saturday Game 2 on Marquee Network: TBD vs. TBD
With game one being the makeup from the rainout in July, this would be the regularly scheduled game of the series as both teams have yet to name a starter. Given what we know and the status of Tyler Chatwood and Jose Quintana, neither one will most likely see the start here. Instead, look for Adbert Alzolay to once again get the call as he had a strong season debut last week against St. Louis.
Sunday at 12:10 p.m. CDT on Marquee Sports Network Alec Mills (3-2 4.55 ERA 22 SO) vs. Luis Castillo (0-4 3.62 ERA 45 SO)
The Cubs may have dodged a bullet in not seeing Sonny Grey, but they are not entirely off the hook getting both Bauer and Castillo. Record aside, Castillo has been much better than late and is starting to look like the 2019 version of himself. His off-speed pitches are lethal, and his fastball location has been better, helping him go deeper into games.
Mills, on the other hand, was going through a bunch of struggles but managed to put together a strong seven-inning showing against Detroit for the win. Much like Hendricks, Mills is all about changing speeds and location as he doesn't have the pure stuff to beat you. When he locates and changes his speeds, you see some of the lowest hard contact rates in baseball. However, when he struggles, you get the Cardinals game results where teams like the Reds could just tee off.
X-Factor: This series is ultimately going to come down to pitching, in my opinion, the starting pitching. While the Cubs starters have been solid for the most part, there was a reason why the Reds had arguably the best starting staff in the NL last season and will continue to be that way for a while. Even with missing Grey in this series, Cincinnati is sending two pitchers capable of tossing complete games to the mound.
It will be essential to hit these guys early before they can settle in, hoping to get to the bullpen. The longer the Reds starters are in the game, the better their chances are to win. Chicago needs to get on attack mode early and work the counts later.
Prediction: As I mentioned above, the next 10 games or so will go a long way in determining the NL Central race in September. Chicago could do themselves a huge favor by winning this series, but I don't see that happening. I also don't see them losing this series as I expect a 2-2 series split. As good as Hendricks and Darvish have been this season, they are matched up against a team that typically hits them hard.
Add in that both Bauer and Castillo pitch in this series, and the Cubs need to find a way to get to them. For me, the swing game of this series is tonight's matchup with Hendricks. If he can get rid of Cincinnati's demons and pitch the Cubs to a win, I like Chicago's chances this series. However, should he deliver a poor performance again, winning two of three against Bauer and Castillo to earn a split won't be easy