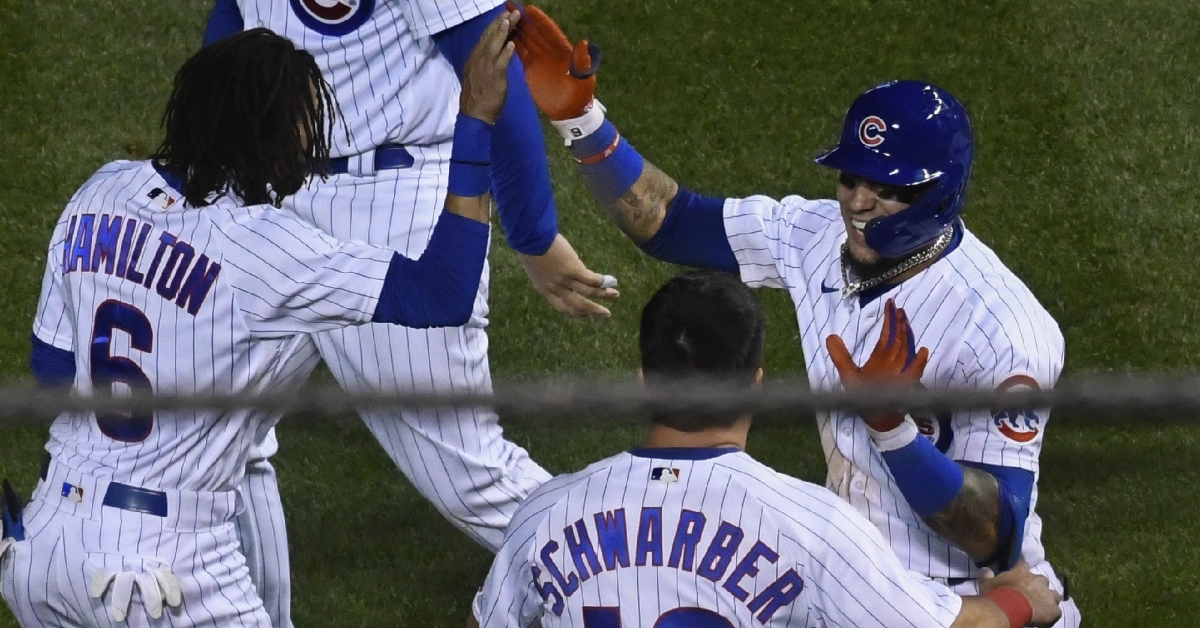 | | |
| --- | --- |
| Series Preview, X-factors and Prediction: Cubs vs. Twins | |
---
| | | |
| --- | --- | --- |
| Friday, September 18, 2020, 1:30 PM | | |
Don't look now, but the Cubs have extended their lead in the NL Central to 5.5 games with just 10 games left to play. They have also moved back to a season-high 10 games over .500 as they are 30-20 on the season. After a month of less than stellar play, it appears the Cubs are starting to find their groove again, and it couldn't have come at a better time.
This will be their final regular-season series at Wrigley, which should be exciting as they welcome the 31-21 Minnesota Twins to town. The Twins are coming off a 3-1 series loss to the White Sox earlier this week and have now fallen to four games out in the AL Central. They have also seen their grasp on the No. 4 seed in the AL shrink to just one game as the surging Yankees are hot on their tails. The Twins will be looking for some momentum and are desperate for wins at this point.
Friday at 7:15 pm CDT on Marquee Network: Rich Hill (2-1 3.81 ERA 22 SO) vs. Kyle Hendricks (5-4 3.29 ERA 51 SO)
The ageless wonder Rich Hill takes the ball in game one as he is looking to continue his streak of strong starts. At 40, Hill missed the beginning of the season with a shoulder issue but has bounced back nicely since returning.
He is also starting to find his groove as he has strong together consecutive strong starts for the first time this season. Hill lasted five innings in his last outing, allowing two runs while striking out a season-high seven Indians. This is a guy with a fair amount of success against the Cubs despite some high averages in the lineup off him.
The Cubs will be turning to the Professor as he will be making his final home start of the season. Hendricks recently went through a stretch where he admitted his timing and mechanics were off. Well, if his last two starts have shown us anything, he has fixed those issues and is looking like a front-line starter again.
Hendricks is coming off another strong outing against Milwaukee, where he allowed two runs in 7 2/3 innings of work in a no-decision effort. He struck out seven hitters and walked none while lowering his September ERA to 1.66. He also continues to dazzle with his command walking a total of just six hitters this year. This will be his second career start against the Twins.
Saturday at 7:15 p.m. CDT on Marquee Network: Michael Pineda (1-0 3.57 ERA 20 SO) vs. Alec Mills (5-3 3.93 ERA 37 SO)
Much like Hill, Pineda missed the first half of the season, but for different reasons. Since his insertion into the rotation, Pineda breezed through his first two starts before hitting a rough patch against Cleveland last weekend. He did, however, limit the damage allowing just three runs in 4 2/3 innings of work.
Pineda has faced the Cubs once before, but Jason Kipnis and Cameron Maybin have the most experience off him coming from the AL. All eyes will be on Alec Mills on Saturday to see what he can do for an encore. Mills became just the 16th Cub to hurl a no-hitter on Sunday and the second to do it at Miller Park (Carlos Zambrano 2008). That outing followed an impressive outing against Cincinnati earlier in the week to help Mills secure pitcher honors' pitcher.
Mills was not the typical man you would expect to toss a no-hitter as he pitches to contact more than most. If he can locate his pitches, he can have success, which he has done in his five wins, where his ERA is around 2.85. Take away his four other outings that resulted in either losses or a no-decision, and his ERA was 5.35. This will be a big start for Mills as the Twins post a ton of power in their lineup.
Sunday at 6:08 p.m. CDT on ESPN: Jose Berrios (4-3 4.15 ERA 57 SO) vs. Yu Darvish (7-2 1.86 ERA 79 SO)
Talk about a great way to end the home slate of the regular season. Not only will ESPN have the call, but we get to see two of the games best take the mound in what should be an exciting game. Record and ERA aside, Berrios is an outstanding pitcher and much better than his numbers show.
The brother-in-law to Javy Baez didn't have his swing and miss stuff his last time out against the White Sox, but he managed to keep things close, allowing just one run in five innings. That dropped his ERA to 2.60 across his last five starts after struggling out of the gate. This will be Berrios' second start against the Cubs with Kipnis, the lone player with more than five plate appearances against him.
On the side will be Darvish, who proved he is human the last two times out. After going over a month from his first loss of the season, Darvish has been touched up a bit in his previous two outings, going 0-1 and allowing six runs in 13 frames. Still, the command has been just fine as he has walked four opposed to 16 strikeouts in those outings.
Granted, the results of his past two starts are nowhere near what he put up during his seven-start winning streak, but allowing three runs in seven innings is plenty good enough to win most games. Darvish has seen the Twins in the past, but not since his Texas Ranger days. It has been a while, and most of this team is different. Keeping the ball in the yard will be the key to this start as Josh Donaldson and Nelson Cruz have seen him the most in this lineup.
X-Factors: Homers and the bullpen
Normally, I focus on one X-Factor that I think will alter the series. Today, we are going off the grid a bit to focus on two, as both go hand in hand. The X-Factors in this series are the long ball and the bullpen. For the Twins sake, they love to hit the long ball even more so than the Cubs. They are built very similarly, so the Cubs need to keep them in the yard and neutralize it.
The second of the X-Factors is the bullpen. Saw what you want about the Cubs pen this season, but they have been impressive in September. So much so that they have the third-best ERA in the NL and David Ross appears to have his four trusted arms to turn to. The Twins bullpen has not been as good as the Cubs, and that could be an issue. If the Cubs can get to their starters early, they could do some damage off the pen.
Prediction -- Twins win series 2-1
This will be a fun one as this is the best offense the Cubs have seen since the White Sox. We all know how that series turned out, and I hope we don't see the same this time around. Both teams have nearly identical records, and both teams are sending their best arms to the Hill. In the end, I think it will come down to who can capitalize on critical situations more.
As much as it pains me to say, I think the Twins win this series 2-1, but it will be close. In terms of playoff positioning, the Cubs are in a great place and should not have trouble winning this division. On the other hand, the Twins need wins now to hope for a division title and stay ahead of the Yankees. They are not happy with how they played against the White Sox and know they need to do better.