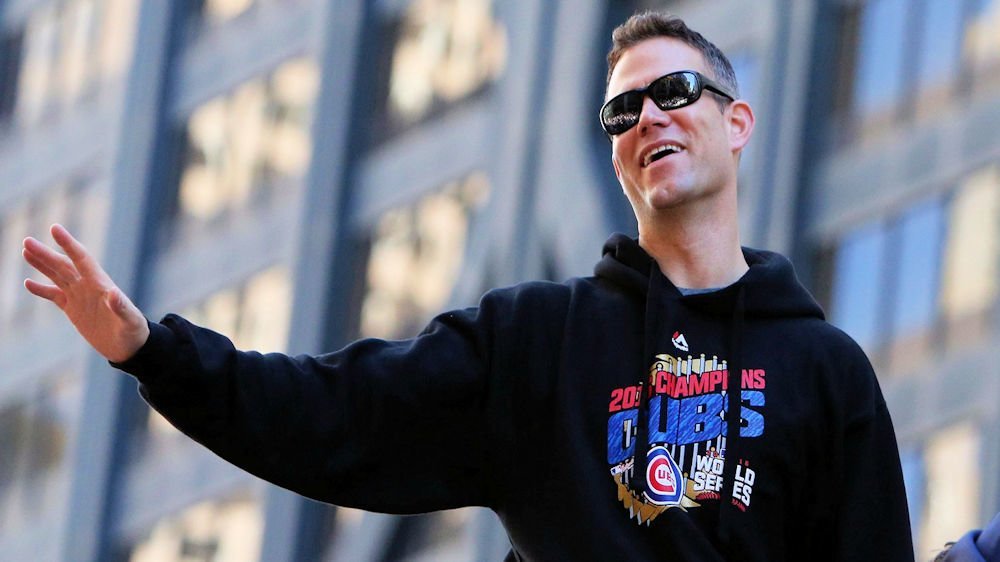 | | |
| --- | --- |
| The season is over now: It's Theo's time to shine | |
---
| | | |
| --- | --- | --- |
| Thursday, October 31, 2019, 12:18 PM | | |
The 2019 baseball season has officially ended with a thrilling seven-game World Series that gave the Washington Nationals the franchises' first-ever championship.
But as soon as Daniel Hudson fired the final pitch of the season and then launched his glove as far as he could throw it, that also opened the gates to free agency.
All of a sudden, Nicholas Castellanos, Ben Zobrist, Cole Hamels, Pedro Strop, Steve Cishek, Brandon Kintzler, and Jonathon Lucroy, among others, are officially no longer Cubs.
As already stated in a few of our previous articles at CubsHQ, I do not believe Cole Hamels, Steve Cishek, or Jonathon Lucroy will be re-signed.
Ben Zobrist has yet to decide if he will retire from baseball. If he does not, it is anticipated that he will come back to play for the Cubs or Joe Maddon's Angels.
Pedro Strop had a rough year but has made it clear that the wants to stay with the Cubs, so if they can fit Stroppy into the budget, I could see the Cubs bringing him back.
Brandon Kintzler seems to be the most likely Cub of the bullpen trio to be re-signed, so we predict the Cubs look into re-signing the reliable righty.
Finally, Nicholas Castellanos, yes, the heartbeat of the Cubs down the stretch of the season, is no longer a Cub. His situation is the most tricky to dissect. Castellanos had a career hot stretch for the months the Cubs had him, not only helping the Northsiders but also upping his stock immensely.
It seems that Castellanos is similarly paired with Schwarber. The Cubs could trade Kyle Schwarber and free up left field for Castellanos, and spend heavily on him. Or, the Cubs could keep Schwarber and unfortunately, let Castellanos walk.
The thought of the Cubs doing anything they can to keep them both and put Jason Heyward in center field is doing a disservice to a gold glove right fielder.
Plus, Castellanos is a known Boras client - making it all the more difficult to keep Castellanos on the Cubs and stay under budget.
With the World Series ending, the Cubs also have just one week to decide on their team options - Jose Quintana, Brandon Morrow (reported buy-out), Kendall Graveman, and David Phelps are among those who need to be considered.
All of a sudden, the clock is ticking on Theo Epstein's most pivotal offseason since 2015-2016. Epstein's challenge is to rebuild on the fly, while also building a contending team for now. That process is similar to what the Yankees did in 2016 and 2017's offseason, leading to back to back 100 win seasons since. It's difficult, but Epstein is one of the era's best executives.
If anyone can do it, it's Theo.
In Theo, we trust.

Tags: Chicago Sports Baseball
,
Ben Zobrist
,
Cole Hamels
,
Pedro Strop
,
Steve Cishek
,
Brandon Kintzler
,
Kyle Schwarber
,
Jason Heyward
,
Jose Quintana
,
Brandon Morrow
,
Kendall Graveman
,
Joe Maddon
,
Theo Epstein