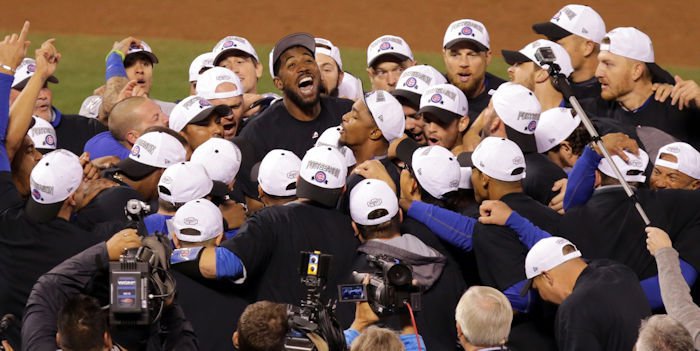 | | |
| --- | --- |
| Who do the Chicago Cubs miss most from 2016? | |
---
| | | |
| --- | --- | --- |
| Tuesday, April 21, 2020, 8:52 AM | | |
Since our time is usually spent this time of year divulging in all things baseball, various networks have been replaying classic games to fill many fans need and desire for baseball during this global pandemic that has put the sports world on pause.
Some of those classic games have included re-airing many of the playoff games from the Cubs' magical World Series run in 2016. Whether it be on Marquee Sports Network, MLB Network, or even Fox — reliving those epic moments in Cubs history has been easy to do.
I'll never get tired of hearing Joe Buck saying: "This is gonna be a tough play, Bryant…the CUBS…WIN THE World Series!!! Bryant makes the play, and the Cubs have finally won it all!
Or hearing legendary radio voice of the Cubs Pat Hughes saying: "A little bouncer slowly toward Bryant, he will glove it, throw to Rizzo. It's in time, and the Chicago Cubs win the World Series. The Cubs come pouring out of the dugout, jumping up and down like a bunch of delirious 10-year olds. The Cubs have done it!"
Both fill me with an immense sense of pride that is almost completely wiped out by the goosebumps on my arms and tears on my eyes.
A lot has been made about the Cubs' organizational decisions since that 2016 season, and CubsHQ even did a series of articles to update you on where the cast of characters that earned rings with the Cubs just four seasons ago are today.
The team is coming off of an 84 win season,19 less than the team won in 2016. A multitude of question marks surround a team whose championship window may be closing — a group that only has nine players left that spent the fall of 2016 celebrating an unbelievable achievement.
So taking a look at the many players who have moved on since the title season, I pose the question who do the Cubs miss the most from the 2016 team?
I decided not to include Ben Zobrist or Addison Russell in this article since the team has very recently parted with these players for character-related reasons or retirement. On that note, Pedro Strop has also not been included in this examination, since the Cubs recently chose to move in a different direction — but they still have not played a game without him. I also decided to only pull from players still active in the MLB, thus eliminating retired players such as Jason Hammel, John Lackey, Chris Coghlan, Travis Wood, or Miguel Montero, to name a few.
TOP CANDIDATES
One of the Cubs' biggest issues since the 2016 season has been closing out high leverage games. In 2019 specifically, the Cubs ranked near the bottom of the league in saves and high leverage situations. The Cubs had a steady back end of the bullpen in 2017 with Wade Davis, but he lasted only one season — earning 32 saves and pitching to a 2.30 ERA. In 2018, the closer spot was excellently filled by Brandon Morrow in the first half, when he saved 22 games before injuring himself, and he has not pitched in the majors since. That's when the Cubs truly began to miss Chapman's presence at the back end of the bullpen. Since then, the crew of Pedro Strop, Steve Cishek, Carl Edwards, Brandon Kintzler, and future Hall of Famers have struggled to fill Chapman's shoes, who saved 16 crucial games down the stretch in 2016 and ate up some considerable innings in the playoffs. Since his departure, Chapman has saved 91 games for the Yankees.
Jake Arrieta put together some of the best years of pitching the Cubs have ever seen. Everybody remembers Arrieta's dominating second half of 2015, which included a no-hitter, a CY Young award, and an electrifying performance in the postseason. But in 2016, Jake was a stabilizing force in the Cubs' high ranked rotation. After winning 22 games in 2015, the right-hander added 18 more wins in 2016, pithing to the tune of a 3.10 ERA and throwing a no-hitter.
Arrieta's outstanding 2016 season often gets forgotten because Kyle Hendricks led the NL in ERA, and Jon Lester led the NL in wins — but it was Arrieta who got the W in two World Series games that fall (how no Cub won the Cy Young award that year is insane). Arrieta stayed with the Cubs through 2017, and in that season, he was 14-10 with a 3.53 ERA. After that season, the Cubs moved on from Arrieta and signed You Darvish as Arrieta signed with the Phillies. The Cubs have since truly lacked a number one in the rotation as Jon Lester has aged, and Yu Darvish has struggled to find consistency. Although his numbers have fallen off a bit and the right-hander has dealt with a few injuries, 2016 form Arrieta would fit great with any rotation right about now.
Fowler may be the easiest option to list here. When he was on the team, the Cubs had two of their greatest seasons in history, and Fowler was the man leading things off on a day by day basis. The phrase "You Go We Go" was used to describe Dexter, and that was for a good reason — his ability to spark the Cubs was never on better display than during game seven when Fowler led off the game with a home run. The best season of his career was that 2016 campaign, where he hit 13 home runs, drove in 48 runs, and scored 84 — despite only playing 125 games. Fowler also was named to his first career all-star game during that season. After that 2016 season, Fowler signed with the Cardinals.
Since then, the Cubs have used a slew of players to try and fill the leadoff spot — whether it be Jon Jay, Tommy La Stella, Albert Almora, Ian Happ, Kyle Schwarber, Jason Heyward, Daniel Murphy or even Anthony Rizzo — and not many have had even comparable to success to that of Fowler when he was leading things off for the 2016 Cubs.
In his three years with the Cardinals, he has experienced some injuries as well as a drop in his batting average, but his home run and run-producing numbers have risen (as the Cardinals have used him more of a 5-6 guy instead of 1-2 in the order). Whether it be Joe Maddon or now David Ross, the leadoff spot in the order is one that the Cubs have struggled to fill since Fowler left — it currently looks like Kris Bryant's job — and filling innings in centerfield has been no easy task either.
Dark Horse Candidates
Soler is often a forgotten piece of the 2016 team, and World Series run — especially since his left-field spot was overtaken by Ben Zobrist in the postseason to make room for Javier Baez in the infield (which was the right move). The Cubs traded Soler for Wade Davis after the 2016 season, which also appeared to be the right move — considering Soler didn't have a spot on the roster with Schwarber in left, Heyward in right and the up and coming Almora to handle center field.
Davis saved over 30 games and had one of the most productive seasons as a closer in Cubs history. Davis lasted for just one season, and since then, the Cubs have struggled in the back end of the bullpen. Soler has since taken off in Kansas City. In an injury-ridden 2017-2018 pair of seasons, Soler never really found his stroke — but in 2019, Soler blossomed into a 48 home run hitter with 117 RBIs, the type of production the Cubs have needed out of a corner outfield/ middle of the order hitter. While it would still be unclear where Soler would fit on the field, 48 home runs and 117 RBIs would play in any lineup.
An unsung hero of the 2016 team is Hector Rondon. He saved 29 games in 2014, 30 in 2015, and 18 in 2016 before Chapman took over the closer duties. It was Rondon that got some of the biggest outs in franchise history in the 2016 season and playoffs — and there wasn't room for him after the 2017 season. The Cubs kept Pedro Strop, signed Steve Cishek, signed Brandon Morrow, and made multiple other bullpen decisions where Rondon did not fit.
The 2018-2019 season was not kind to the Cubs bullpen. As mentioned above, they have struggled to get high leverage outs in ballgames, something Rondon excelled at. In his past two seasons, Rondon has eaten up valuable innings for the Houston Astros. He hasn't given up any runs in his postseason appearances with Houston and has also had 60 plus appearances in both seasons. In 2018 Rondon had a 3.20 ERA, and that number rose to a respectable 3.71 — which would undoubtedly be formidable numbers for the backend of the Cubs' bullpen.
MY CHOICE: I believe Fowler gets the slightest edge over Arrieta in this debate of who the Cubs miss most from 2016, but there is no secret that the 2016 Cubs were the best team in franchise history — and its quite possible no Cubs team could ever compare. These days, it is evident the Cubs have multiple holes and weaknesses that still need addressing, but when you look back in time to the 2016 roster that earned the Cubs a championship, weaknesses were few and far between, if any.

Tags: Chicago Sports Baseball
,
Ben Zobrist
,
Addison Russell
,
Pedro Strop
,
Jason Hammel
,
John Lackey
,
Chris Coghlan
,
Travis Wood
,
Miguel Montero
,
Aroldis Chapman
,
Wade Davis
,
Brandon Morrow
,
Steve Cishek
,
Brandon Kintzler
,
Jake Arrieta
,
Kyle Hendricks
,
Jon Lester
,
Yu Darvish
,
Dexter Fowler
,
Jon Jay
,
Tommy La Stella
,
Albert Almora
,
Ian Happ
,
Kyle Schwarber
,
Jason Heyward
,
Anthony Rizzo
,
David Ross
,
Kris Bryant
,
Jorge Soler
,
Hector Rondon
,
Joe Maddon