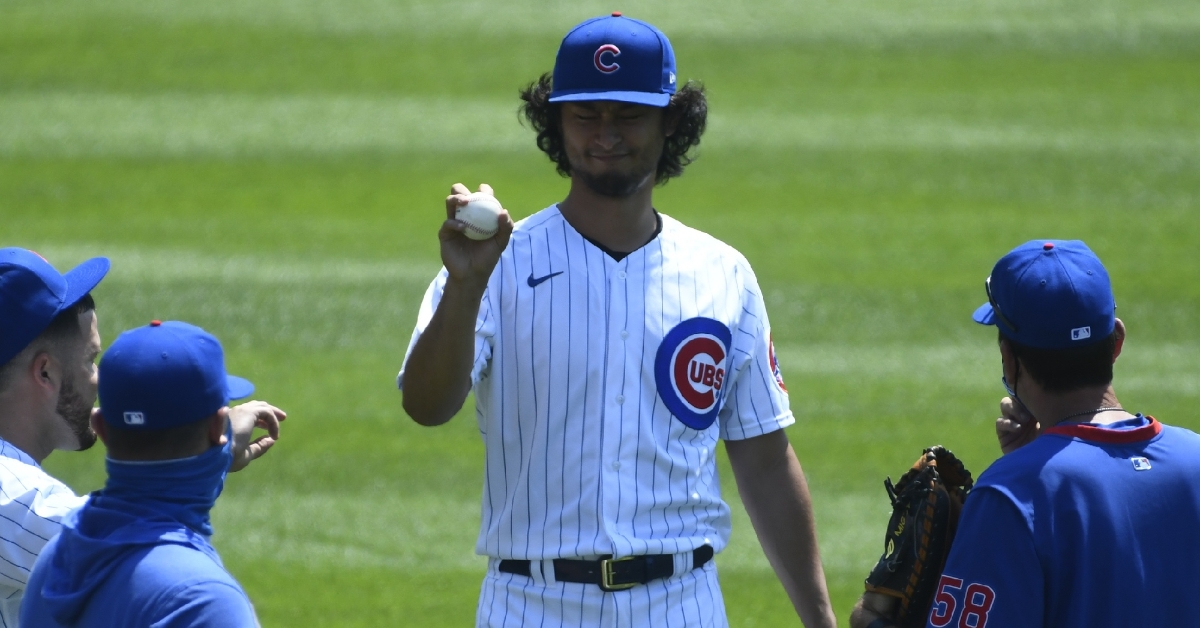 | | |
| --- | --- |
| Yu Darvish falters as Brewers defeat Cubs in testy matchup | |
---
| | | |
| --- | --- | --- |
| Saturday, July 25, 2020, 4:47 PM | | |
CHICAGO — Following up a magical performance by Kyle Hendricks on Opening Day, Chicago Cubs starter Yu Darvish was unable to replicate that same magic in game two of the Cubs' season-opening series versus the Milwaukee Brewers. Darvish gave up three runs in four innings pitched at Wrigley Field on Saturday, and the Brewers' batting order proceeded to experience success against the Cubs' bullpen, as well.
An RBI single by catcher Willson Contreras put the Cubs up 1-0 in the bottom of the first, but the Brewers outscored the Cubs 8-2 the rest of the way, winning 8-3 to set up a rubber match. Left fielder Kyle Schwarber contributed a two-run blast for the North Siders, making the score 4-3 in favor of the Brewers in the bottom of the fifth. However, Milwaukee kept Chicago at bay, with the Cubs finish 1-for-7 with runners in scoring position.
---
Inning-by-Inning Breakdown:
T1: Darvish gave up back-to-back two-out singles, but ended the inning with a swinging strikeout.
Score: Brewers 0, Cubs 0
---
B1: Tensions brewed after Brewers starter Corbin Burnes beaned Javier Baez on the hand with a pitch that got away from him. Baez was visibly agitated with Burnes, even though it was obviously unintentional. Contreras took issue with the hit by pitch, as well, as evinced by his bat flip that followed his RBI base knock later in the inning. Anthony Rizzo, who was walked earlier in the frame, motored home from second base on Contreras' two-out single.
Score: Brewers 0, Cubs 1
Javier Báez is not in the mood for this.

(Via @MLBONFOX)pic.twitter.com/X3eTqnOMw5

— Yahoo Sports MLB (@MLByahoosports) July 25, 2020
The @Cubs are the first team to score on today's FOX quadruple header! pic.twitter.com/iclUenRstx

— FOX Sports (@FOXSports) July 25, 2020
Willson Contreras with a big bat flip on his RBI single in first — two batters after Baez was hit by pitch. pic.twitter.com/5kUgq6yPix

— Jordan Bastian (@MLBastian) July 25, 2020
---
T2: A botched rundown haunted the Cubs in the top of the second. Lorenzo Cain doubled with one out and was then caught in a pickle when Ben Gamel slapped a ground ball directly to Baez at shortstop. Cain, who has a history of causing problems for the Cubs on the basepaths, was somehow able to find his way back to second base, with Gamel helping Cain's cause by serving as a distraction. With two outs, Eric Sogard poked a single out to center field, enabling Cain to score.
Score: Brewers 1, Cubs 1
Don't see that everyday...

The Cubs had the @Brewers caught in a pickle, but they escaped! pic.twitter.com/KFRA7VnKpe

— FOX Sports: MLB (@MLBONFOX) July 25, 2020
Except he did the EXACT same thing to the Cubs in 2018https://t.co/etZxST2Cqs

— JR Radcliffe (@JRRadcliffe) July 25, 2020
---
B2: Ian Happ drew a two-out walk, but Burnes was otherwise able to correct his command issues in the second.
Score: Brewers 1, Cubs 1
---
T3: Darvish struck out the side in the third, throwing filth in the 14-pitch inning.
Score: Brewers 1, Cubs 1
---
B3: Schwarber walked with two outs, and Contreras struck out to leave him stranded. After striking out, Contreras barked at Burnes, clearly still angry about the aforementioned HBP. That led to umpires getting in between the two clubs when chirping from the dugouts commenced.
Score: Brewers 1, Cubs 1
After the 3rd inning, things got a little heated as the Cubs and Brewers had some words to say from their dugouts. pic.twitter.com/IdkGwzt7Mr

— FOX Sports: MLB (@MLBONFOX) July 25, 2020
---
T4: Darvish struggled in the top of the fourth, hitting the leadoff man with a pitch and later giving up a two-run triple to Gamel that put the Brewers on top.
Score: Brewers 3, Cubs 1
TOP 4 RECAP:

??Narvaez HBP
??Cain Singles
??Wild Pitch, Runners Advance
??Gamel Triples

Brewers lead 3-1. #ThisIsMyCrew pic.twitter.com/mL0vrNzabK

— Milwaukee Brewers (@Brewers) July 25, 2020
---
B4: Making his regular season debut with the Cubs, Chicago native Jason Kipnis forced Burnes out of the game with a double to right field after a single by Victor Caratini. Next, Caratini was tagged out in a rundown when attempting to score on a routine ground ball. Kris Bryant then grounded out to end the inning.
Score: Brewers 3, Cubs 1
---
T5: Duane Underwood Jr. replaced Darvish at the start of the fifth, and Justin Smoak took him deep on a towering solo bomb down the right field line.
Score: Brewers 4, Cubs 1
---
B5: Schwarber cut into the Cubs' deficit with his first "Schwarbomb" of the season. Following a single by Baez, Schwarber crushed a 424-foot blast out to right-center off Brewers reliever Brent Suter.
Score: Brewers 4, Cubs 3
"Uh-oh."@BinnysBev pic.twitter.com/hyRpMKVBzC

— Chicago Cubs (@Cubs) July 25, 2020
---
T6: With Brad Wieck on the mound, Brewers superstar Christian Yelich nullified Schwarber's two-run dinger with one of his own, hammering a no-doubter over the wall in center field.
Score: Brewers 6, Cubs 3
No video boards were harmed in the making of this HR.

??: Mr. Baseball#ThisIsMyCrew pic.twitter.com/nK7Y5wq7vo

— Milwaukee Brewers (@Brewers) July 25, 2020
---
B6: Suter sat the Cubs down in order, recording two strikeouts in the sixth.
Score: Brewers 6, Cubs 3
---
T7: James Norwood did not fare well in the seventh. With one out, Norwood gave up a single, an RBI double and an RBI single, respectively. Omar Narvaez and Lorenzo Cain were credited with the RBIs.
Score: Brewers 8, Cubs 3
---
B7: Although it was likely unintentional, Contreras was hit by a pitch, thus adding to the drama. The HBP loaded the bases with two outs, but Brewers reliever Devin Williams struck Heyward out swinging to escape the jam.
Score: Brewers 8, Cubs 3
---
T8: Despite a wild pitch pushing a runner into scoring position with two outs, the Brewers did not add to their lead in the eighth.
Score: Brewers 8, Cubs 3
---
B8: Former Cubs reliever David Phelps pitched the eighth inning for the Brewers. Caratini walked to lead things off, but Kipnis grounded into a double play on the very next pitch.
Score: Brewers 8, Cubs 3
---
T9: Dillon Maples worked a scoreless ninth to usher in the Cubs' last chance at extending the game.
Score: Brewers 8, Cubs 3
---
B9: Reliever Eric Yardley put a bow on the Brewers' five-run victory.
Final Score: Brewers 8, Cubs 3
---
Statistical Breakdown:
Chicago Cubs: Batting: 1 2B, 1 HR, 3 RBI, 1 2-Out RBI, 1 GIDP, 1-7 RISP, 9 LOB; Fielding: 1 DP; Pitching: 11 H, 8 R, 8 ER, 2 BB, 11 K, 2 HR, 2 HBP, 0 BB, 2 WP
Milwaukee Brewers: Batting: 2 2B, 1 3B, 2 HR, 8 RBI, 3 2-Out RBI, 1 GIDP, 3-11 RISP, 7 LOB; Fielding: 1 DP; Pitching: 6 H, 3 R, 3 ER, 5 BB, 11 K, 1 HR, 2 HBP, 0 BB, 0 WP
---
Studs of the Game:
Chicago Cubs: Javier Baez (SS): 2-4, 1 R, 0 RBI, 0 BB, 1 K, 1 HBP, 1 defensive assisted DP
Milwaukee Brewers: Lorenzo Cain (CF): 3-4, 2 R, 1 RBI, 1 2B, 1-1 RISP
---
Duds of the Game:
Chicago Cubs: Yu Darvish (SP): 4.0 IP, 6 H, 3 R, 3 ER, 0 BB, 5 K, 0 HR
Milwaukee Brewers: Orlando Arcia (SS): 0-4, 0 R, 0 RBI, 0 BB, 2 K, 0-2 RISP
---
Up Next: The rubber match of the three-game set will take place on Sunday, July 26, at 1:20 p.m. CDT. Tyler Chatwood will toe the rubber at Wrigley Field in his return to the Cubs' full-time rotation after pitching out of the bullpen last year. He will face off against Freddy Peralta of the Brewers.
---
Box Score:
Milwaukee Brewers at Chicago Cubs
Jul 25, 2020
1
2
3
4
5
6
7
8
9
R
H
E
Milwaukee (1-1)
0
1
0
2
1
2
2
0
0
8
11
0
Chicago (1-1)
1
0
0
0
2
0
0
0
0
3
6
0
W: Brent Suter (1-0) L: Yu Darvish (0-1)
---
Highlights:

Tags: Chicago Sports Baseball
,
Kyle Hendricks
,
Yu Darvish
,
Willson Contreras
,
Kyle Schwarber
,
Javy Baez
,
Anthony Rizzo
,
Ian Happ
,
Victor Caratini
,
Kris Bryant
,
Duane Underwood
,
Brad Wieck
,
James Norwood
,
Dillon Maples
,
Tyler Chatwood