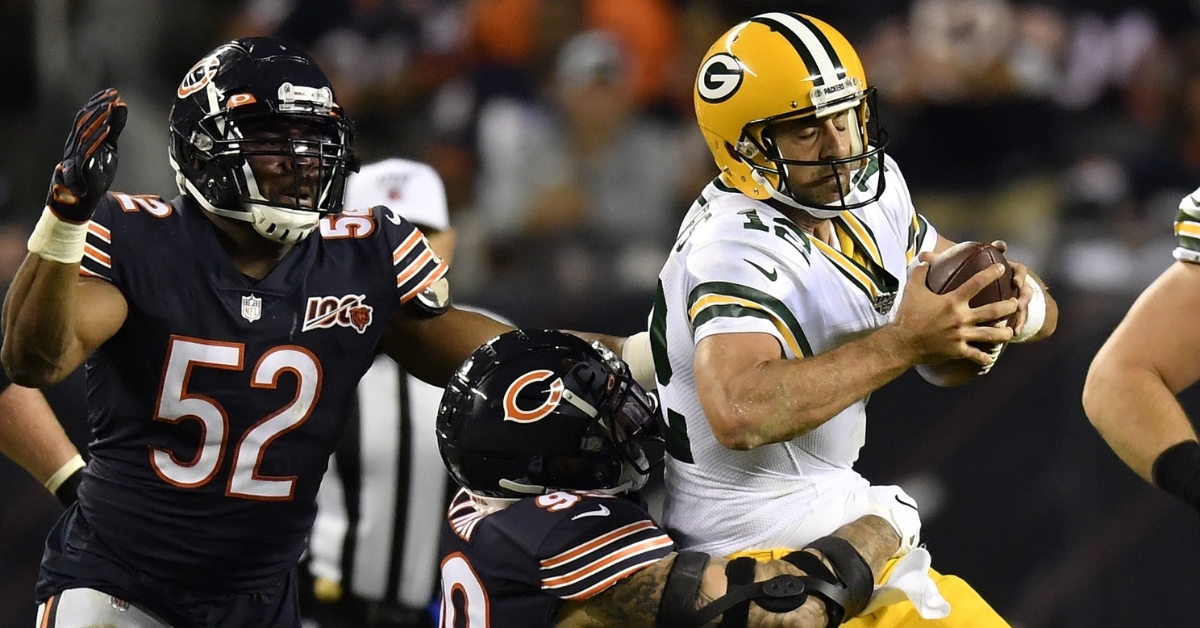 | | |
| --- | --- |
| Aaron Rodgers to the Bears? Brett Favre loves the idea | |
---
Entering the 2020 NFL, the Bears quarterback position is as clear as a foggy afternoon on Lake Michigan. Chicago has Mitch Trubisky signed through this season competing with newly acquired Nick Foles, who will be looking for a fresh start this season. Both QB's are competing for the starting spot this season, but what happens beyond 2020 is the next question.
Do the Bears feel that one of these two is the best option? Will the Bears draft for the Future next year? Is a trade in the works, or will the Bears test their luck in free agency? Either way, the Bears will have a lot of decisions to make leading into next season. However, if you ask one hall of fame QB his opinion on who the future Bears starter could be, you may leave with a massive grin on your face.
Former quarterback Brett Favre seems to think that current Green Bay quarterback Aaron Rodgers would be a good fit in Chicago soon. Maybe he is just saying that to inflict some more heartbreak in Green Bay, or perhaps he is on to something, and there is more to that than what people think. Favre was a guest on the Load Management Podcast recently, where he discussed the NFL world. Those discussions eventually led to Rodgers leaving Green Bay and where he could end up. Favre then responded by saying he would love to see Rodgers in Chicago.
When you look at the similarities of the situation, one must think it could be a possibility. After all, the Packers drafted Jordan Love in the first round this season at the same age Favre was when Rodgers was drafted. Rodgers sat behind Favre for two seasons before eventually going to the Jets and then the Vikings. Will a similar situation play out for Love and Rodgers, given that Rodgers still has three years left on his extension?
Imagining Rodgers in Navy Blue, Orange, and White, as opposed to Green and Gold, is challenging to swallow for many reasons, but something Bears fans should want to happen. Rodgers is one of the best and most gifted QB's ever to play this game and has torn the hearts out of Bears fans for more than a decade. Instead of orchestrating game-winning drives against us, it would be for us.
I am sure that I wouldn't be the only one in favor of this as I could quickly forget all the pain and heartbreak he put upon us if he decided to join us. After we saw the unthinkable happen with Favre going to the Vikings, I guess we shouldn't rule out any possibility at this point, should we?
As much as I would love to see this, it is not happening in 2020. However, looking ahead to the 2021 season and that is where we can start piecing things together. Should the Packers elect to cut Rodgers before June 1, they would only free up to five million in cap space. Should they cut him after June 1, the cap space is more manageable but still tricky, so I don't see that happening in 2021.
What about 2022? This appears to be the most realistic scenario, especially in terms of cutting him. Should the Packers cut Rodgers or trade him in 2022, they would net the most cap savings of 22 million with a 17 million dead money hit. That is an ideal situation for the Packers, but a trade between these two rivals is challenging to comprehend as to what Chicago would have give up in return.
For starters, you know the Packers would want a plethora of draft picks which the Bears have been thin on for the past few years. Secondly, Green Bay would be looking to bulk up their defense so you can expect them to inquire about Khalil Mack, Kyle Fuller, and Robert Quinn, to name a few, so a trade for Rodgers doesn't seem likely.
Let's say Rodgers is cut and available on the open market for the Bears to have. To bring him in, Chicago would need to clear out a ton of cap space, which may be challenging to do given who occupies that cap space. I'm not saying it is impossible given the salary cap changes each year, but after COVID is undoubtedly going to take a financial tole on teams for the next few years, who knows what the cap will be?
If the Bears can make something work, what current players would they be willing to sacrifice to bring him in? That is certainly a question worth asking later down the road, but if he is available, the Bears need to take a shot. Look at the Bears QB's over the past decade and compare them to Rodgers. The stats are not even close, and the results show Rodgers has been better, even at 37 years old.
Not only that, but Rodgers is also a Superbowl winning quarterback with an MVP as he has played on a team that historically has a lousy defense. The only time the Packers had a top 10 defense was the year he won it all. Give him a top 10 defense like Chicago, and I think he would be in line for his second Lombardi Trophy.
This may seem like a farfetched scenario at this point, but anything is possible in the NFL. You can hate the man all you want, given what he has done to this franchise as an opponent. However, you would be foolish not to want him on your team. If he indeed joins Chicago, the moment he puts on that jersey, all the hatred would go away if he were winning games. I hope Favre is right about him loving to see him in Chicago because I know the Windy City would love to see him here too.
??NEW POD ??

Honored to have Brett Favre join me on @TheJCastPod this week!

Favre discussed his pain-killer addiction, new partnership with Green Eagle, his career, Super Bowl XXXI, Tom Brady, Aaron Rodgers, Andy Reid.

Download here! #Packers https://t.co/RfIqZhuOkf

— Jeff Kerr (@JeffKerrCBS) August 13, 2020