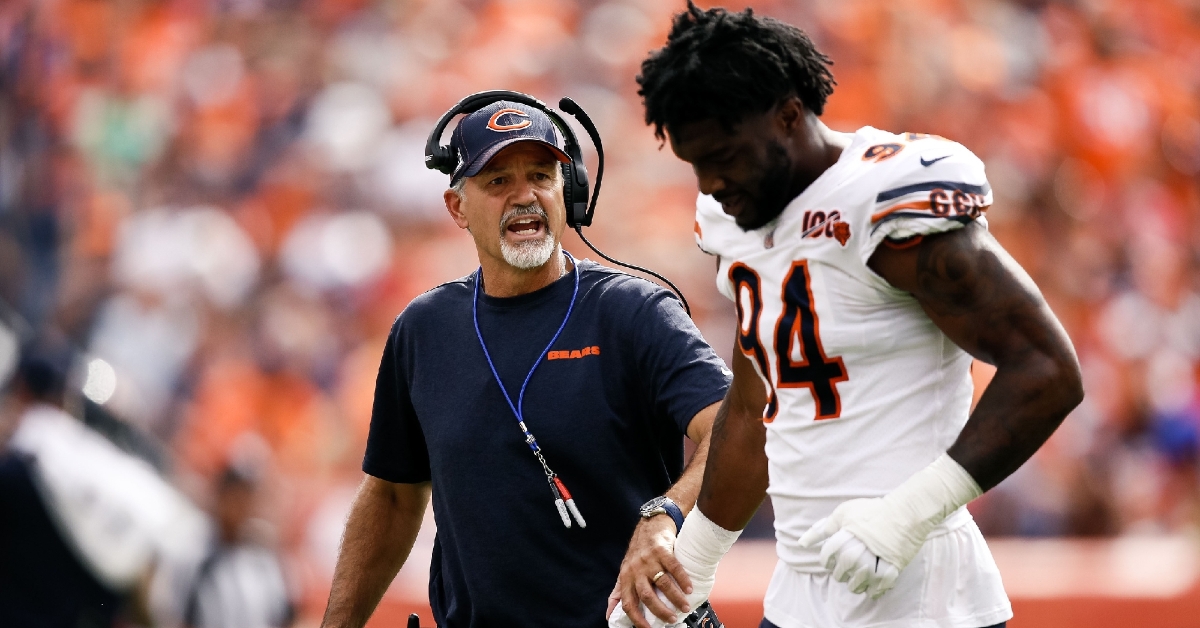 | | |
| --- | --- |
| Latest Bears news from Chuck Pagano's media session | |
---
Yesterday, we reviewed what new Offensive Coordinator Bill Lazor had to say in his media session and highlighted some key points to take away from that. Today, we look at another coordinator as defensive coordinator Chuck Pagano had his turn to host a media session before offseason workouts.
Last year, the Bears defense was still decent and ranked near the top 10 in virtually every category. Not bad for a coordinator installing a new defensive scheme. The problem was, given what the Bears defense looked like in years prior, 2019 was a major decline that didn't help the outcome of some of the closer games.
Now set to embark on his second season with the team, Pagano will finally have continuity with the players and his system as I expect much more consistency and improvement in year two. How much improvement will need to be ironed out with all the additions that have come over this offseason, but the Bears are in a good place right now. Here are some things I took notice of during the Pagano presser.
1. Pagano sees a motivated Mack, who is ready for the Bears defense to rebound: That right there is a scary statement for the rest of the NFL. After the Bears acquired Khalil Mack from the Raiders in 2018, we all saw what he did during his first season in Chicago as he played hungrily and it showed on the field. Last year, it seemed as if some of that hunger was gone mainly because teams were taking him out of games early and often.
According to Pagano, Mack is motivated and hungrier than ever, which spells trouble for any offense this season. When Mack can get to the quarterback and disrupt the opponent's offense, things just seem to come together for the Bears. Add in offseason acquisition Robert Quinn on the other side, and teams will no longer be able to focus on Mack as the primary pass rusher.
If Mack continues to have this hunger once the season starts, you're looking at a defense on the verge of breaking out yet again to the point where teams will have trouble scoring 17 points against them. That alone will be plenty to win most games.
2. Pagano is thrilled to pair Mack with Quinn: I think everyone in Bears nation is thrilled to pair Mack with Quinn as the Bears have to of the best pass-rushing linebackers now after QB's. Chicago previously had Leonard Floyd on the other side of Mack and despite posting good numbers he never lived up to his high draft pick.
Quinn, on the other hand, is not only a proven vet but a proven force in the passing game that will only make the Bears defense better. Before teams knew where the pressure was coming from and could shift their focus to Mack. Now with Quinn in the fold, should teams try to take Mack out of the game, they then have to worry about Quinn coming through the line uncontested.
Chicago theoretically could have two-line backers with 12 plus sacks this season should things pan out as I expect. If these two control the line of scrimmage and get after the quarterback, look for the back end of the defense to do what they do best and force turnovers, which was a big part of their 2018 success.
3. Pagano is excited to work with Tashaun Gibson: Since Adrian Amos left Chicago for Green Bay, the Bears have been searching for a new running mate to pair with Eddie Jackson on the back end. Ha-Ha Clinton -Dix was added last season, but after one year he hit the market again leaving the Bears with the same problem at safety. Perhaps Gibson is the answer for the next few years.
Signed in early March, the veteran Gibson is a playmaker who will surely help the Chicago secondary. Not only has he made 104 starts over eight seasons, but Gibson has recorded 446 tackles, 23 interceptions, 47 pass breakups, and three interceptions returned for scores. Add in 13 tackles for a loss, and you're getting a guy with the knack for being around the football.
With a defense that prides itself on getting pressure on the quarterback and forcing turnovers, Gibson could be in for a career year in Chicago. Not only will he be around the ball on nearly every play, but he will have his fair shot at turnover chances, which will set the Bears offense up in good places. This was one of those overlooked signings this offseason that went in the Bears' favor.
4. A healthy Akiem Hicks is big for the Bears: Last season the Bears dealt with their fair share of injuries, but none were bigger than the loss of Hicks. Known as the rare breed of a pass-rushing lineman who can also stop the run, the Bears defense was playing well until Hicks went down with an elbow injury.
Over the next six weeks following his absence, Chicago struggled on the field defensively as teams began to run the ball more consistently, which in return opened up the passing game as Chicago was not able to get consistent pressure on the quarterback. Hicks made a return late in the season with hopes his team could make a playoff push, but it was a little too late at that point.
When healthy, Hicks is one of the vocal leaders both on and off the field, which is something the Bears missed last year. He is the second most important piece on the defense behind Mack, and it was evident that he could be the most crucial piece at times once he went down. Now healthy and ready to go, Hicks is going to lift the Bears up in more ways than one this season.
5. The sky is the limit for Eddie Jackson: When the Bears took Eddie Jackson in the fourth round a few years ago, no one knew the type of player he was going to turn out to be. Since that pick, I think we can all safely agree that not only is Jackson a great player, but he could be one of the best safeties in the league as he has now been to two consecutive pro bowls.
With that being said, Pagano still believes the best football for Jackson is ahead of him and that the sky is the limit for him at this point. That is coming from a player that led the league interceptions two seasons ago and has no trouble creating turnovers on the field. If the sky truly is the limit for Jackson, then Chicago did themselves a favor by signing him to a long-term extension to make him the highest-paid safety in the game.
While his numbers may never be what they were in 2018 again, Jackson will only continue to get better overall, which is going to give the Bears a star at all three levels of their defense. That is something most teams cannot say they have.
Upgrade Your Account
Unlock premium boards and exclusive features (e.g. ad-free) by upgrading your account today.
Upgrade Now