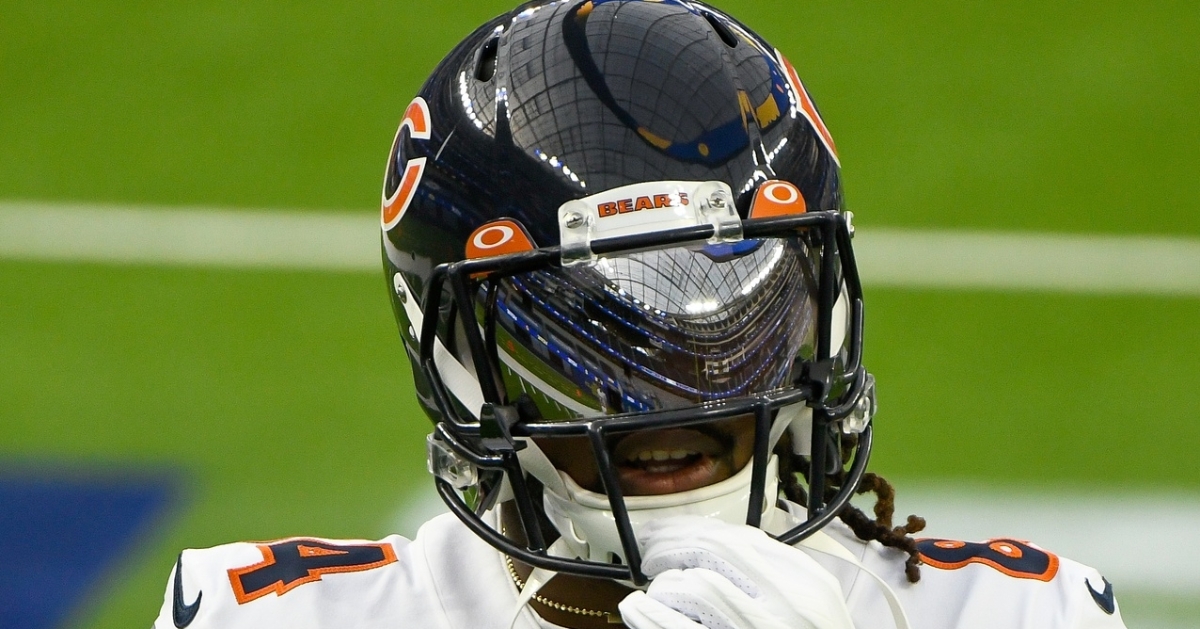 | | |
| --- | --- |
| Next man up: Cordarrelle Patterson ready to step up against Vikings | |
---
| | | |
| --- | --- | --- |
| Monday, November 16, 2020, 8:27 AM | | |
The Bears offense struggles can be blamed on a lot of things, and that all starts with the offensive line. The longer it takes them to figure things out, the less likely of a chance there is for this offense to come together. As fans have seen since about week four, this offensive line is a shell of what it was in the past, leading to subpar performances from the quarterback and running back positions.
Focusing on the running back position, and that is where the biggest concern is right now. After watching the Bears ranked near the bottom in yards per carrying and rushing yards last season, Matt Nagy emphasized running the ball more this season. Through the first couple of weeks, that plan worked as the Bears offense was putting up points. Then Tarik Cohen was lost for the season with a torn ACL, and the running game has gone south ever since.
Not only have the Bears been without Cohen, but without Mitch Trubisky, who was benched in favor of Nick Foles in week four. Trubisky had his struggles from time to time, but he used his legs to move the chains and help pick up extended yards on the ground. Not having that added element limits this offense.
Knowing that he would now be shouldering the load, teams have been focusing on David Montgomery as he is the Bears only real option. Chicago did sign Lamar Miller to the practice squad, but over a month after signing him, Miller remains on the practice squad and has yet to see a snap in two seasons. Chicago also has Ryan Nall and Artavious Pierce on the roster, but neither can spell Montgomery as a reliable back up.
To make matters worse, Montgomery left last Sunday's game with a concussion and is now in the concussion protocol with his status for Monday as a question. Even if he is ready to go, I find it difficult to fathom a full workload meaning the Bears will be looking for help. If you ask Cordarrelle Patterson, he is ready to step up and pick up the slack if called upon.
Cordarelle Patterson on if David Montgomery can't play: "Next man up, me."

— Mark Grote (@markgrotesports) November 12, 2020
Patterson has always been an intriguing player, given his ability to score every time he touches the ball. Known for his kick return abilities, he has shown success both in the rushing and receiving departments, although brief. After spending all of training camp with the running backs, Patterson was looked like an X-Factor this season. Much like the rest of the offense, he hasn't been able to get anything going.
Bears Cordarrelle Patterson asked if he has extra motivation against Minnesota, the team that drafted him: "You could say that. I still have a lot of guys over there I know."

— Mark Grote (@markgrotesports) November 12, 2020
Monday could be the night where he not only gets going but plays hero for the Bears if they indeed need him. To make matters more interesting, Patterson will have some added incentives to play for as he goes up against the team that drafted him seven seasons ago. No one will expect Patterson to come out and pick up 20 carries. However, after watching how former Green Bay Packer Ty Montgomery switched from WR to RB, Patterson could do the same.
Patterson is not built like a running back, which is why he was chosen as a receiver. His game-changing playmaking ability is why teams take a chance on him, hoping to find ways to get him the ball. Patterson is a fan favorite in the kick return department, and fans have been preaching for him to get more touches. For some reason, it hasn't happened despite him changing the game with one play.
For the season he has 29 rushes for 88 yards this season.
Looking at the forecast for Monday and it looks like mid-December weather is on the way. That means that not only will it be cold, but windy so that the passing game may be limited. The Vikings won't be affected by that as Dalvin Cook is a man on a mission right now, nearly rushing for 400 yards across his last two games. Minnesota will continue to lean on him once more, even if the yards don't follow.
Foles through 52 passes at Tennessee last week, and often Chicago will lose when he is throwing the ball that much. If the weather holds, Foles will not be throwing that many passes as the Bears running game needs to step up. Whether healthy or not, Montgomery will give it his all on the field, but he needs help. Patterson is hoping to be that guy to help and is urging Chicago to give him the chance to prove himself worthy.